Oregon Becomes First State to Issue Gender Non-Binary ID Cards
Those who do not identify as male or female will be able to select "X" for non-specified gender when applying for IDs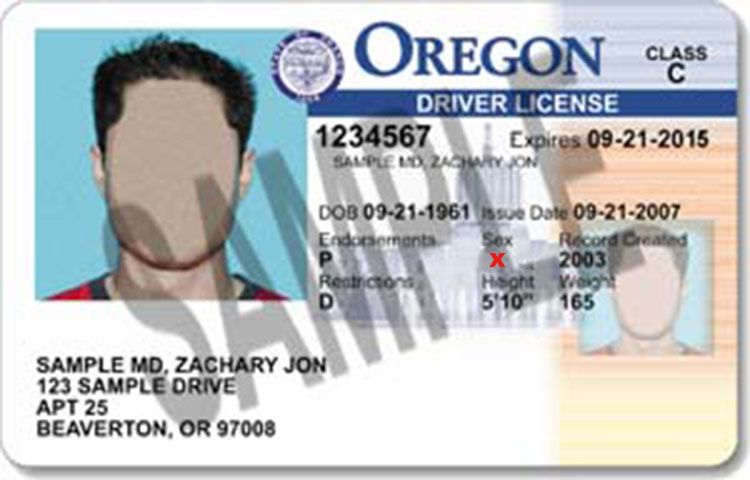 When applying for a driver's license or state ID card, you are asked to tick a little box identifying your gender: "m" for male, and "f" for female. But in a ground-breaking move to accommodate non-binary individuals who do not identify with either gender, Oregon has become the first state to allow applicants to choose a third option, Casey Parks reports for the Oregonian.
Gender non-binary residents will soon be able to select "X" for non-specified gender when they apply for their identification cards. The Oregon Transportation Commission approved the measure on Thursday, and the change will go into effect on July 1.
According to Amber Ferguson of the Washington Post, the Commission's decision "became inevitable" after an Oregon judge allowed 52-year-old Jamie Shupe to legally identify as non-binary in June of last year. Reporting for the Oregonian at the time of the ruling, Parks wrote that the national Transgender Law Center was not aware of any similar victories in the United States.
As Sam Levin of the Guardian notes, instituting a third option on state IDs may prevent people from facing questioning and discrimination because their legal documents do not match their gender presentation. A survey by the National Center for Transgender Equality, in fact, found that one third of respondents who showed an ID with a name or gender that did not align with their external presentation had experienced verbal harassment, denial of services, and even physical assault.
The new measure has consequently been welcomed by Oregonians who do not conform to traditional gender roles—a diverse group that includes people who also describe themselves as gender-fluid, genderqueer, gender non-conforming, and transgender. Jamie Shupe, who won the aforementioned court case, told Mary Emily O'Hara of NBC News that the policy marks another happy moment in an emotional year.
"I've trembled with the fear of failure and cried tears until I had no more tears to cry, because of the magnitude of what's been at stake — and now won," Shupe said. "But in the end, the huge legal and non-binary civil rights battle that I expected to unfold going into this never came to pass; simply because this was always the right thing to do all along."
In late May, California senators passed a bill to add a third gender option on state IDs—suggesting that more change may be forthcoming.