Obama Just Signed a Law Mandating Diaper Changing Tables in Men's Restrooms
The BABIES Act will put changing tables in men's rooms in public, federal facilities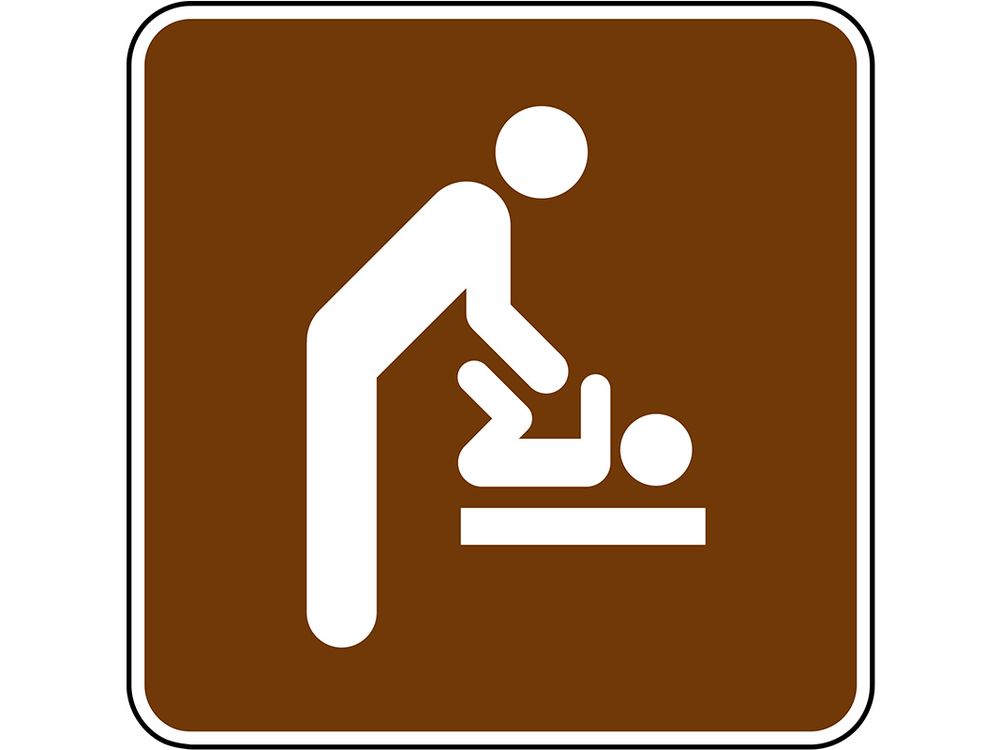 For women, the sight of a baby changing station in a public restroom is no biggie—they're nearly ubiquitous in public restrooms. But men who are out and about with their babies have far fewer options when it comes to changing diapers, and are often relegated to bathroom floors or counters to get the job done. Until now: As the Associated Press reports, a new law requires that men's restrooms in federal buildings open to the public must now contain changing tables, too.
President Obama signed a bill called the Bathrooms Accessible in Every Situation (BABIES) Act into law on October 7. The bill was agreed to by a bipartisan majority in the House of Representatives and passed unanimously by the Senate before making its way to President Obama's desk. It requires that changing stations that are "physically safe, sanitary and appropriate" be available in both women's and men's bathrooms in federal buildings open for public use.
The move comes after failed legislation to require diaper changing parity in men's restrooms in places like California, where its governor, Jerry Brown, vetoed two 2014 bills that would have made changing tables more accessible in men's restrooms on the grounds that such decisions should be left to the private sector. A similar bill in New York has been in committee since May 2015. The idea has also garnered celebrity support, with Ashton Kutcher spearheading a petition that eventually garnered over 100,000 signatures.
Changing tables haven't always been available in women's restrooms—until the 1980s, babies couldn't be easily changed in public. A 1989 patent for a coin-operated table that never seems to have caught on stated that "this need has been virtually ignored by persons maintaining travel facilities and public environments." That changed when a company called JBJ Industries started to pitch folding changing tables to restaurants. As Dan Mitchell reports for Fortune, company eventually became Koala Kare, which dominates the market for selling changing stations to this day. Not only did the company change the look of public restrooms, writes Mitchell, but "they also changed American shopping and dining habits" as people with babies felt more comfortable going out with their children.
Today, the thought of staying home because you're afraid your baby will need a diaper change seems laughable—thanks in part to the availability of public changing stations. But the idea of changing tables for men has taken longer to catch on, despite the fact that, according to the CDC, nine out of 10 fathers who live with children under age five bathe, diaper or dress them daily or several times a week. A TODAY survey of fathers in 2014 found that 54 percent of dads with infants change their babies' diapers, compared with just 37 percent of those dads' fathers. And with a rising number of stay-at-home dads and an increasing convergence between child-rearing responsibilities, the need for public facilities for fathers with infants will likely continue to grow.
Representative David N. Cicilline, D-R.I., who sponsored the bill, said in a statement that it was intended to make federal buildings more family friendly. With roughly 14,000 such buildings in the United States, it's a start—but since the law only applies to federal buildings open to the public, it only covers a tiny fraction of public restrooms in the United States.
But if it's up to people like Brad Hoylman, the Democratic state senator who sponsored a similar bill in New York, one day every public restroom marked for men will contain a changing station, too. He proposes family or gender-neutral bathrooms as one solution to the matter. "If we expect fathers to bear more of the burden of child-care, we must ensure that public accommodations reflect this new normal," he wrote in an editorial.