New York Museum Sorts Through Its Collections to Highlight 15 "Rebel Women" of the 1800s
Museum of the City of New York's latest exhibition puts the spotlight on these 19th-century women who defied Victorian ideals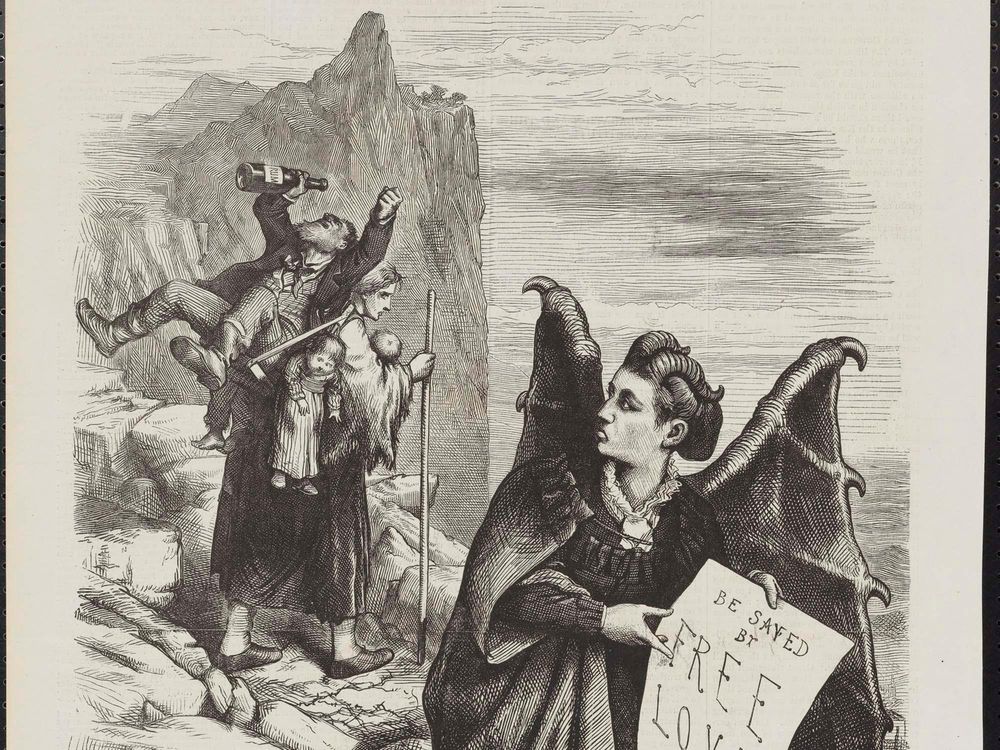 Victoria Claflin Woodhull was many things: a stockbroker, a traveling medical clairvoyant and a suffragette. In April 1870, she added United States presidential candidate to the list, becoming the first woman to make the run for the nation's highest office. Come Election Day, however, she was unable to vote for herself—partly because women in the U.S. were still disenfranchised, but mainly because she was being held in jail on charges of obscenity and libel.
Woodhull, an outspoken advocate of free love and self-proclaimed recipient of otherworldly advice from Ancient Greek orator Demosthenes, as well as Napoleon Bonaparte and his wife Josephine, was, needless to say, a divisive figure in Victorian-era America. Her critics included suffragette leader Susan B. Anthony, who described her as "lewd and indecent," and Uncle Tom's Cabin author Harriet Beecher Stowe, who had no qualms in labeling her a "vile jailbird" and "impudent witch."
But it's political cartoonist Thomas Nash's satirization of Woodhull as "Mrs. Satan" that's resonated throughout the centuries, garnering her an eponymous 1967 biography—and a spot in the Museum of the City of New York's newest exhibition, Rebel Women: Defying Victorianism.
According to Abigail Weinberg of AM New York, the show features 15 women who rejected ideals of Victorian propriety. Individuals are grouped into three categories—political, working and professional—and include a mixture of famous and lesser-known figures.
Amongst the better-known honorees are Anthony, fellow suffragette leader Elizabeth Cady Stanton and investigative reporter Elizabeth Cochrane, better known by the pen name Nellie Bly. These women stand alongside relatively obscure contemporaries, from Susan Smith McKinney-Steward, one of the first African-American doctors, to pickpocket Sophie Lyons (who stole from wealthy men in Robin Hood-esque escapades). Other women who made the cut include Ann Trow Lohman, a female physician who provided abortion services under the name Madame Restell, and Elizabeth Jennings Graham, an African-American woman who challenged segregation on public streetcars.
Curator Marcela Micucci tells Weinberg that she spent eight months sorting through the museum's collection in hopes of identifying a diverse array of women for inclusion in the exhibition. The final 15 chosen certainly reflect this effort, boasting backgrounds as varied as they are unique: Just look to Adah Isaacs Menken, an actress and writer of African-American, Creole and white descent who converted to Judaism after her first marriage; Lyons, a child of immigrants who taught her to survive in the city's criminal underworld; and Mary Jones, one of the first openly transgender individuals in New York's history.
"When people come in, I like to think that there's someone that each person can self-identify with, that they can look at and see a part of themselves in," Micucci explains.
The Guardian's Nadja Sayej reports that Rebel Women brings together more than 40 artifacts, including photographs, garments, paintings and prints. A pair of scarlet-colored satin boots hint at their one-time owner's nonconformist attitude, while a posthumously published poem by Menken, the highest-earning actress of her day, captures its author's disdain for male domination of women.
In addition to highlighting the accomplishments of the show's titular subjects, the exhibition uses parasols, corsets and leather gloves to highlight the physical restrictions placed on women of the period.
"When people think of 19th-century women, they have a domestic woman in their mind wearing a corset, but there was this whole other side to New York women at the time that was far more rebellious," Micucci tells Sayej. "Some women were seen as too masculine, political, outspoken and got in trouble for challenging standard gender norms."
Although the cast of characters in Rebel Women represent varying classes, occupations and levels of respectability, they exhibit a shared contempt for constraints on women's rights.
Micucci sees parallels between these Victorian activists and contemporary feminists, too: "I think it's important to show that when it comes to regulating women's behavior, that history repeats itself," she tells Weinberg. "And it's important to know that history and learn from it."
Rebel Women: Defying Victorianism is on view at the Museum of the City of New York through January 6, 2019. Admission is $18.