This Is the Second-Most Expensive Artwork Ever Sold At Auction
Amedeo Modigliani's Nu Couché drew a stunning $170.4 million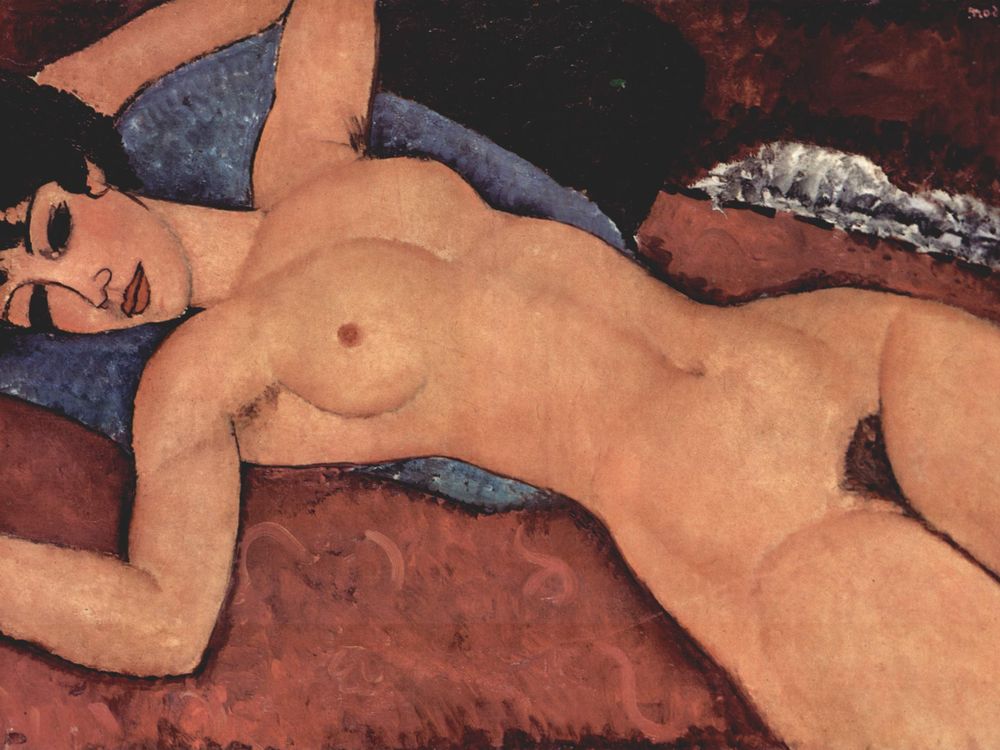 The Italian painter and sculptor Amedeo Modigliani's long-necked, often melancholy-faced portraits of women weren't popular while he was alive. His work would sell for less than $10, if buyers were even that interested. Now, however, the art world's tastes have caught up with him. "Nu Couché," a nude painting by Modigliani, just sold for a stunning $170.4 million at an auction Monday night. 
That price is the second highest ever paid for art at auction, report Robin Pogrebin and Scott Reyburn for The New York Times. "Nu Couché" is only the 10th piece of art to be sold for nine figures.
Altogether, the 34 lots on sale at the Christie's auction brought $491.4 million. A 1964 work by Roy Lichtenstein, "Nurse," sold for $95.4 million with fees, beating an $80 million estimate. The high prices are yet another demonstration of an explosion within the high-end art market. Though a painting by Picasso that went for $179.4 million still tops the list of most expensive art sold at auction, a private sale last February drew roughly $300 million for an oil painting by Paul Gauguin. The craze skews the prices of the most coveted objects, but mid-range and lower-priced lots don't necessarily draw the same attention, reports Mary Childs for Financial Times. Nonetheless, some questionable valuations have trickled down the market.
The new owner of the pricy nude is Liu Yiqian, a Chinese billionaire art collector who once worked as a taxi driver. He made his wealth by trading stock in the 1980s and '90s, reports Amy Qin for The New York Times. Now, Qin writes, he and his wife are "two of China's most visible art collectors." Last year, Liu broke the record for Chinese artwork sold at international auction with his $45 million bid on a 15th-century thangka, or silk hanging. That eight-figure splurge topped his $36.3 million purchase from months earlier, of a Ming dynasty porcelain cup. And controversy certainly doesn't phase him, Qin reports: "He caused an uproar after a photograph that showed him sipping tea from the antique cup spread online."
Outrage is also no stranger to "Nu Couché," either. Modigliani painted the reclining nude woman in 1917 and 1918, as part of a series of nudes commissioned by his patron Léopold Zborowski. The series comprises some of the artist's best known today, but were hard to sell after he finished them. One sold for only 300 francs, or about $60, according to a 2005 article by Smithsonian's Doug Stewart. Modigliani's first and only show was closed by police, who demanded the nudes be removed. When French art dealer Berthe Weill asked for an explanation, Stewart writes, a police inspector stammered, "These nudes…they have b-b-body hair!"
Today, the sensuality of Modigliani's work doesn't stir nearly as much controversy, though, as the price of "Nu Couché" demonstrates, it can still stir up plenty of emotion.