Notre Dame University Will Cover Controversial Columbus Murals
The university's president said the artworks memorialize a historic 'catastrophe' for native peoples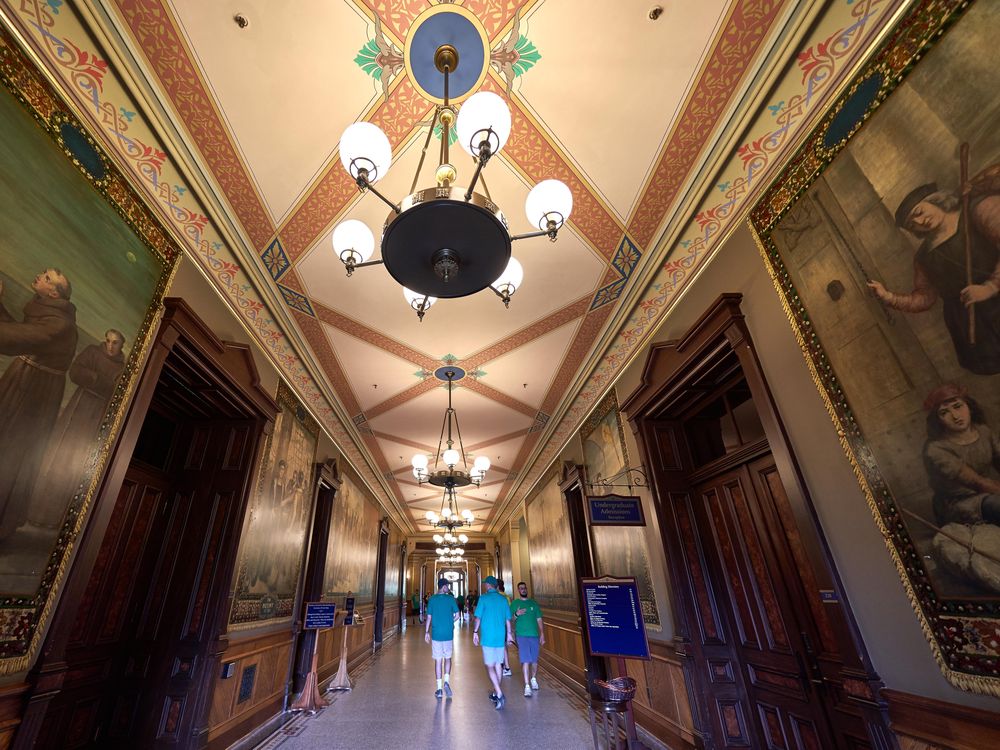 For more than 130 years, 12 towering murals depicting Christopher Columbus' voyage to the Americas have flanked a hallway in the University of Notre Dame's Main Building. But late last week, the university announced that it plans to cover the murals; in a letter explaining the decision, Notre Dame's president described the artworks as memorializing "a catastrophe" for indigenous peoples.
Painted between 1882 and 1884 by the Italian artist Luigi Gregori, the murals were intended to encourage Notre Dame's largely immigrant Catholic population, according to university president Reverend John Jenkins, made at a time when anti-Catholic sentiments ran high in America, a land settled by Protestants. Much of the university community had "encountered significant anti-Catholic, anti-immigrant attitudes in American public life," Jenkins wrote in his letter.
"Gregori's murals focused on the popular image of Columbus as an American hero, who was also an immigrant and a devout Catholic. The message to the Notre Dame community was that they too, though largely immigrants and Catholics, could be fully and proudly American," he added.
But in recent years, the sentiment around the murals has shifted, as critics point to the disastrous impact of Columbus' explorations on native peoples. Columbus and his men inflicted brutal treatment on the indigenous populations they encountered, enslaving them and ruthlessly suppressing revolts. Columbus also ushered in a new era of European colonization that proved devastating to many cultures. Since 1995, Notre Dame has offered brochures that offer a more complete historical context for the murals, but Jenkins acknowledged in his letter that the Main Building hallway is a busy campus thoroughfare and "not well suited for a thoughtful consideration of these paintings and the context of their composition."
In 2017, more than 300 Notre Dame students, employees and alumni signed an open letter calling for the removal of the murals. "The Native persons are depicted as stereotypes, their destruction is gilded over and their slavery is celebrated," the letter said of the artworks, adding that the murals' presence in the Main Building "mocks every attempt to make campus more inclusive, more diverse and more culturally sensitive."
The petition came amid a nation-wide push to take down memorials to contentious historic figures. Much of the conversation has centered on monuments to the Confederacy, but Columbus, who predated the Civil War by more than three centuries, is also a focal point of the controversy. Many local governments and states, for instance, have started observing Indigenous Peoples' Day in place of Columbus Day; Indiana's St. Joseph County, where Notre Dame is located, is among them, according to CNN's Shelby Copeland.
After the open letter was published in 2017, a spokesman said the university had no plans to remove the murals, which are frescoes painted directly onto the wall. "To try to remove them would in all likelihood destroy them," spokesman Dennis Brown told the Indy Star at the time.
In the months since, the university came up with its alternative plan. According Jenkins' letter, the murals will soon be covered with a "woven material consistent with the décor" of the Main Building. High resolution images of the artworks will be displayed in a location on campus, as yet to be determined, that is more conducive to "informed and careful consideration."
"Our goal in making this change is to respect both Gregori's murals, understood in their historical context, and the reality and experience of Native Americans in the aftermath of Columbus's arrival," Jenkins wrote. "We wish to preserve artistic works originally intended to celebrate immigrant Catholics who were marginalized at the time in society, but do so in a way that avoids unintentionally marginalizing others."
In a Facebook post, the Native American Student Association of Notre Dame applauded the university's decision, calling it " a good step towards acknowledging the full humanity of those Native people who have come before us."