Notre-Dame Is in Desperate Need of Repairs
The archbishop of Paris has launched a fundraising campaign in the hopes of saving the historic structure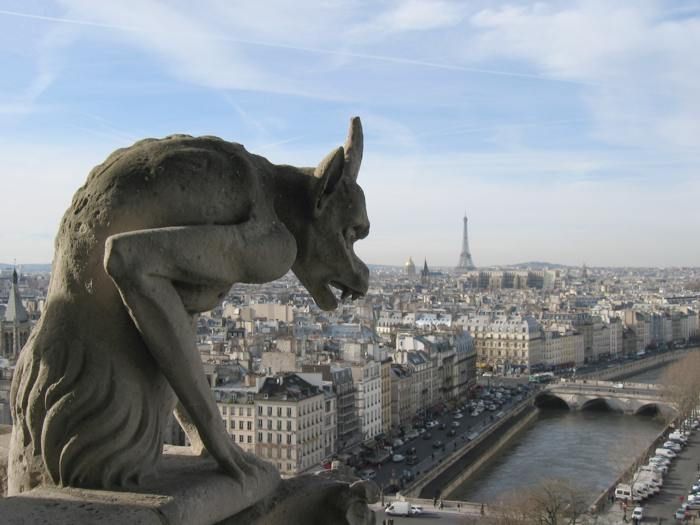 Notre-Dame de Paris cuts an imposing figure over France's capital, but look closely and you'll see that the building is in dire need of repairs. Its stones are eroding. Its delicate buttresses are in danger of collapsing. Many of its snarling gargoyles are so corroded that they have been whisked out of sight, replaced by PVC pipes. In a bid to save the iconic cathedral, the archbishop of Paris has launched a fundraising campaign for the building's restoration, as Reuters reports.
Friends of Notre-Dame, as the charity is called, seeks to raise a cool €100 million (roughly $119 million USD). The French state, which owns Notre-Dame, allots some $2.4 million each year for repairs, but Friends of Notre-Dame says that sum is not enough for the extensive renovations that the building requires.
"[T]here is no part of the building untouched by the irreparable loss of sculptural and decorative elements, let alone the alarming deterioration of structural elements," the organization writes on its website.
Notre-Dame's decline can be attributed to weather and age—after all, the foundation for the cathedral was laid in 1163—but the main culprit is pollution, which wears away at the building's stone, writes Vivienne Walt of TIME. Things have gotten so bad that cathedral officials have set up a so-called "stone cemetery" for chunks of masonry that have fallen from the building.
In reality, however, the current issues plaguing Notre Dame are only the latest in a long line of indignities. As Walt points out, rioting Huguenots attacked the cathedral during the 16th century, destroying features they believed were idolatrous. Later, during the French Revolution, mobs smashed 28 statues of monarchs that adorned the building's interior. In his 1831 novel, The Hunchback of Notre-Dame, Victor Hugo lamented the state of disrepair into which the cathedral had fallen.
"[B]eautiful as it has been preserved in growing old," the author wrote, "it is difficult not to sigh, not to wax indignant, before numberless degradations and mutilations which time and men have both caused the venerable monument to suffer … On the face of this aged queen of our cathedrals, by the side of a wrinkle, on always finds a scar."
Hugo's novel, which tells the story of a Notre-Dame bell-ringer, sparked a renewed interest in the cathedral and led to an expansive restoration in 1844. But the renovation was a bad job. As Marlise Simons explains in a 1992 New York Times article, the cathedral's joints were sealed with cement—a material that allows water to stagnate, and subsequently ruins stone. Recently, Andre Finot, the cathedral's communication director, also speculated that 19th-century builders were also "tricked" into buying low-quality stone, according to Euronews.
"There are inconsistencies," Finot says, "in one area it's good but in another its in an advanced state of damage."
In short, the cathedral needs to be repaired, and it needs to be repaired quickly. Walt reports that Friends of Notre-Dame are placing its hopes in American donors; in France, which is governed by a "strict secularism," people may prove less likely to give money to a church. The charity is planning to embark on a five-city, U.S. fundraising tour in spring of 2018.
For now, the occasional chunk of falling stone, aside, church officials say it is still safe to visit the medieval cathedral.