North Dakota Makes a Push for a Teddy Roosevelt Presidential Library
The towns of Dickinson and Medora are raising money in hopes of establishing a library and museum to the 26th president who once ranched in the area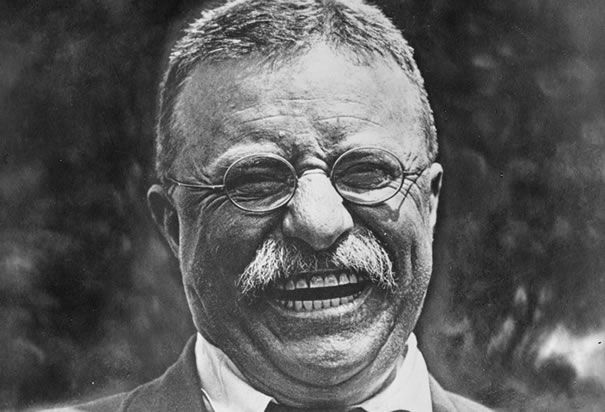 The presidential library system is very much a modern phenomenon. The National Archives and Records Administration only got involved with archiving presidential papers in 1939, when Franklin Delano Roosevelt gifted the NARA with his artifacts of record. In 1955, the Presidential Libraries Act made the NARA's role in presidential papers official. Since then, the agency has been charged with overseeing a system of privately built and publicly maintained presidential libraries. Almost every U.S. President that served during the 20 and 21st centuries now has an official library. Retroactively, presidents from past eras, too, have gotten their own, including Abraham Lincoln and George Washington. Now, a group of backers is hoping to give Theodore Roosevelt his own library in the Badlands of North Dakota, reports Blake Nicholson at the Associated Press.
While the idea of a Teddy Roosevelt Presidential Library and Museum is not controversial, the location is. Roosevelt was born in New York and spent most of his adult life there and in Washington, D.C. His birthplace in New York City and family home Sagamore Hill in Oyster Bay are already National Historic Sites, making both logical contenders for a presidential library campus.
But backers of the North Dakota location argue that their area defines Roosevelt. He often traveled to North Dakota to hunt and set up as a rancher there between 1884 and 1887. "I have always said I would not have been president had it not been for my experience in North Dakota," the 26th president once wrote.
Clay Jenkinson, a Roosevelt scholar and re-enactor, tells Nicholson that's why the library should be in the Badlands. "The reason we put this library where we did, in western North Dakota, that's the landscape that shaped and formed him into the Roosevelt we know," he says.
The project is not a pie in the sky idea. According to Iain Woessner at the Forum News Service, the Theodore Roosevelt Presidential Library Foundation has a $15 million commitment from the state of North Dakota and city of Dickinson to kick off the estimated $150 million project. Last month, the foundation decided to move forward as two geographically separate sites. The first would be a 24,000-square-foot library housed at Dickinson State University. The other would be a Roosevelt Museum located in Medora, on the edge of Theodore Roosevelt National Park. The library wouldn't house a lot of primary documents, Nicholson reports, but instead would have tens of thousands of digital records, films and photos available for researchers.
"For us to have that chance to build that monument for our 26th president here in North Dakota, where in his own words had it not been for his years in North Dakota he would not have become president, I think that's good for everybody," Dickinson State's president Thomas Mitzel tells Woessner.
The project requires that the foundation raise tens of millions of dollars in private funding, something that may be a difficult stretch. Tweed Roosevelt, the president's great-grandson and CEO of the Theodore Roosevelt Association, says the organization chartered to protect Roosevelt's legacy has not endorsed the project yet, but is watching it closely. "This is a very ambitious project and we want to make sure they have adequate funding, so we're not backing something that turns out to be a half-done project."
In an editorial for the Albany Times Union, Paul Grondahl writes that while he'd have liked to see the impetus for a museum happen locally in Albany—itself just a short drive away from fifth cousin Franklin Delano Roosevelt's presidential library and museum in Hyde Park—he was "thrilled" to see so-called "Tedheads" who share a true affection for the president and a desire for local economic rejuvenation come together in Dickinson.
"[T]his hardscrabble city of about 20,000 people — it lost thousands of oil field workers recently after being battered by the bust of crashing crude oil prices and where cattle ranchers are struggling against a 50 percent drop in beef prices — are not folding in the face of adversity. They are in the throes of a recession and they're doubling down on TR," he writes.
The foundation hopes to begin a year-long construction of the library in November of this year. Which means they need to move fast to secure funding. Nicholson reports that a similar effort launched about 10 years ago didn't get off the ground. Even if the grand plans for a bricks-and-mortar library don't pan out, Dickinson State is creating the next best thing. Its Theodore Roosevelt Center has undertaken a massive project to digitize all of Roosevelt's papers, diaries, film clips audio recordings and other related-items. So far, they have published almost 50,000 of those items in an online digital library.