North, South Korea Form Tag Team to Get Traditional Wrestling Unesco Heritage Status
The two nations filed a historic joint application to place traditional Korean wrestling on the world cultural heritage listing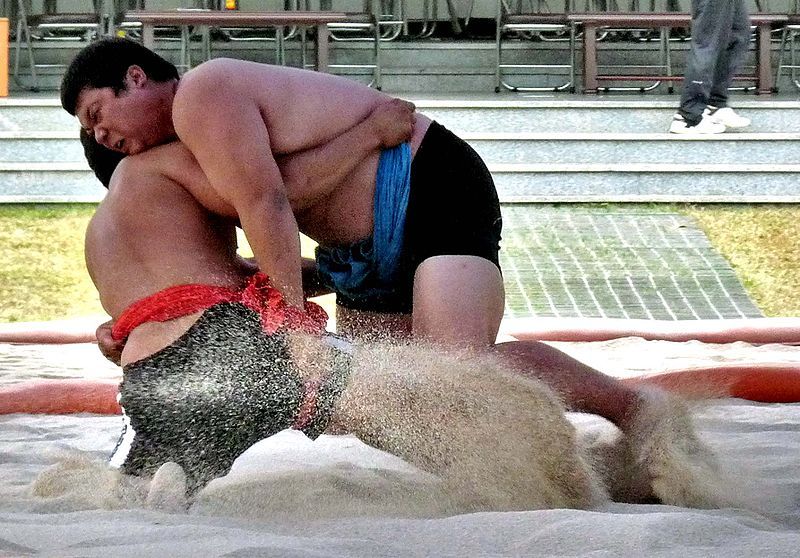 In traditional Korean wrestling, the competitors face off in a circular sand pit. They begin in the kneeling position, grasping ahold of a sash tied to their opponent's waist and thigh before they rise and begin to grapple. The winner forces any part of their opponent's body above the knee to touch the ground.
In North Korea, the type of wrestling is referred to as "ssirum," and in South Korea, it is referred to as "ssireum." Both countries, which are technically still at war, submitted applications to get the tradition on the United Nation's list of Intangible Cultural Heritage. But it took the countries working together to craft a historic joint bid that finally led to the tradition's inclusion on the list of "intangible assets," reports Benjamin Haas at The Guardian.
John Irish at Reuters reports the joint application was created after months of "shuttle diplomacy" by Unesco, the United Nation's cultural agency. That involved ironing out several sticking points in the application, including the English transliteration of the sport's name. Both spellings are used in the bid, which was formally accepted yesterday at the 13th session of the Intergovernmental Committee for the Safeguarding of the Intangible Cultural Heritage held in the Republic of Mauritius.
"The joint inscription ... becomes the opportunity to clearly demonstrate that the Korean people is one nation of peace and prosperity, once we join our ideas, powers and wisdoms," North Korea representative Jang Myong Ho said at the ceremony.
"This is sending a common, joint symbolic message before the international community. Two Koreas will work together to consolidate peace and prosperity on the Korean peninsula," Lee Byong Hyun of South Korea added.
The sport has been part of Korean cultural life for centuries, often the highlight of village festivals. It persisted into the modern era and was widely practiced during the 20th century, reaching a peak of popularity in the 1980s as a televised sport. Since then, Reuters reports, the tradition has been in decline, eclipsed by baseball and e-sports.
Haas at The Guardian reports that in the past, the two Koreas have submitted cultural heritage applications to Unesco separately, including listings of kimchi and folk songs. The joint bid is a sign that tensions on the peninsula, where the two nations have technically been at war since 1950, may be cooling. In recent years, the nations have reduced the number of border guards at their demilitarized zone, conducted sports exchanges and are even working on a joint dictionary.
For its part, Unesco is working to help bridge the divide, promising to work on more collaborative cultural, education and science projects between the Koreas. "The joint inscription marks a highly symbolic step on the road to inter-Korean reconciliation," Audrey Azoulay, director-general of Unesco, says in the press release. "It reminds us of the peace-building power of cultural heritage, as a bridge between peoples. This marks a victory for the longstanding and profound ties between both sides of the inter-Korean border."