Two Activists Fighting Against Sexual Violence in Wartime Are This Year's Nobel Peace Prize Recipients
Denis Mukwege and Nadia Murad are recognized for working to bring healing to victims, accountability to perpetrators and greater visibility to the public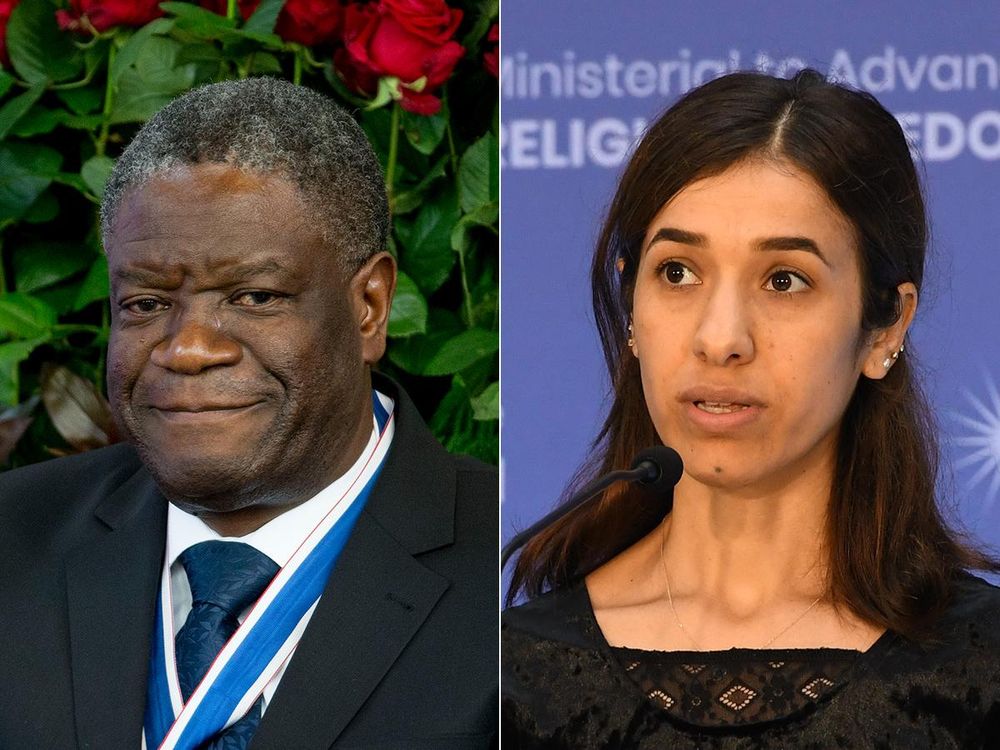 The Nobel Peace Prize has been awarded to two activists who are fighting against sexual violence in wartime. As Reuters reports, Denis Mukwege, a gynecologist who treats survivors of sexual assault in the Democratic Republic of the Congo, and Nadia Murad, who campaigns for the rights of Yazidi women enslaved by ISIS, were announced as the winners of the esteemed prize on Friday.
"Each of them in their own way has helped to give greater visibility to war-time sexual violence, so that the perpetrators can be held accountable for their actions," the Norwegian Nobel committee said in its citation.
In total, 216 individuals and 115 organizations were nominated by the Nobel Peace Prize. When asked if this year's recipients were inspired by the #MeToo movement, which has ushered in an era of reckoning on the issues of sexual harassment and assault, committee chair Berit Reiss-Andersen clarified that "#MeToo and war crimes are not quite the same," according to Reuters. "But," she added, "they have in common that they see the suffering of women, the abuse of women, and that it is important that women leave the concept of shame behind and speak up."
Mukwege, 63, is the founder of the Panzi Hospital in Bukavo in eastern DRC, which specializes in treating women who have survived sexual assault. The hospital opened in 1999, in the midst of the Congo wars, a brutal conflict that began in 1996. As Aryn Baker reported for a TIME magazine cover story in 2016, the Congolese gynecologist originally conceived Panzi as a maternity hospital, but changed its focus after being inundated with victims of violent rape. To date, Mukwege and his staff have helped more than 40,000 survivors of sexual violence, the Mukwege Foundation notes. Sexual violence against women was and remains a pervasive weapon in the Congo, and as of 2016, years after the official end of the last conflict, Panzi was still treating an estimated 1,300 to 1,900 women a year on average, Baker noted.
Mukwege's pioneering approach centers not only on physical care, but also on providing psychological, socioeconomic and legal support to survivors. Mukwege has also campaigned around the world to bring an end to the use of rape as a weapon of war, and he is a vocal critic of the Congolese government, which he has accused of human rights abuses.
This advocacy has, at times, proved dangerous. In 2012, several weeks after he gave a speech at the United Nations calling for those responsible for the conflict in the Congo to be brought to justice, Mukwege narrowly escaped an assassination attempt. He and his family briefly fled to Europe, but two and a half months later, Mukwege was back working at the hospital, according to Chico Harlan of the Washington Post.
In a telephone interview, Mukwege revealed that he had been performing surgery when he learned that he had won the Nobel Peace Prize.
"I heard people start to cry," he said. "I can see in the faces of many women how they are happy to be recognized. This is really so touching."
At 25, Murad is the second-youngest person to be awarded the Nobel Peace Prize (the youngest is Malala Yousafzai, who was 17 when she won in 2014). Murad herself is a survivor of sexual violence. She belongs to the Yazidi religious minority, a group that has lived in the mountains of northern Iraq for centuries and recently faced brutal persecution by ISIS. In 2014, ISIS militants attacked the village where Murad lived. Her mother and six of her brothers were killed; Murad, along with many other young women from the village, were kidnapped and sold into sexual slavery.
After three months, Murad was able to escape with the help of a Sunni family in Mosul. She now travels around the world, campaigning on behalf of former ISIS prisoners and the approximately 3,200 Yazidi women that remain in captivity. In 2016, Murad was named the first United Nations goodwill ambassador for "the dignity of survivors of human trafficking."
She has been vocal about calling for the better documentation of war crimes. Last year, she told Anne-Marie O'Connor of the Washington Post that she hopes to someday "look the men who raped me in the eye and see them brought to justice."