If a Monkey Takes a Photo, No One Owns Copyright
The contested photo likely belongs to neither monkey nor man, but to the public domain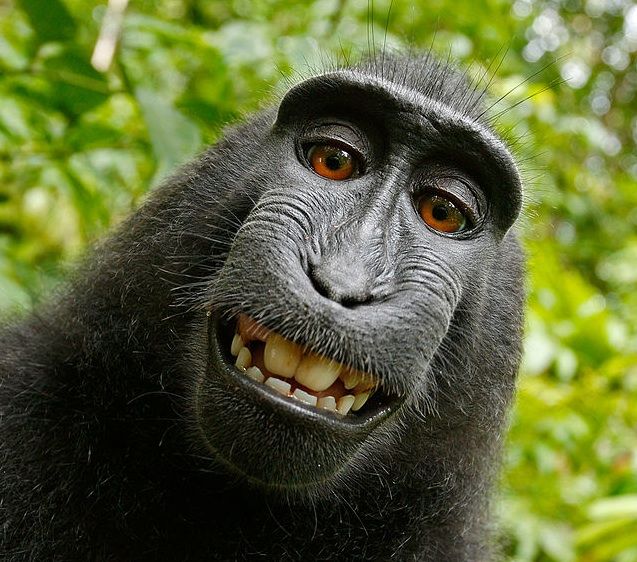 In 2011, professional photographer David Slater visited Indonesia on a self-funded trip to take images of wildlife. On the trip, the Telegraph writes, a black-crested macaque stole his camera and took dozens of photographs, including some of herself. Slater edited the best of them, including a monkey selfie that garnered considerable attention.
Soon, the image found its way to Wikipedia Commons, which is when the trouble began. Slater insists that he owns the copyright to the image, even though he didn't take it himself. Wikimedia's view, though, is that the monkey took the picture, and since non-humans cannot hold copyrights, the image doesn't have copyright protections at all. (As Sarah Jeong writes, tongue-in-cheek, at the Guardian: "How is an aspiring monkey photographer supposed to make it if she can't stop the rampant internet piracy of monkey works?")
As Public Knoweldge points out, there is a very strong argument that no one owns the copyright. Public Knowledge explains: 
This is the definition of the public domain—things that are not protected by copyright. We're used to thinking of the public domain as consisting of things that were in copyright and then aged out of it after a length of time, but that's just a part of it. There's also works created by the federal government, and things that simply can't be protected—like ideas, methods of operation, or discoveries.

The fact that this photo was created recently does play with our instincts a bit—it seems strange for a newly-created image—particularly such a compelling one—might not have a legal author. But our instincts are an unreliable guide in unusual situations like this one.
On a Telegraph vote, for example, opinion was split evenly over who owned the copyright, Slater or the monkey. Only 16 percent of respondents thought that it belonged to the public domain. No one ever said that copyright law had to adhere to common sense, though.