Just because you can't see something with the naked eye doesn't mean it's not worth looking at. Since 1974, Nikon's Small World Photomicrography Competition has spotlighted the hidden scenes that only become visible when viewed through a microscope.
This year, for the 49th iteration of the contest, judges reviewed nearly 1,900 photo submissions from 72 countries. They managed to whittle them down to a selection of 20 winners, eight honorable mentions and 58 images of distinction.
Check out some of this year's winners and top finishers.
Rodent Optic Nerve Head by Hassanain Qambari and Jayden Dickson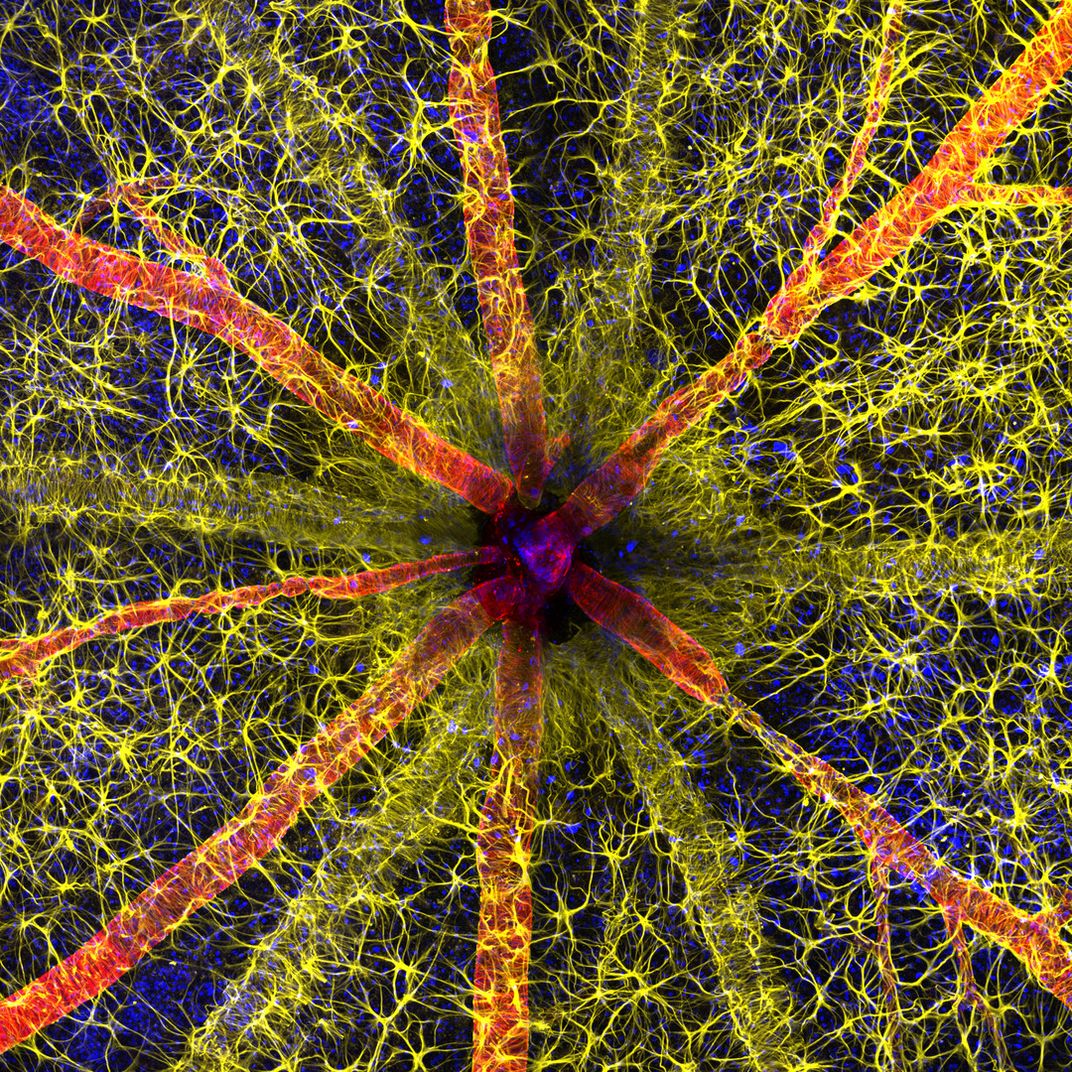 With their photo of a rat's optic nerve head, which took this year's top spot, Hassanain Qambari and Jayden Dickson hope to raise awareness about diabetic retinopathy. This condition occurs when high blood sugar damages the blood vessels in the retina, which causes those blood vessels to swell and leak. This, in turn, can make it hard for the patient to see—and, eventually, may lead to vision loss and blindness.
The image is part of their research at the Lions Eye Institute in Perth, Australia. Scientists there hope to understand how the condition changes the retina. If they can catch some of those changes early, they might be able to stop the condition from progressing and causing damage, reports ScienceNews' Erin Garcia de Jesús.
"Current diagnostic criteria and treatment regimens for diabetic retinopathy are limited to the late-stage appearance of the disease, with irreversible damage to retinal microvasculature and function," Qambari says in a statement.
Matchstick Igniting by Ole Bielfeldt
Ole Bielfeldt, a 22-year-old digital artist from Germany, took second place in this year's competition. He captured the moment the tip of a matchstick ignited while scraping across a matchbox's surface.
Bielfeldt regularly posts macro photos and videos on social media, where he goes by the handle "Macrofying." He's attracted hundreds of thousands of followers with his highly detailed, zoomed-in views of everyday objects, from a bowl of cereal to a needle and thread.
Breast Cancer Cells by Malgorzata Lisowska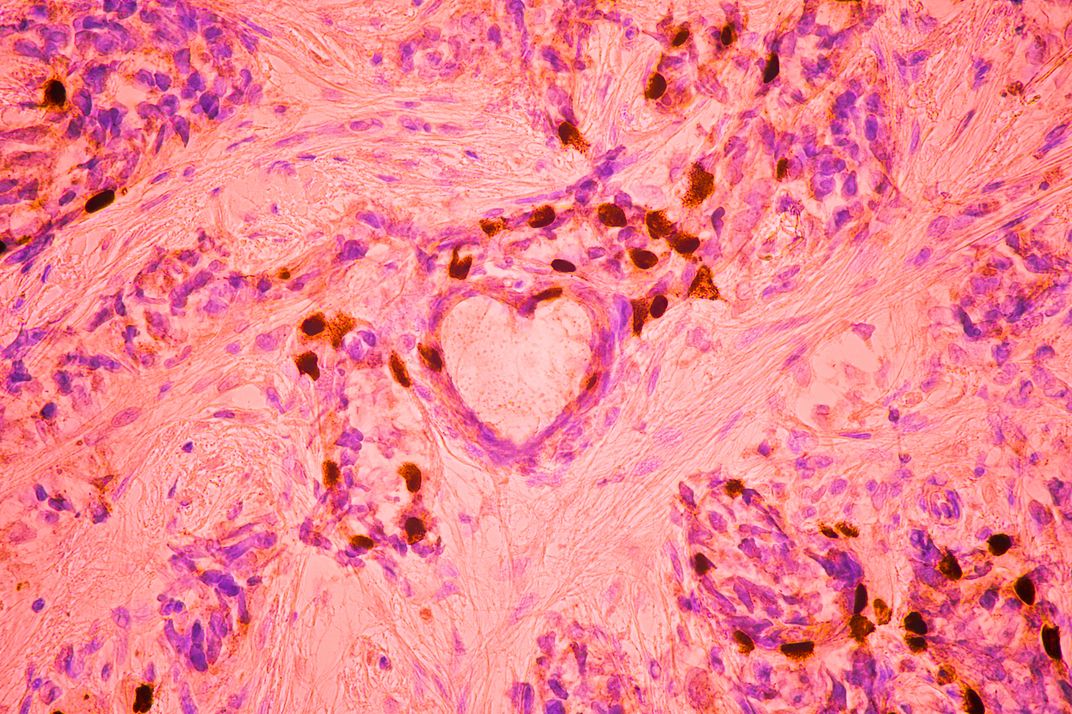 Malgorzata Lisowska, a healthcare consultant based in Warsaw, Poland, managed to make destructive breast cancer cells look beautiful. She won third place for her image, which shows the pink and red cells in the shape of a heart.
Crystallized Sugar Syrup by Diego Garcia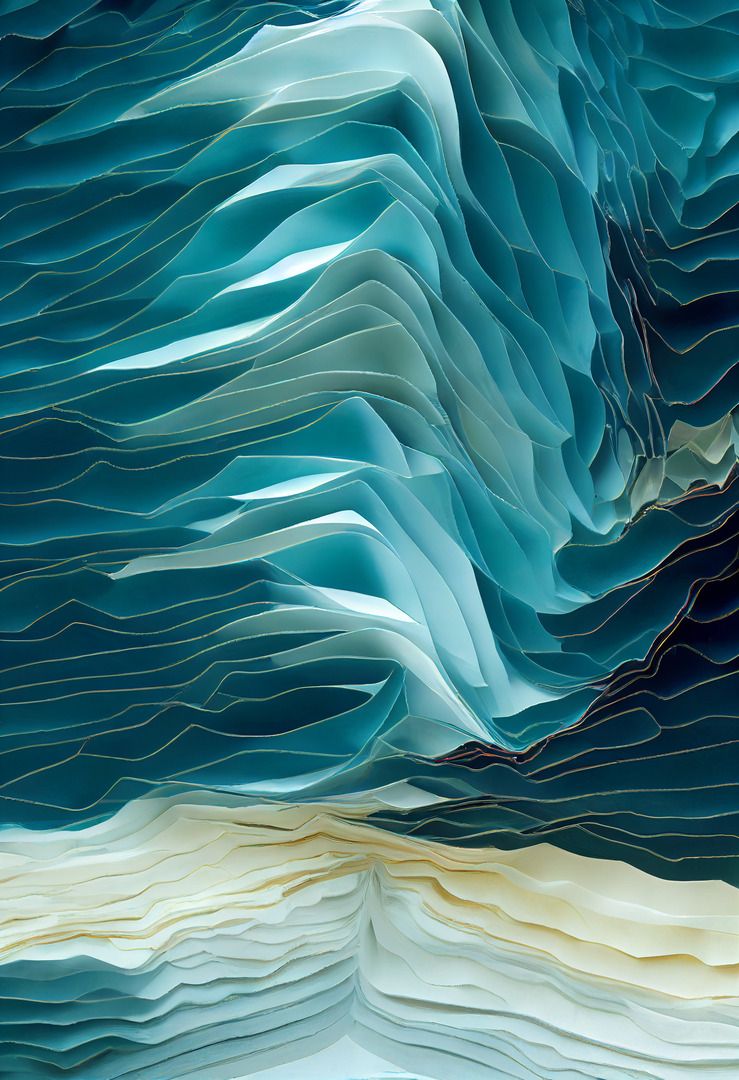 Judges awarded 11th place to Diego Garcia for his icy-blue shot of crystallized sugar syrup. As Sarah Gibbens writes for National Geographic, the sugar looks like the "jagged, folded pages of a book."
Transgenic Zebrafish by Daniel Castranova and Brant Weinstein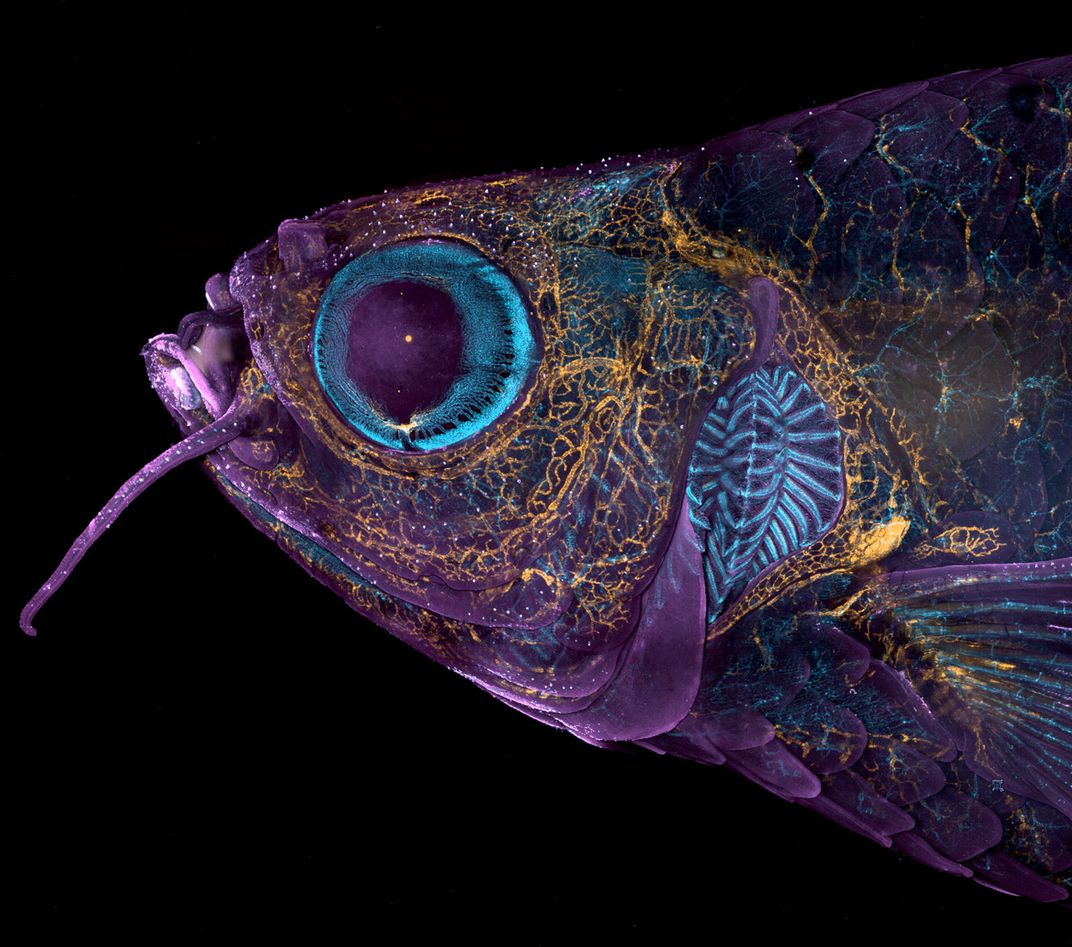 Daniel Castranova and Brant Weinstein captured this stunning image of an adult transgenic zebrafish as part of their research at the Eunice Kennedy Shriver National Institute of Child Health and Human Development, which is part of the National Institutes of Health. The blue parts of the photo are blood vessels, the yellow parts are lymphatic vessels and the magenta parts are skin and scales.
Cuckoo Wasp by Sherif Abdallah Ahmed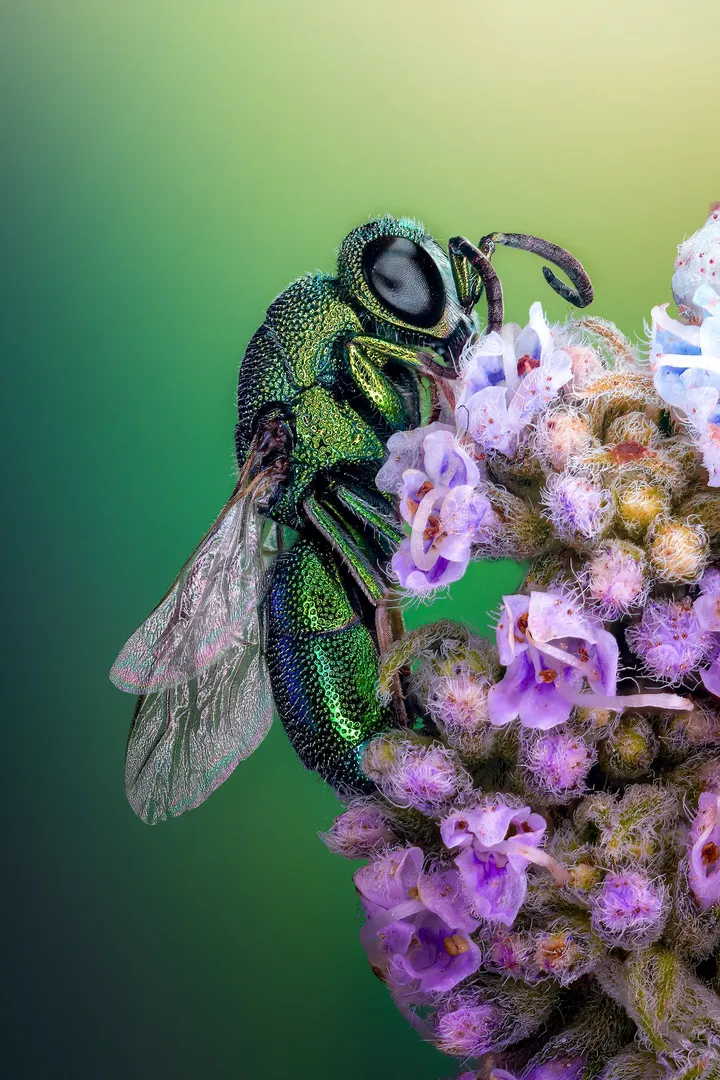 Judges loved Sherif Abdallah Ahmed's crisp shot of a cuckoo wasp standing on a flower and awarded him 12th place. Like cuckoo birds do with other birds' nests, these shimmery green creatures lay their eggs in other wasps' nests, per the Australian Museum. The intruder cuckoo wasp hatches first, then eats all of the stashed food (and sometimes the other larvae).
Chinese Moon Moth by Yuan Ji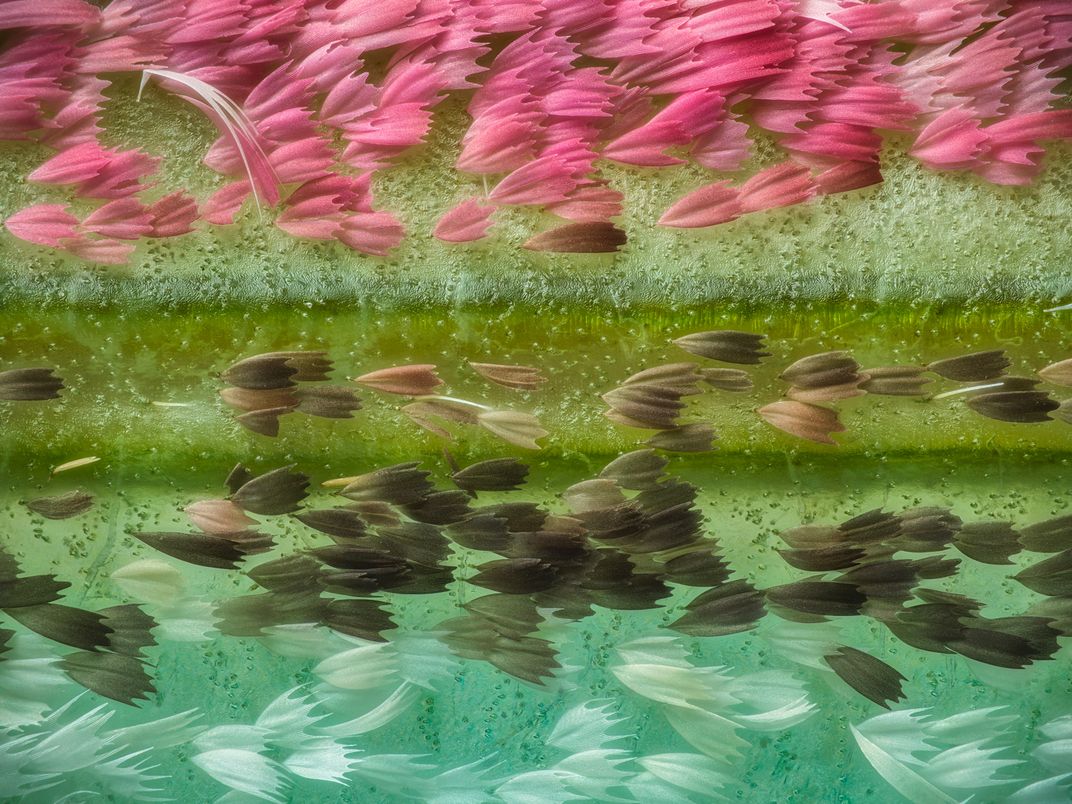 Photographer Yuan Ji won 17th place for her detailed shot of a Chinese moon moth's wing scales. Ji is affiliated with the World Expo Museum in Shanghai, China.
Sphagnum Moss by Travis Wagner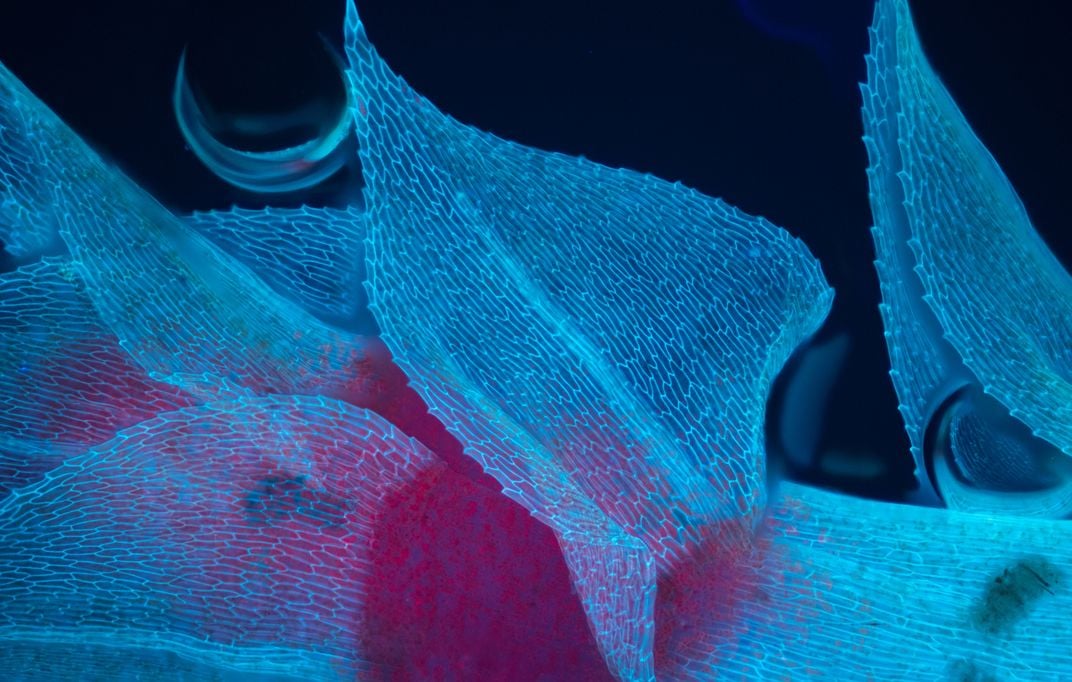 Travis Wagner, a mechanical engineer at the Rochester Institute of Technology in New York, earned an honorable mention for his fluorescent image of sphagnum moss with two air bubbles. Also known as peat moss, sphagnum mosses carpet the ground in marshes, moors and peat bogs.
Trichinella Cyst by Nathan P. Myhrvold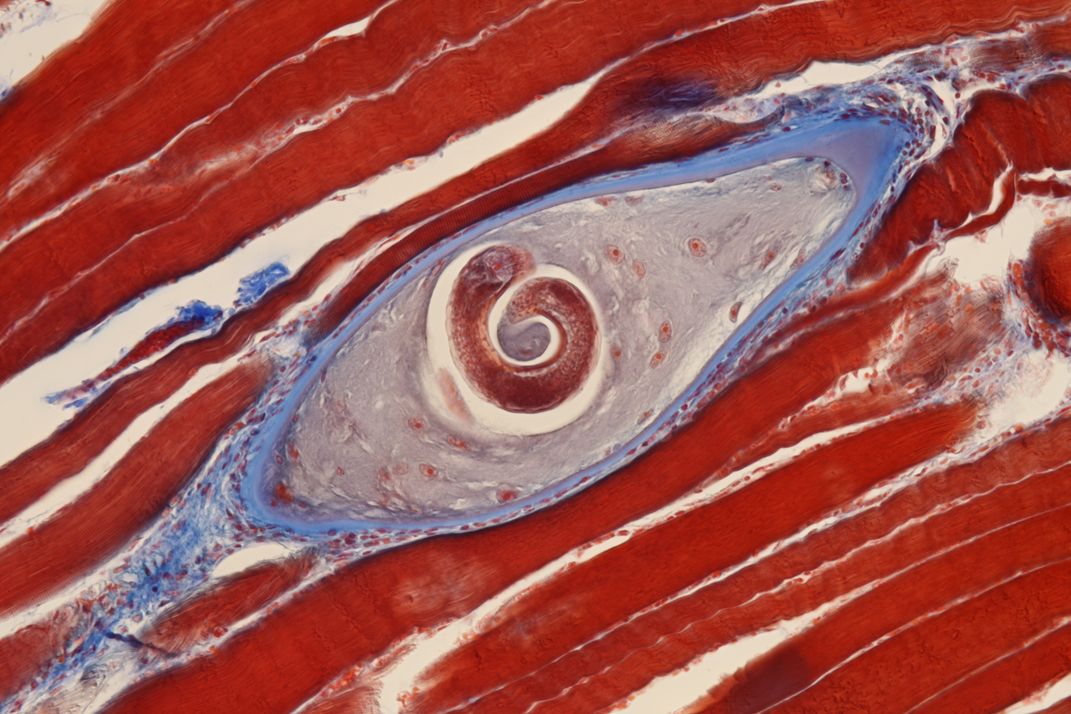 The parasitic roundwormworm trichinella can infect animals, including pigs. If humans eat raw or undercooked pork that's infected with trichinella, they too can become infected. Photographer Nathan P. Myhrvold captured this view of a trichinella cyst in pork muscle.
Slime Mold by Timothy Boomer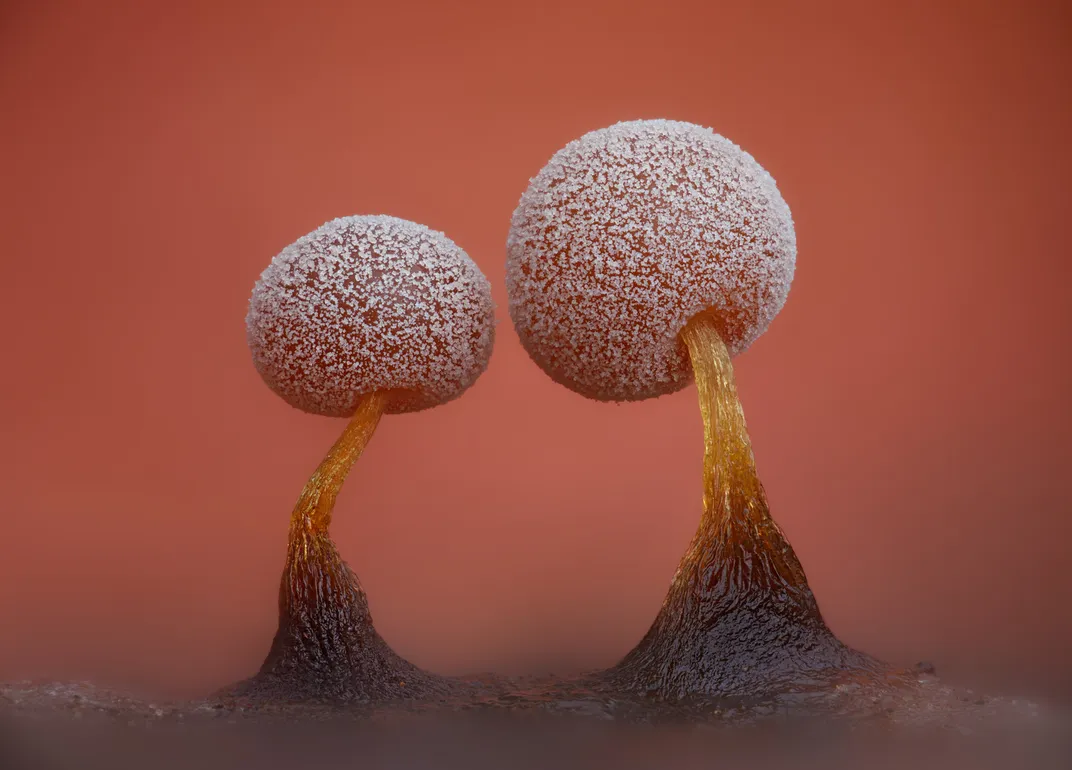 California-based photographer Timothy Boomer won an "image of distinction" award from the judges for his whimsical shot of slime mold fruiting bodies. 
Slime molds are relatives of single-celled amoebas. Though they don't have a central nervous system or a brain, they can relocate food and navigate mazes, to name a few abiliites.