Newly Discovered Letter Sheds Light on Overlooked Suffragette
Annie Kenney, who took part in the movement's first militant act, wrote to her sister after being released from prison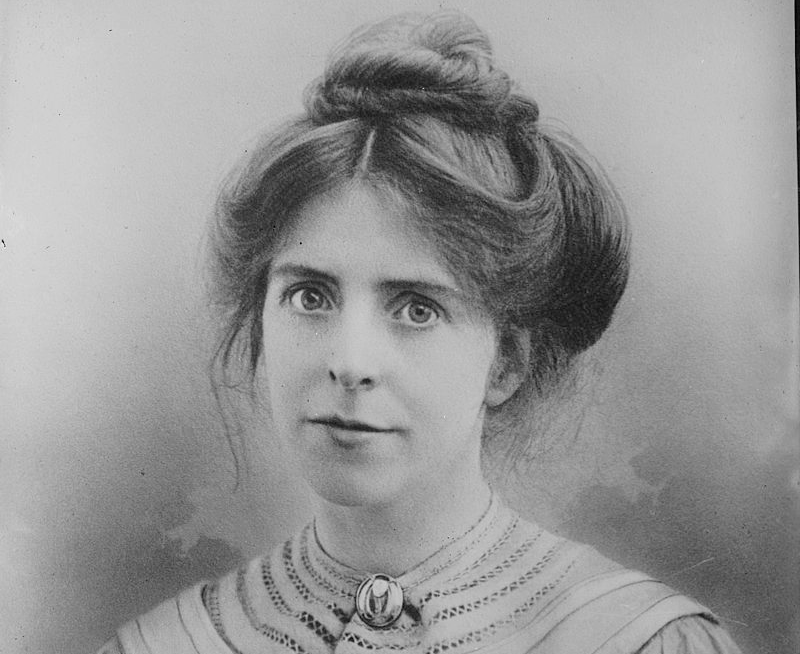 On October 13, 1905, Christabel Pankhurst and Annie Kenney stormed into a political meeting in Manchester, England, and demanded to know if the country's Liberal government would grant women the right to vote. When police forcibly removed them from the meeting, Pankhurst spat on an officer, and the women were promptly arrested. Rather than pay a fine, they chose to go to jail—a media-savvy move designed to excite press attention and new followers to their cause. The incident is regarded by many historians today as the first militant action of the suffragette movement.
As the BBC reports, a recently discovered letter from Kenney to her sister Nell sheds new light on one of the women behind the vital turning point in the fight for universal suffrage. Lyndsey Jenkins, a historian at the University of Oxford, found the letter in the British Columbia Archives in Canada while conducting research on Kenney and her family.
The reason the letter ended up in Canada is because that's where Nell emigrated with her husband in 1909. As the document was filed under Nell's married name, it had gone unnoticed for more than a century. The "missive from a militant" will finally go on public display at Gallery Oldham in Greater Manchester this Saturday.
In the letter, dated October 17, Kenney informs her sister that she has been released from Strangeways Prison in Manchester. In spite of the ordeal, the suffragette appears to be in good spirits, even a little giddy. She writes that there were "over one hundred people waiting" for her when she got out of the prison, and that she received a "lovely bouquet of flowers … from the Oldham Socialists."
She also notes that more than 2,000 people had attended a protest meeting on her behalf the night before. "Manchester is alive I can assure you," she writes.
And yet, Kenney worried that family members might not be quite so thrilled with her behavior. "[T]he only thing I am sorry about is those at home," she writes. Later, referencing another sister, Kenney revealed "Alice is awfully angry about it."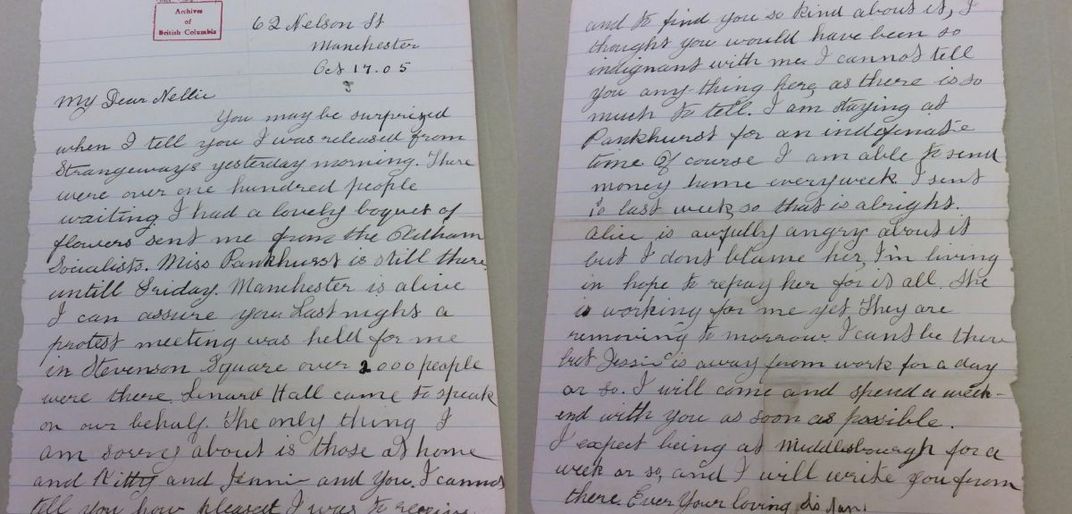 "What [the letter is] really good at is showing the contrast between [Kenney's] public excitement … and her private worries about how it's going to go down at home," Jenkins says in a radio interview with the BBC, also noting that the document is the "earliest record that we have of a suffragette's testimony of what it's like to go to prison for the vote."
According to the Annie Kenney Project, which plans to erect a statue of the suffragette in Oldham's Parliament Square, Ann "Annie" Kenney was born in Oldham, a town within Greater Manchester, in 1879. She was the fifth of 12 siblings, and began working in a cotton mill at the age of 10. Kenney heard a speech given by Christabel Pankhurst in 1905 and was immediately enthralled. She joined the Women's Social and Political Union (WSPU), a radical wing of the suffrage movement that was founded by Pankhurst's mother, Emmeline Pankhurst.
Kenney became an important figurehead for the WSPU. Unlike most of the union's other leaders, who were criticized as "elite bourgeois," Kenney was working class, and she helped publicize the suffragette's cause to other female laborers. By 1912, she was effectively running the movement. Emmeline Pankhurst had been imprisoned for militant activism and Christabel decided to flee to Paris, leaving Kenney to lead the organization through the difficult years leading up to 1918's Representation of the People Act, which granted women their first voting rights.
Kenney was imprisoned several times after the 1905 incident, and endured hunger and thirst strikes that "devastated her health," according to a University of Oxford statement. But in spite of her dedication to the cause, she is less remembered than other key suffragette figures, like the Pankhursts. The letter, Jenkins says, therefore offers vital insight into a woman whose "significance is often underestimated and poorly understood."
"This is an exciting and revealing document," Jenkins adds, "which deepens our understanding of the battle for suffrage and the women who fought it."