New Hieronymus Bosch Drawing Found in Private Art Collection
The hellish landscape is "an exceptionally important addition" to Bosch's grim work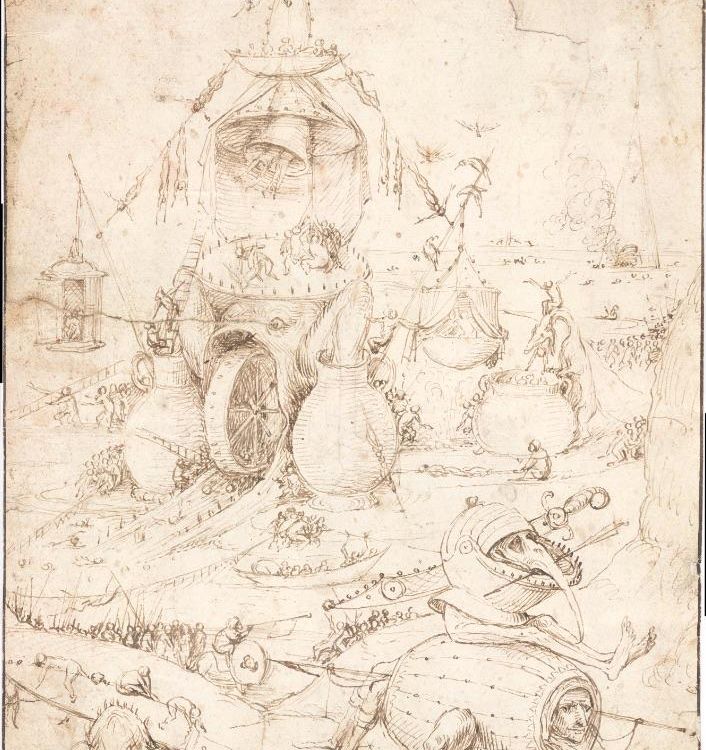 A drawing long kept in a private collection just gained a famous attribution. In the artwork, grotesque creatures cavort across the hellish landscape in a scene one might call Boschian, after the Dutch artist Hieronymus Bosch. Now, experts announced that the drawing is by the hand of the master himself, and not one of his assistants as previously thought, reports Claire Voon for Hyperallergic. 
The size of the drawing and the spectacle it contains make it "an exceptionally important addition to [Bosch's] body of drawings," a statement by the Noordbrabants museum says.
The scene features a tower, where a net scoops up lost human souls toward a water wheel, which protrudes from a monstrous creature's gaping maw. Human bodies also hang inside a giant bell on the creature's back, as if the people were its clappers. Beyond the monster-tower, a dragon spews other doomed souls into a large cauldron.
The drawing was auctioned from an unknown source in 2003, and has been privately owned since then. Matthijs Ilsink, a Bosch specialist with Noordbrabants, had only known about the work from a book, but suspected it might be more important than other scholars thought, he told a Dutch language newspaper, de Volkskrant, in an article by Wieteke van Sail. The owner invited Ilsink, and other experts with the Bosch Research and Conservation Project to analyze the drawing.
The group determined that the handwriting and the style of certain figures indicated that Bosch was the artist. They were particularly convinced by the human-headed, barrel-bodied figure in the foreground of the drawing, Sail reports. A similar figure was discovered through an infrared scan of one of Bosch's other works, The World Before and After the Flood.
The public will get a chance to see the newly christened Bosch drawing during a 2016 exhibition at Noordbrabants Museum, along with 20 other works by the Dutch artist.
While the conservation project plans release a detailed report before the exhibition, they've certainly been busy with other Bosch investigations. Recently, they also announced that other artists likely created two paintings that had been previously attributed to Bosch: Christ Carrying the Cross, currently held by the Museum of Fine Arts, Ghent, and Seven Deadly Sins and the Last Four Things, which hangs in the Museo del Prado. 
Though some may view the change in attribution a demotion for these two paintings, the work is still notable. Christ Carrying the Cross may not be by Bosch but it was by "a phenomenal artist" whose name we simply don't know, the Noordbrabants museum's release says. The museum in Ghent has a similar attitude. The museum tweeted (in Dutch, translated by Voon at Hyperallergic): "And besides: Bosch or not Bosch, we are no more or less happy to see it! #LoveTheArt, not (just) the name!"