Newborn Monk Seal Pup and Mother Get 24/7 Police Protection
Wildlife officials closed down a popular Hawaiian beach to protect the pair of endangered mammals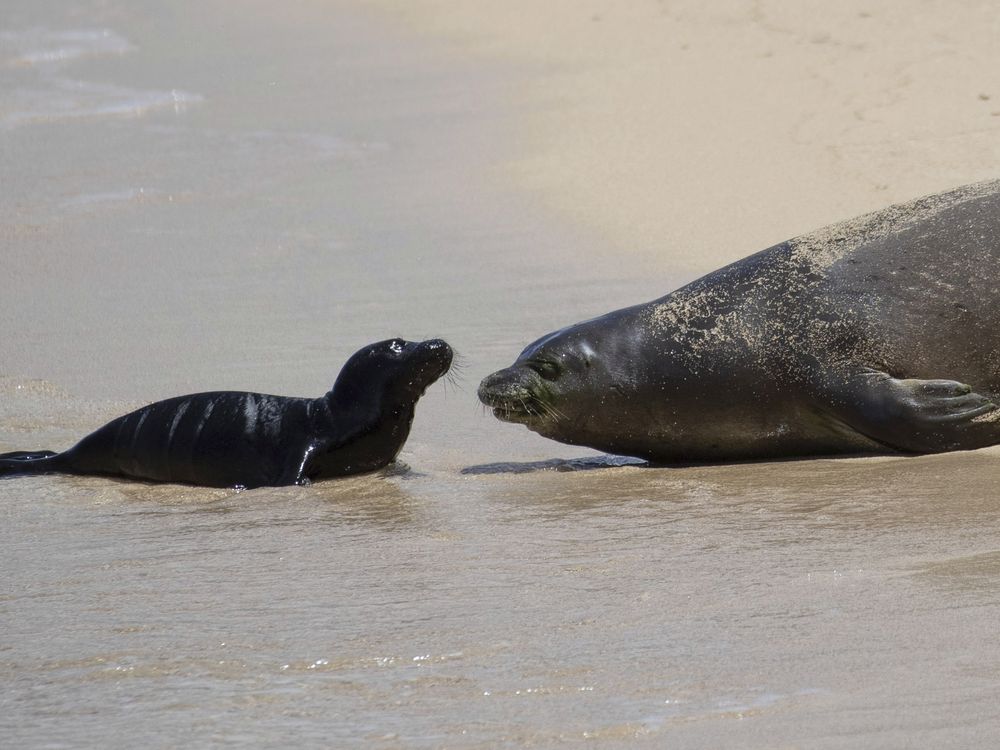 An endangered Hawaiian monk seal and her newborn pup are getting around-the-clock police protection to give them the best chance of survival on a popular O'ahu beach.
Just over 1,500 Hawaiian monk seals exist in the wild, so wildlife officials were overjoyed when a 12-year-old female named Kaiwi gave birth to a pup on April 14. The mother is now nursing her little one at Kaimana Beach in Honolulu's Waikiki neighborhood.
The pair will spend roughly five to seven weeks together on the beach while the pup grows stronger and larger. In the meantime, officials have erected a temporary fence to close off the area and are regularly conducting patrols on land and on jet skis to ensure humans don't bother the seal family.
The beach is a favorite destination situated among hotels, restaurants and tourist attractions like the Waikiki Aquarium. But for now, it's totally off-limits.
"It's better for you at this point to find another beach to recreate at," said Jason Redulla, chief of the state's Division of Conservation and Resources Enforcement (DOCARE), at a news conference last week, as reported by CNN's Paradise Afshar and Zoe Sottile.
DOCARE officers are on site to keep people away from the pair and say they will arrest or cite anyone who violates the Hawaiian monk seal rules, per the Honolulu Star-Advertiser. The choice is for the protection of both the animals and the beachgoers.
"Mother seals can be very protective of their pups and have bitten and seriously injured swimmers in the past," according to a Facebook post from the Hawaii Department of Land and Natural Resources. "They can be difficult to spot in the water and can move very fast in their natural habitat."
Already, the pair has been frolicking in the water in front of an audience of onlookers who kept a safe and respectful distance.
"I'm amazed they spent so much time in the ocean, and you could tell once they hauled back up to the beach they were pretty exhausted," says Emily Greene, education and engagement manager for the Hawaii Marine Animal Response (HMAR), in a statement.
This pup is Kaiwi's fifth: She previously gave birth in 2016, 2018, 2020 and 2021, according to the National Oceanic and Atmospheric Administration (NOAA). Hawaiian monk seals have birthed pups on Kaimana Beach during four of the last six summers. While that's good news for the population's numbers, it does present some challenges in this heavily touristed area.
Last summer, a Hawaiian monk seal named Rocky, who had recently given birth to a pup, injured a 60-year-old woman from California. The woman, an elementary school teacher, suffered lacerations on her back, arm and face while swimming near Kaimana Beach, as the Associated Press' Caleb Jones reported. In 2021, several videos that showed humans touching the monk seals went viral on social media, and the state's then-governor described the behavior as "absolutely unacceptable," per the Honolulu Star-Advertiser's Rosemarie Bernardo.
As a result, this year, wildlife officials have increased their presence, boosted their education efforts and expanded the beach closure.
Though the pinnipeds are still endangered, their numbers have been on the rise since 2013. In 2021, the total population had grown to an estimated 1,570 seals, up from 1,435 seals in 2019, according to NOAA. That marked the first time the number had risen above 1,500 in more than 20 years, per the agency.
As their name suggests, these marine mammals only inhabit the islands and waters of Hawaii; the majority live among the Northwestern Hawaiian Islands, which are largely uninhabited by people.
Despite the recent rebound, Hawaiian monk seals continue to face threats from climate change, habitat loss, entanglement in fishing equipment and other human-caused issues. In 2021, wildlife officials discovered a young female Hawaiian monk seal that had been shot in the head, one of three total intentional killings of the creatures on Moloka'i that year, as Kaile Hunt reported for KHON2 last year.