New Zealand's Iconic Pōhutukawa Tree May Have Roots in Australia
Fossils belonging to the pōhutukawa's ancient ancestors were found on the coast of Tasmania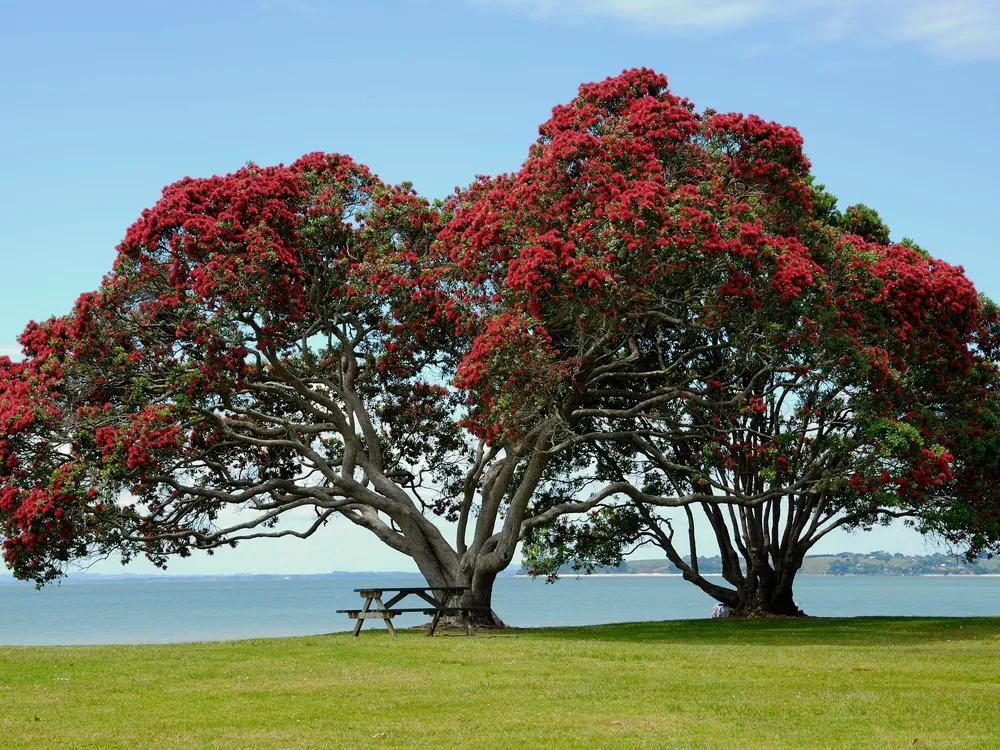 The pōhutukawa, a species of myrtle that erupts with fiery crimson flowers during warm weather, is one of New Zealand's most iconic trees. Because it blooms during the holiday season (which occurs during New Zealand's summer), the pōhutukawa adorns Kiwi Christmas cards and features in jaunty Christmas songs. The tree also has sacred significance to the indigenous Māori culture. But as Kelsey Kennedy reports for Atlas Obscura, a new study suggests that New Zealand's beloved pōhutukawa could have originated in Australia.
Published in the American Journal of Botany, the study describes two new pōhutukawa fossil species, which were discovered on the coast of Tasmania by a team of researchers at the University of Adelaide. The fossils date to about 25 million years ago. Because the pōhutukawa belongs to the genus Metrosideros, the new species were dubbed Metrosideros dawsonii and Metrosideros wrightii.
It isn't the first time that researchers have found traces of the pōhutukawa's ancestors in Australia. Fossils belonging to another subgenus of Metrosideros, also discovered in Tasmania, were shown to be about 35 million years old. As the authors of the study note, these findings "further strengthen the case for an Australian origin of the genus," because they indicate that there was a diversity of ancient Metrosideros in Australia.
Also pointing to an Australian origin is the fact that the newer fossils are not as widely distributed as their ancestors. "These species may not have been as well adapted for long-distance dispersal as those other species, and so it is likely that they originated [in Australia]," Myall Tarran, a researcher at the University of Adelaide's School of Biological Sciences, says in a statement.
Mysteriously, the pōhutukawa and its myrtle cousins are no longer found in Australia. They exist all over the South Pacific, from Hawaii, to Papua New Guinea, to the Bonin Islands near Japan, to a number of sub-Antarctic islands. But the trees do not grow Down Under. "The question still remains as to why they became extinct in Australia," Tarran says.
Although the pōhutukawa may not have originated in New Zealand, it has deep roots in the country's past. According to a website run by the New Zealand government, 19th-century settlers were drawn to the pōhutukawa's blazing blossoms, using them to adorn their churches and dwellings. Long before that time, the Maori people regarded the pōhutukawa as a sacred tree, and it is featured throughout Maori mythology.
A gnarled pōhutukawa located on the northernmost tip of Cape Reinga is particularly significant to the Maori. It is here, according to Maori mythology, that the spirits of the dead begin their journey to the ancestral homeland of Hawaiki, leaping off the rocky outcrop and descending to the underworld through the roots of the pōhutukawa tree.