These Glass Sculptures Were Inspired By the New York City Ballet
The artist wanted to convey that "all of your memories are stuck inside your bone marrow" and make them visible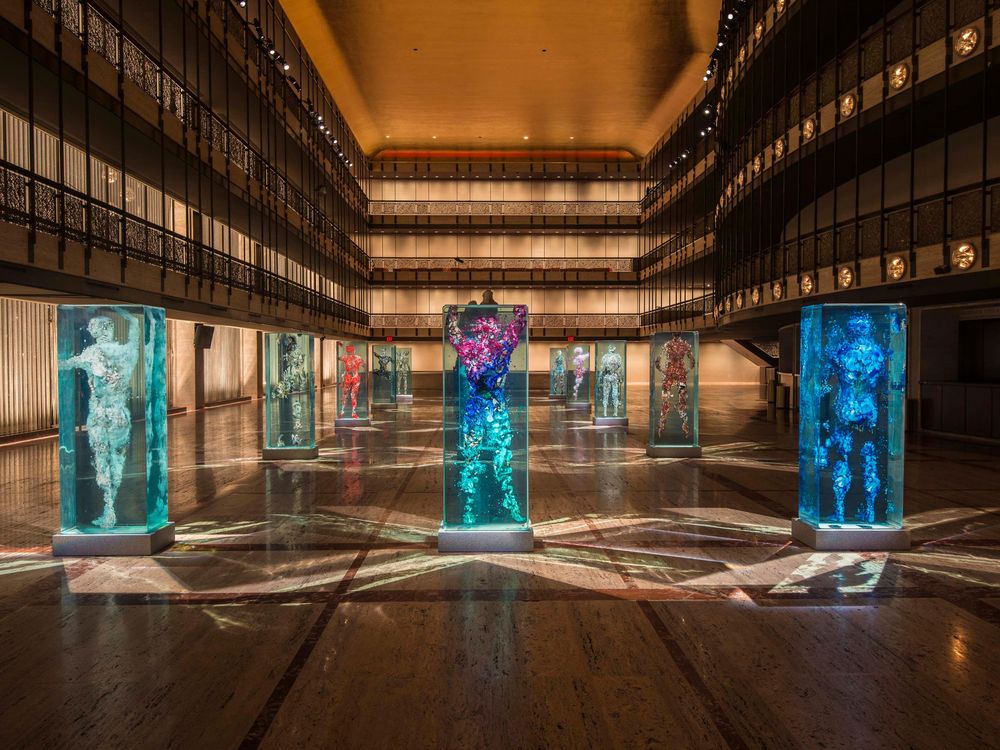 Ballet has long inspired artists to explore the beauty, strength and fragility of the human form. And in this year's installation of the New York City Ballet Art Series, Dustin Yellin, a Brooklyn-based artist known for his large-scale sculptural paintings, has captured in glass figures caught mid-leap, dancing, made of a pastiche of color and images. 

Yelin paints panes of glass and adds bits of found objects — cut up books and magazines, encyclopedias, trash and more — to each layer. The panes are then laid one atop the other to create a large "window sandwich," he describes in a video.
It's part of a project Yellin has named "Psychogeographies," because it is about "mudane things that repeat themselves every day, but effect the way that your bones feel, the way that your blood flows," he says. Each figure weighs 3,000 pounds, according to Colossal.
The artist's biography states:
Yellin displays a ready willingness to experiment with forms and materials, using bizarre found objects, eccentric clippings from diverse sources, computer-generated images, acrylic, and glass. After efforts primarily on canvas and paper, Yellin breakthrough came when he was working outdoors with natural materials embedded in resin. The effects were novel and suggestive, and Yellin realized collage could be literally expanded into another dimension.
The work is displayed as an installation in the atrium of the David H. Koch Theater at Lincoln Center, in New York City. Attendees to the ballet's performances through March 1, 2015, can see the figures, and the public is free to view until February 22. For those not able to see the art in person, you can explore the figures in detail on Yellin's website.