This New Technique Could Revolutionize the Future of Art Reproduction
RePaint renders reproductions in color four times closer to the original than the next-best tool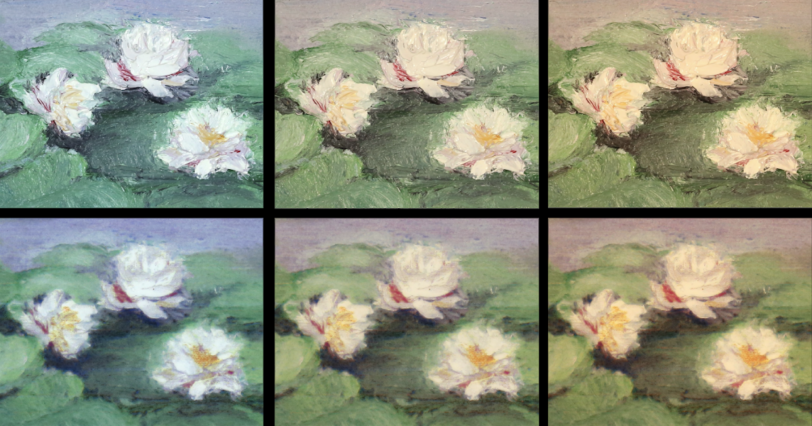 A new method of multi-layer, custom-ink 3D printing pioneered by the Massachusetts Institute of Technology's Computer Science and Artificial Intelligence Laboratory (CSAIL) could transform the way we reproduce art, Sam Gaskin reports for Artsy.
RePaint, a resin-based 3D printer that renders reproductions in color four times closer to the original than the next-best tool, utilizes a palette of 11 different inks: cyan, magenta, yellow, black, green, blue, orange, red, violet, transparent white and opaque white. Comparatively, traditional 2D printers typically operate in CMYK, or cyan, magenta, yellow and black, which is the keyline color.
This expanded range of colors makes it possible to conjure up more accurate replicas of stolen masterpieces such as Johannes Vermeer's "The Concert" and the "Just Judges" panel of Jan and Hubert van Eyck's Ghent Altarpiece, as well as carbon copies of fragile canvases otherwise accessible only through a museum visit.
RePaint replicates oil paintings' tones with a level of accuracy evident across multiple lighting conditions—a quality difficult to capture in four-ink reproductions, which Changil Kim, co-author of a recent study detailing the technology, tells MIT News' Rachel Gordon "might look different in your home" versus the gallery.
Sarah Cascone of artnet News reports that the researchers' method, known as "color-contoning," works in conjunction with the established technique of half-toning, or applying ink via tiny dots rather than continuous fields of color. To create reproductions, RePaint stacks ink in layers: Opaque white serves as the base, according to Gaskin, while transparent white is overlaid on other colors to finetune their vibrancy. Thanks to a deep learning algorithm, the printer is able to determine which shades of ink will yield the most authentic result.
So far, the team has tested its technique on a set of specially commissioned oil paintings by artist Azadeh Asadi. Although the resulting replicas reflect RePaint's technological prowess, they also reveal several limitations of the process: As Gaskin notes, the printer struggled to mimic certain shades of color, including cobalt blue and violet, carmine, cadmium yellow, and gray. The printing process itself was also surprisingly slow, taking around one-and-a-half hours to produce a business card-sized copy. (For perspective, it would take RePaint just over 56 days to print a copy of Mark Rothko's 7.5-by-6-foot "Orange and Yellow.")
Moving forward, the team plans on expanding its color repertoire and building toward the exact reproduction of paintings' surface texture and reflection. RePaint mechanical engineer Mike Foshey tells Artsy that he and his colleagues also hope to eventually branch out beyond oil painting to sculptural works.
Given the technology's lengthy printing time and limited ink library, the chances of spotting a RePaint-generated replica in a museum gift shop, on a gallery wall, or in a book anytime soon are low. Still, the technique holds great promise, and once it's perfected, you may find ostensibly indiscernible versions of Vincent van Gogh's "Starry Night" and Leonardo da Vinci's "Mona Lisa" popping up all over the place.
The crux of the matter, according to art historian Noah Charney, is where such reproductions stand in an artist's oeuvre. Are they simply accessible copies that make up for what they lack in authenticity with minutely accurate detail, or are they potentially potent simulacra, poised to taint the intangible aura surrounding originals? There's no straightforward answer to this question, but as Charney writes for Zócalo Public Square, if the convenience afforded by replicas begins to outweigh the singularity of true masterpieces, "we may be left with the body, but risk the loss of the most important thing to those who truly know and love art and history: the soul."
Then again, perhaps tools like RePaint will transform the art world, broadening its reach and instilling a love of art in those unable to visit museums in person. Only time—and, if the RePaint process remains stuck at its snail-like printing pace, we really mean time—will tell.