In This New Portrait, George Washington Trades His Curls for a Man Bun
The first president turns hipster at a new D.C. restaurant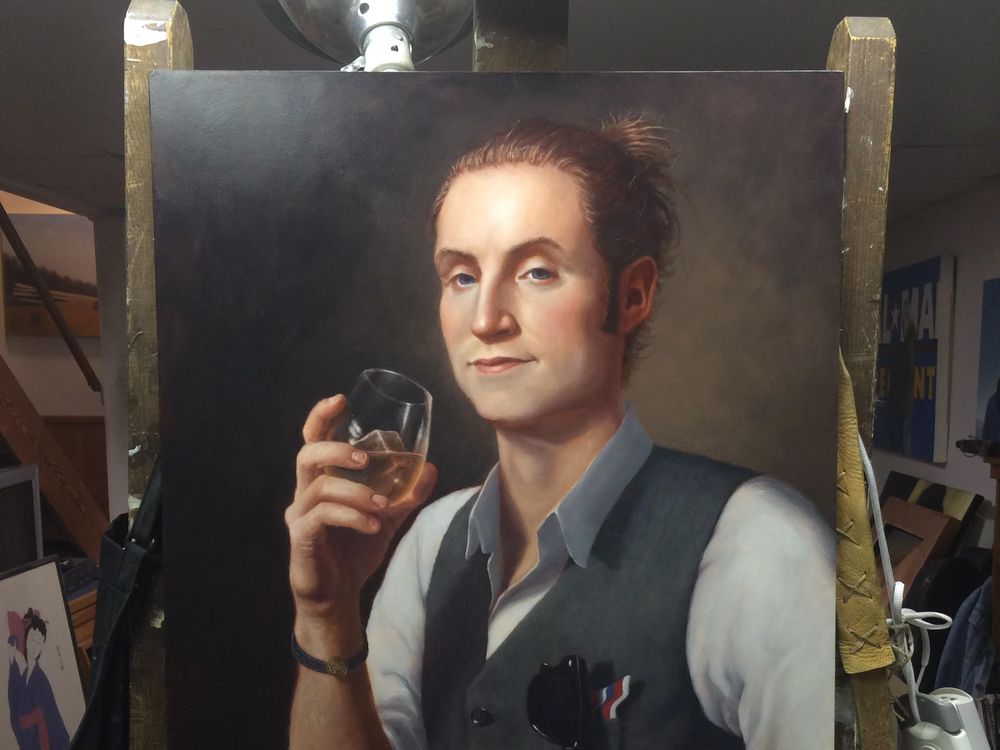 What if George Washington weren't a false-teeth-wearing, presidential icon but rather an amiable bro who kept his sunglasses in the pocket of his vest? It's a question you likely have not asked yourself before—but inside one Washington, D.C., restaurant, it's one that's answered nonetheless. Washingtonian's Jessica Sidman reports that you can now spy a unique interpretation of the first POTUS in a newly commissioned portrait that portrays Washington as a modern-day hipster.
The restaurant is called Farmers & Distillers, and it opened last month. Inside, it's got a portrait of Washington that's nothing like the one you likely associate with the statesman who first led his fellow colonists to victory against the British, then led them as the new nation's first president. The Washington of the new portrait isn't astride a horse, on his way across the Delaware or on a one-dollar bill. Rather, he's portrayed as a scenester complete with Wayfarers, vest, bracelet, bun and glass of craft whiskey.
As Sidman reports, the portrait was commissioned by Dan Simons, who co-owns Farmers & Distillers. Painter Nathan Loda, who created the piece, tells Smithsonian.com that he was surprised and challenged by the premise of the painting the restaurant ordered. "It's something different," he says on the phone, "a new icon."
Loda immediately knew he'd have to reference the most famous portrait of Washington: The Athenaeum, Gilbert Stuart's unfinished portrait of the president that later served as the model for the one-dollar bill.
Drawn to what he calls Washington's "prominent eyelids and jaw line," Loda began to paint a series of drafts over the course of several weeks. He revised the painting to include rolled-up sleeves and, of course, that topknot, which Loda actually modeled after his own.
"I already admired Washington," says Loda, "but [the project] did get me to think of him as a younger man." While he worked on the painting, he says, he wondered what Washington was thinking and what he must have been like as a young man. "He was pretty hipster to begin with," concluded Loda.
Washington, it turns out, definitely knew how to party at all ages. As a young man, he lost his first political campaign in part due to his failure to ply potential voters with booze. He never made that mistake again: He purchased 144 gallons of alcohol during the next election and doled it out to would-be voters, securing his win. 
That wasn't the future president's only brush with the bottle. In 1787, a party given in his honor ran up a massive bar tab of nearly $10,000 in modern-day dollars in Philadelphia's City Tavern in a single night. It was an epic bash: His group of 55 men managed to drink nearly 200 bottles of alcohol and "7 Large Bowels of Punch." And in 1798, when he was 66 years old, he launched a whiskey distillery that became the largest of its kind.
Would Washington have dug craft whiskey from the new restaurant's proprietary line of booze? All signs point to yes. But for Loda, the real story in his portrait isn't what's in the glass. Rather, it's the chance to see the first president through new eyes as a hipster—man bun and all.
Editor's note: This story has been changed to reflect the fact that George Washington's iconic hairstyle was all natural. While he wore powder on his curls, the first POTUS never wore a wig.