New Nashville Restaurant Recreates Civil Rights Sit-In Site
The lunch counter where John Lewis and others were arrested will now be part of a soul food eatery and music venue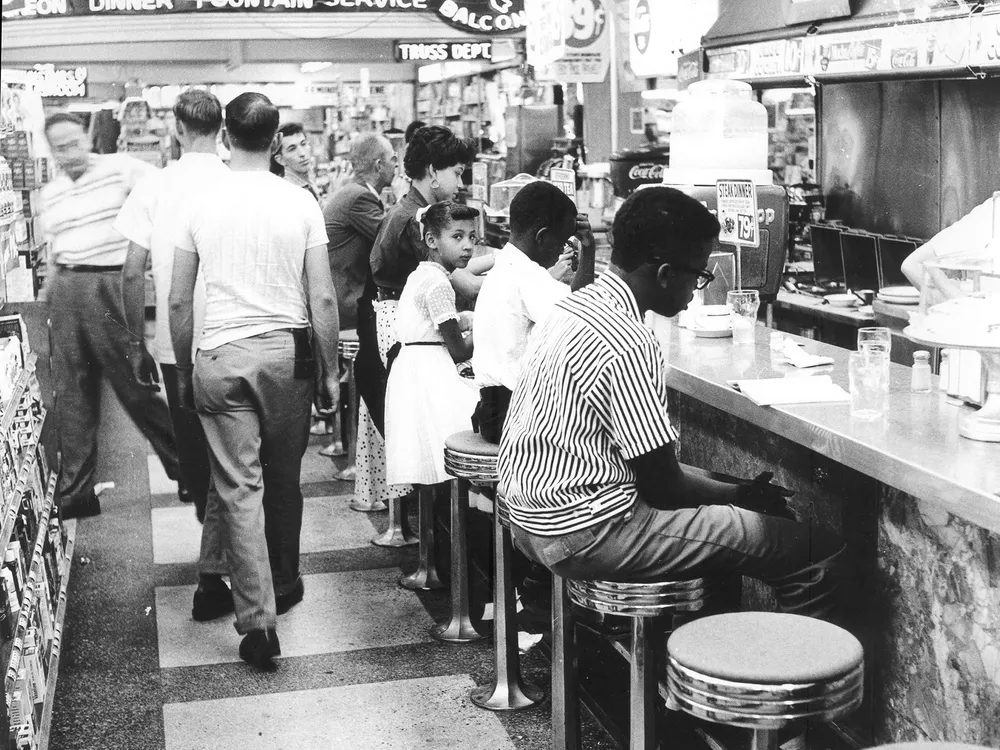 In 1960, a group of Nashville, Tennessee, students began to do something extraordinary: sit. These were no couch potatoes. Rather, they were building the Civil Rights Movement by sitting at segregated lunch counters and refusing to leave. Woolworth's, one of the city's most popular stores, was often their target.
Now, reports Jonathan Mattise for the Associated Press, a new restaurant opening in one of the Woolworth's where young people took a stand by sitting down will pay tribute to the site's Civil Rights history. Called Woolworth on 5th, the soul food eatery, which will also be a live music venue, will feature a restored lunch counter like the one where sit-ins occurred.
The site "needs to be saved," restaurateur Tom Morales said at an event celebrating the project, reports Eleanor Kennedy for the Nashville Business Journal. The building was recently home to a dollar store, but it had a long history as a Woolworth's department store.
For 117 years, Woolworth's five-and-dime stores were fixtures in communities, and their lunch counters and soda shops served as local gathering places. During the 1960s, they became a site of intense upheaval. The sit-ins were organized by members of the Student Nonviolent Coordinating Committee, which came out of the first-ever sit-in at a Woolworth's in Greensboro, North Carolina. Civil Rights leader and U.S. Congressman John Lewis helped organize sit-ins in Nashville and was arrested multiple times for his participation.
In an oral history, Lewis recalls what it was like to endure the sit-ins. "It was a cold day in Nashville, we even had snow—on that particular day, went down and started sitting in at Woolworth's," he recalled. "Later during the day there was some violence on the part of a young white teenager who pulled students off the seats or put lighted cigarettes down their backs, that type of thing. We continued to sit."
The nonviolent actions of the lunch counter protesters was made even more powerful by the uproar that surrounded their simple act of sitting. Stores would close but when they stayed open, chaos often erupted. People would pour coffee on protesters or spray insect repellant at them, and threats and beatings were common. Lewis recalls another sit-in during which he was told that the police would stand aside and let a group of white thugs inflict vigilante justice on the protesters. They sat anyway.
"It was a Woolworth in the heart of the downtown area, and we occupied every seat at the lunch counter, every seat in the restaurant, and it did happen," he said. "A group of young white men came in and they started pulling and beating primarily the young women. They put lighted cigarettes down their backs, in their hair, and they were really beating people. In a short time police officials came in and placed all of us under arrest, and not a single member of the white group, the people that were opposing our sit-in, was arrested."
When the restaurant opens, patrons will be able to enjoy music of the era while eating soul food—an offering that would have been unthinkable in 1960. But perhaps the most potent dish on the menu will be a chance to commemorate what happened in Woolworth's around the Jim Crow South. The restaurant is expected to open later this year.