New iPad App Lets You Noodle Around Einstein's Noggin
iPad app sees Einstein's autopsied brain digitized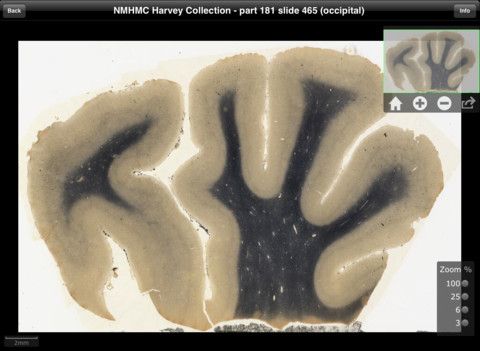 The National Museum of Health and Medicine Chicago has released an iPad application that lets anyone with a passing interest in neuroanatomy gawk at Einstein's grey matter. The app provides access to high-quality digital scans of the late physicist's autopsied brain, says the Associated Press.
But it isn't a full-featured text book or educational system geared towards novices. In addition to mindless intrigue, the designers are hoping the new app could be useful to scientists, allowing them to find the features that made Einstein's brain unique. That goal may be a touch lofty, according to the AP:
ecause the tissue was preserved before modern imaging technology, it may be difficult for scientists to figure out exactly where in Einstein's brain each slide originated. Although the new app organizes the slides into general brain regions, it doesn't map them with precision to an anatomical model.

… What's more, the 1-inch-by-3-inch Einstein slides on the app represent only a fraction of the entire brain.
The application's $9.99 price tag will see the funds donated to the National Museum of Health and Medicine in Silver Spring, Md., and to the budding Chicago offshoot.
More from Smithsonian.com:
Albert Einstein Lives On
The Year of Albert Einstein