200 Artifacts of Witchcraft Cast a Spell in Cornell's "The World Bewitch'd"
The exhibit, full of manuscripts, photographs and posters, highlights the history of witchcraft in Europe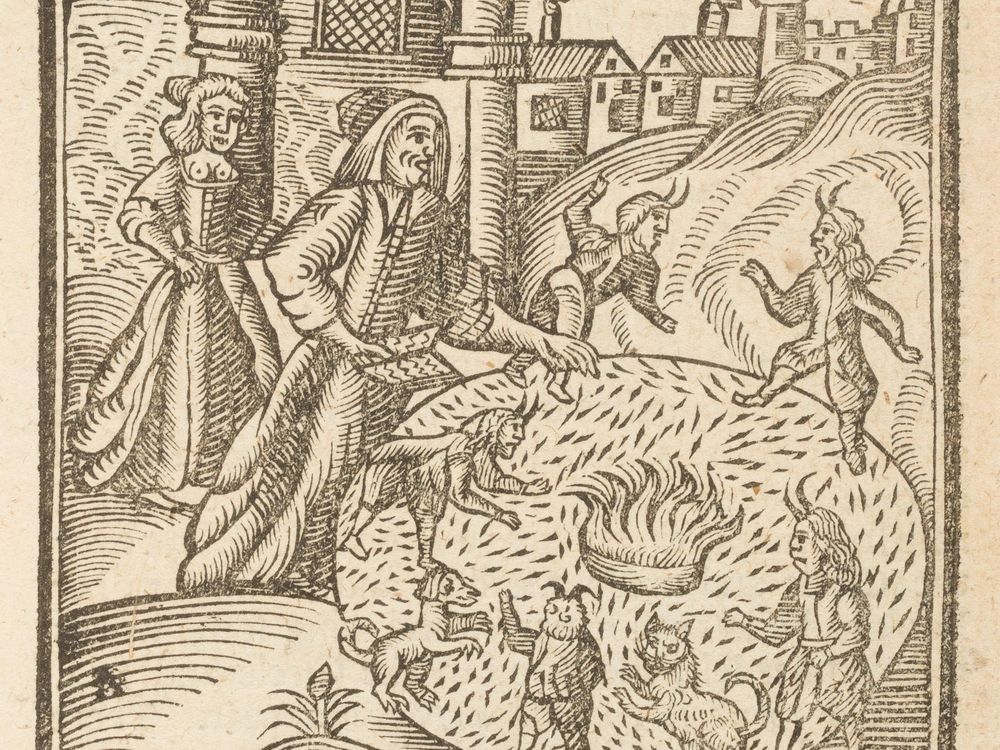 The Nuremberg Chronicle, a late 15th-century text that tells the history of the Christian world, features a grotesque image of an English witch being carried off on horseback by the devil. Her breasts are bared, her hair loose, her expression contorted. The image, a woodblock print, helped popularize the association between witches and the devil, and it was reproduced throughout the 16th century. Now, this influential relic can be seen at a new exhibit, along with 200 other artifacts from the Cornell Witchcraft Collection.
As Kristin Fawcett reports for Mental Floss, "The World Bewitch'd," launched at Cornell's Carl A. Kroch Library on Halloween (naturally). On display is a trove of rare European items, including handwritten trial transcripts, tomes on demonology, and treatises on witchcraft. Together, these haunting relics illustrate the evolution of a widespread epidemic of paranoia and persecution—one that left thousands of supposed witches dead.
The exhibit draws on the approximately 3,000 artifacts held by the Cornell Witchcraft Collection, many of which were acquired by the university's co-founder Andrew Dickinson White and his librarian George Lincoln Burr in the 1880s.
"[White] was interested in people on the margin and the underside of history," Anne R. Kenney, co-curator of the exhibit, tells Allison Meier of Hyperallergic. "[A]nother big collection that he acquired was the anti-slavery collection."
Among the many intriguing items on display is a crude woodcut from the 1489 treatise De Lamiis et Pythonicis Mulieribus ("On Witches and Female Soothsayers"), which marked the earliest printed image of witches in flight. The woodcut depicts three figures clinging to a fork (the broom iconography would come later), their faces transfigured into animal heads. Also featured are the minutes from the trial of Dietrich Flade, a German judge who spoke out against witch hunts—and was subsequently tried and executed for witchcraft.
One of the main themes of the exhibit is the intersection between witchcraft and gender. In the 16th century, women were deemed particularly susceptible to the temptations of the devil—in part due to their perceived "uncontrollable carnal lust," writes Meier of Hyperallergic, and in part because they were seen as less intelligent than men.
"Prior to 1500, most sorcerers were men because they were seen as powerful agents — think of Merlin — but as the ecclesiastical leaders began to think of a new form of witchcraft, it was the more powerless people whom the devil contacted to do his work," Kenney tells Meier. "So they were not independent agents, but slaves of the devil. That powerlessness really became associated with women."
In an effort to give a voice to the female victims of Europe's witch mania, "The World Bewitch'd" will tell the stories of seven women through court records and imagery. Two of these supposed witches were ultimately declared innocent. All of them were tortured.
Reflecting on the ways in which popular attitudes toward witchcraft have changed, the exhibit also features a number of movie posters depicting witchcraft, sourced from films like The Exorcist and Harry Potter. No longer are "witches" the helpless victims of a powerful hysteria. As Kenney tells Meier, "[W]itches in popular culture now are more powerful, whether they do good or bad things."