New Calculations Reposition the Geographical Center of North America
After an 90-year-reign, the title moves from Rugby, North Dakota, to the city of Center, in Oliver County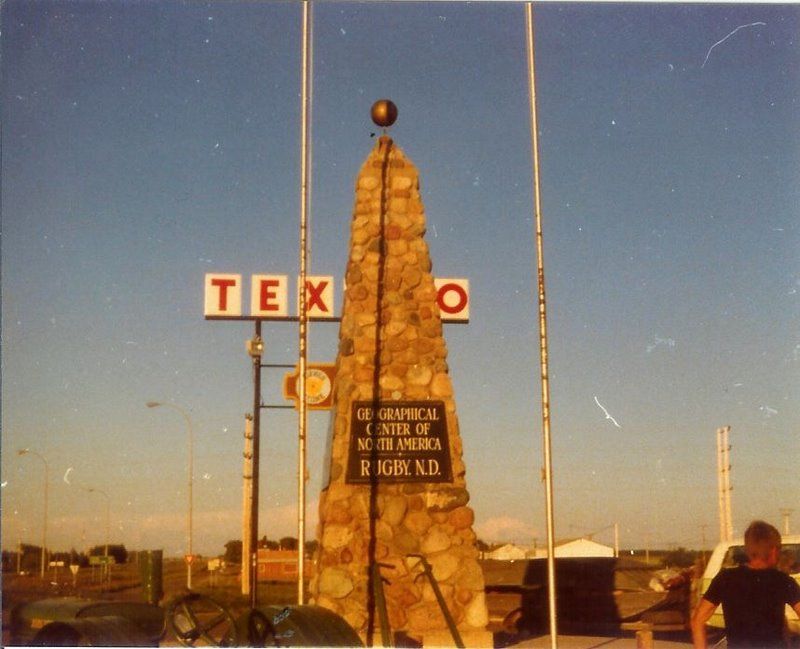 In 1928, a U.S. Geological Survey mathematician determined the geographic center of North America by balancing a cardboard cutout of the continent with a pin stuck through it on his finger, reports April Baumgarten at Forum New Service. His result, reports Baumgarten, was an area roughly six miles west of the tiny town of Balta, North Dakota, which is 16 miles southwest of Rugby—the town that claimed the title. And in 1931, the community erected a monument, declaring itself the "Geographical Center of North America," and joining a list of roadside attractions.
But Steph Yin at The New York Times reports that Rugby's claim to fame may belong to another. Peter Rogerson, geography professor at the University of Buffalo, created a method for determining geographic centers. When he applied his method to North America, he found is that the geographic center of the continent actually lies 145 miles southwest.
"When I ran my computer program and looked at the final latitude and longitude, I was astounded to see that it was in a place called Center," Rogerson tells Yin.
Rick Schmidt, the Extension agent based in Oliver County, where Center is located, was shocked by the news. "I am not sure that being the center of North America has really set in yet," he tells Baumgarten. "I would say that it is fun to be the center of attention."
Rogerson's pronouncement puts to rest a controversy that has been simmering in North Dakota for the last couple years. James MacPherson at the Associated Press, reports that in 2015 the patrons of Hanson's Bar in Robinson, North Dakota, 85 miles south of Rugby, collected $350 and bought the trademark for the phrase "Geographical Center of North America," which Rugby had let lapse in 2009.
Bill Bender, mayor of Robinson and one of the bar's many owners tells MacPherson that "barstool science" validates the town's claim since global warming has melted arctic sea ice, pushing North America south until the geographic center of the continent ended up smack-dab in the center of Hanson's 45-foot long bar. 'We're pretty confident if you come in and have a beer you'll see we can very well make the case," Bender tells MacPherson.
Rogerson's methods, however, more compelling. Yin explains that the professor uses what's called an azimuthal equidistant map projection. There are a range of different methods to project a curved object on a flat surface, but Rogerson's method specializes in accuracy of positioning in the central region, Yin writes, "at the expense of shape and size toward its edges. (Think of the flag of the United Nations, centered on the North Pole.)" 
Even so, the USGS has no official definition of a geographic center and no agreed upon method for determining it, Yin reports. And the current center does not include islands in the Caribbean, which are part of North America. There is also no particularly compelling scientific reason to calculate or debate the point. It's more of a matter of civic pride than scientific advancement, Rogerson tells Baumgarten.
Bender says that while he respects Rogerson's work, his town is going to continue to push its claim as the geographic center—and in August will hold what it hopes is the first of many CenterFest celebrations.