Neil Armstrong's Previously Unheard Speech, Recorded One Year Ago
Recorded surreptitiously, the 43 minute-long speech captures Armstrong's presentation one year prior to his passing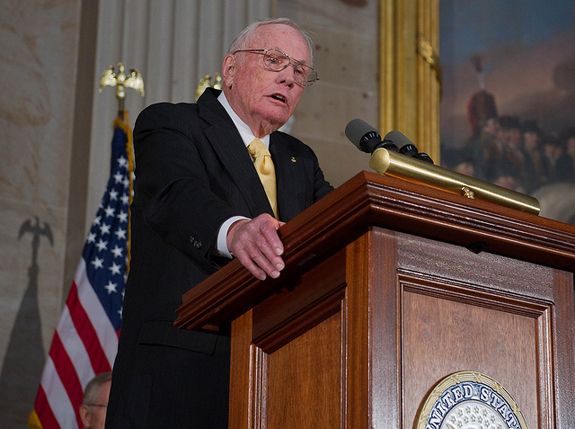 A largely unheard speech delivered by Neil Armstrong almost exactly a year ago, unknown to all but a few, has surfaced in the wake of the astronaut's passing. Recorded surreptitiously by Australian political candidate Alan Kerlin, the speech captures Armstrong's presentation to a room filled for the anniversary of the Certified Practising Accountants (CPA) Australia.
"You might ask me, how does it feel to be… the oldest person in the room," says Armstrong, kicking off the speech with a bit of levity. "I am encouraged by old-timers who did great things as senior citizens." Galileo, Edison, and others, he said, did some of their best work in their old age. "So, if there is a need for someone to command a starship in a tour around the solar system… I'm available."
He discusses how his father's career as an accountant encouraged his interest in mathematics, "which strongly encouraged educational career toward engineering."
According to Kerlin, he had sat on the recording for the past year, not wanting to "circumvent any speaking tours might undertake." "But," he says, "with the incredibly sad passing of Neil Armstrong overnight, there's a higher responsibility to get his words out there for everyone."
Kerlin further points to a series of video interviews with Armstrong conducted at the time by CPA Australia.
(Hat tip to Catherine Q.)
More from Smithsonian.com:
Neil Armstrong, the First Man to Walk on the Moon, Dies at 82
Godspeed, Neil Armstrong — A Curator From the Air and Space Museum Reflects on the Astronaut's Life