Nearly 2,000 Chemicals—Some Potentially Harmful—Found in Vaping Aerosols
Researchers discover industrial chemicals, a pesticide and caffeine during analysis of popular vaping products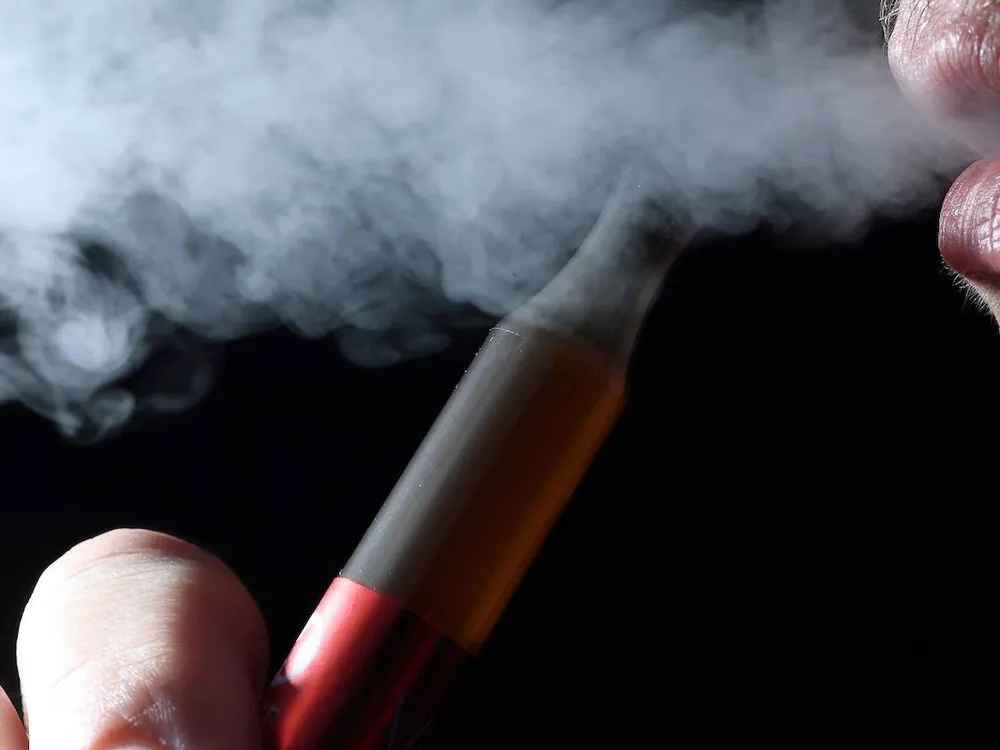 When vaping first became popular, proponents were quick to claim it was safer than smoking cigarettes. New research suggests that might be a fallacy, reports Tiffany Kary of Bloomberg.
Scientists at Johns Hopkins University (JHU) discovered that vaping aerosols contain thousands of unknown chemicals and substances not disclosed by manufacturers, including industrial chemicals and caffeine. Their study appears in Chemical Research in Toxicology, a peer-reviewed journal produced by American Chemical Society.
"Existing research that compared e-cigarettes with normal cigarettes found that cigarette contaminants are much lower in e-cigarettes," senior author Carsten Prasse, an assistant professor of environmental health and engineering at the Whiting School of Engineering and the Johns Hopkins Bloomberg School of Public Health, says in a statement.
"The problem is that e-cigarette aerosols contain other completely uncharacterized chemicals that might have health risks that we don't yet know about," Prasse adds. "More and more young people are using these e-cigarettes and they need to know what they're being exposed to."
The study found traces of nearly 2,000 unknown chemicals in electronic cigarette vaping liquid and aerosols. Scientists also detected several known and potentially harmful compounds, reports Richard Haridy of New Atlas.
Researchers in Australia came up with similar results in a recent examination of 65 vape liquids. Every sample contained at least one potentially harmful chemical, including benzaldehyde, an airway irritant, and trans-cinnamaldehyde, an immunosuppressive agent, New Atlas reports.
In addition, their analysis detected trace amounts of nicotine in six samples, even though the products were marketed as nicotine free.
"People just need to know that they're inhaling a very complex mixture of chemicals when they vape," Prasse says in the JHU statement. "And for a lot of these compounds we have no idea what they actually are."
For the JHU study, researchers analyzed four common tobacco vape flavors, as well as aerosols used in four e-cigarette devices, including a tank, disposable unit and two pods. In addition to the hundreds of unidentified chemicals, they discovered compounds linked to respiratory problems, a pesticide, industrial chemicals and caffeine, a known addictive substance.
"That might be giving smokers an extra kick that is not disclosed," lead author Mina Tehrani, a postdoctoral fellow at the JHU School of Public Health, says in the statement. "We wonder if they are adding it intentionally."
Study co-author Ana M. Rule, an expert in metals exposures from vaping at the Johns Hopkins Bloomberg School of Public Health, is concerned about the impact on the large numbers of young people taking up vaping believing they are making a healthier choice.
"There are millions of middle school and high school students vaping that would not otherwise think of smoking," Rule says. "For them there is no risk reduction, only increased risk."
JHU researchers became interested in the safety of vaping after the new smoking trend became popular. Prasse says he was convinced to look at this issue after his cousin, a former smoker, started vaping, claiming it was safe.
"I have a problem with how vaping is being marketed as more healthy than smoking cigarettes," he says in the statement. "In my opinion, we are just not at the point when we can really say that."