For the Third Year in a Row, This City Was Tapped as America's Happiest
The area's success may be due, in part, to the fact that it is home to a large number of older Americans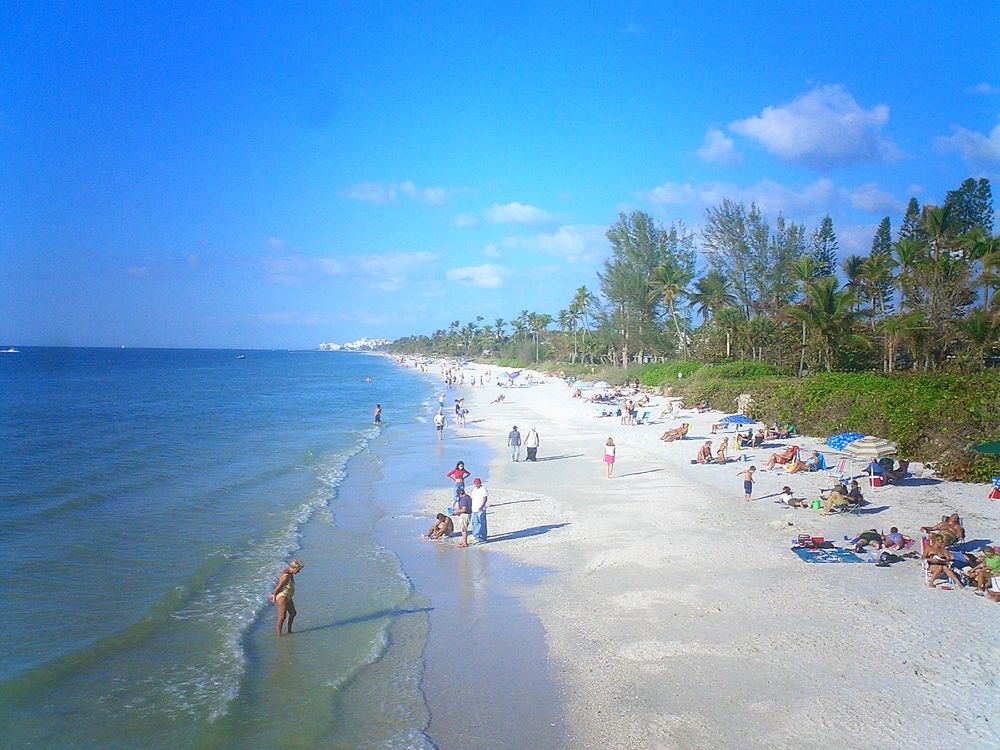 Americans may have reported a decline in their overall wellbeing 2017—but residents of sunny Naples, Florida, are as happy as ever. According to Rachael Rettner of Live Science, the Naples metro area has topped a national ranking of well being for the third year in a row.
The 2016-2017 Gallup-Sharecare Well-being Index was based on interviews with more than 337,000 adults living in 186 metro areas. It assessed five different elements that affect happiness: physical health, economic security, relationships, community and purpose, which is defined in this study as "liking what you do each day and being motivated to achieve your goals." The index was calculated on a scale from 0 to 100. Naples and the nearby towns of Immokalee and Marco Island earned a collective score of 67.6 and performed well across all five elements of wellbeing.
Trailing closely behind the Naples metro area was Barnstable Town, Massachusetts, which scored 66.4 on the index, and Boulder, Colorado, which scored 65.3. Many of the nation's happiest areas were, in fact, concentrated in five states: Florida (home to four of the 25 highest-ranking areas), California (home to seven), and Colorado, North Carolina and Virginia (each boasting two areas in the top 25 communities).
On the flip side, the areas with the lowest wellbeing were found primarily in the South and then "winding north through the industrial Midwest," according to the index. Fort Smith, which straddles the border of Arkansas and Oklahoma, ranked last in the survey with a score of 58.2, just behind the areas of Canton-Massillon, Ohio, and Gulfport-Biloxi-Pascagoula, Mississippi. These regions are marked by low economic security, lack of access to healthy eating options, and "sky-high" rates of obesity and diabetes, Dan Witters, research director of the Gallup-Sharecare Well-Being Index, tells A. Pawlowski of Today.
Residents of Naples, by contrast, reported enjoying good health, financial security, a sense of safety in their community, and meaningful relationships and activities. They also reported less depression and stress.
It is possible, according to the authors of the report, that the area ranked first in the index because it attracts people who already enjoy high levels of wellbeing—namely older Americans, who make up a large portion of Naples' population. A previous Gallup-Sharecare survey showed that Americans over the age of 55 boast significantly higher well-being than their younger counterparts.
Naples didn't always leading the nation in happiness, however. As recently as 2011, the area ranked 73rd out of 190 communities in a survey of the nation's wellbeing. The authors of the recent survey posit that Naples' improvement may be due, in part, to the Blue Zones Project, a community-wide initiative that encourages residents of Southwest Florida to make healthier choices.
But one of the main takeaways of the survey is that "wellbeing" is derived from many aspects of daily life—not just physical health. "Naples can serve as a blueprint for lasting well-being success," the authors of the survey write, "and community leaders across the nation can follow this blueprint and adapt it to meet the needs of their areas' own residents."