Washington D.C. Just Got a 10,000 Square Foot Ball Pit
A giant ball pit exhibit allows National Building Museum visitors to experience an indoor ocean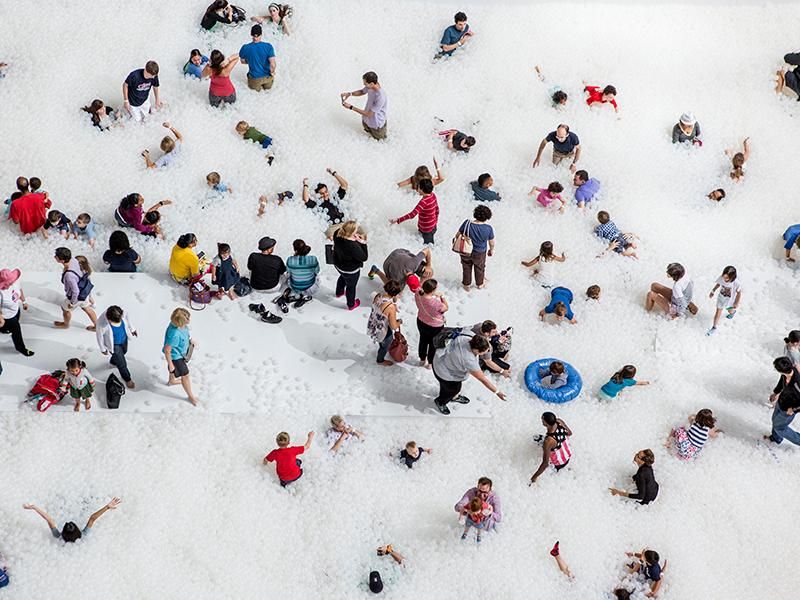 A trip to the beach is a classic bit summer fun. And now, for residents and tourists in Washington, D.C., the beach is a lot closer to home, as long as you're okay with a beach sans sand and sun. 
This particular "beach" takes the form of a 10,000-sqaure-foot giant ball pit in the National Building Museum's atrium, Kate Sierzputowski writes for This is Colossal. "The BEACH," as the exhibit is titled, opened July 4 and will run through September 7, 2015. (You can also experience the beach virtually through a livestream on the museum's website.)
Visitors can play in an "ocean" of clear plastic balls, sip drinks at a snack bar and relax in starch white beach chairs on the "shoreline." Not to worry, the plastic is recyclable and antimicrobial, as Sarah Polus notes for The Washington Post.
The interactive exhibit comes from the minds of a unique design studio called Snarkitecture. The firm frequently straddles the line between art and architecture. With this particular exhibit, they wanted to bring a summer staple to the big city, writes Polus. Alex Mustonen, a co-founder at the firm, explains in a statement: "We see the commission as an exciting opportunity to create an architectural installation that reimagines the qualities and possibilities of material, encourages exploration and interaction with one's surroundings, and offers an unexpected and memorable landscape for visitors to relax and socialize within."
For the museum, the exhibit comes from the success of last summer's wildly popular maze installation. They've also planned a series of events around "The BEACH" from live music to volleyball.