Museum to Be Built at Site of Nazi-Occupied France's First Concentration Camp
Some 16,000 Jews were detained at Pithiviers and neighboring Beaune-la-Rolande before being sent to death camps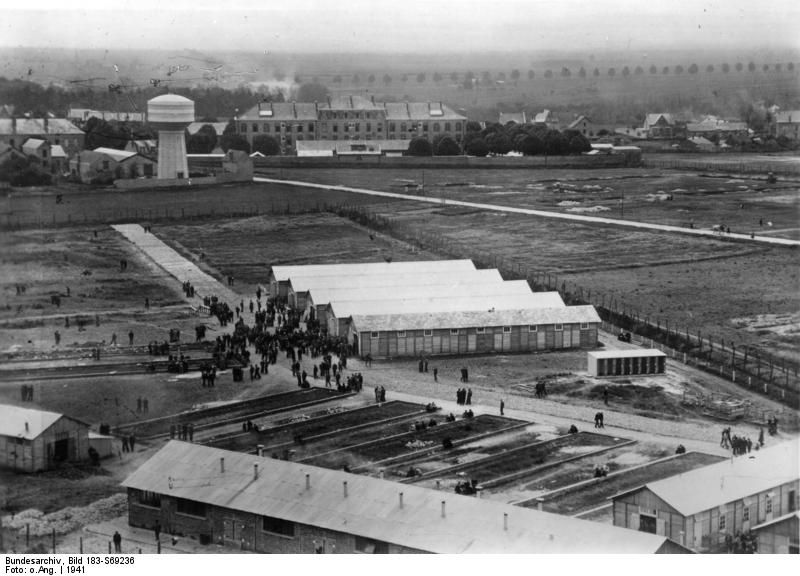 At the beginning of World War II, French officials established Pithiviers, a camp situated in the southern region of Loiret, to house an anticipated influx of Nazi prisoners of war. But the plan abruptly changed once France fell to Nazi Germany in the fall of 1940. Instead of housing enemy POWS, Pithiviers became a refugee camp. Then, in an ironic twist of fate, it was turned into a holding center for French POWs. Come May 1941, the site's identity shifted once again, becoming a transit camp for Jewish prisoners—16,000 of whom were shipped to death camps from Pithiviers and the neighboring camp of Beaune-la-Rolande between 1941 and 1943.
It's this shameful chapter that is putting Pithiviers back in the news: As Cnaan Liphshiz reports for the Jewish Telegraphic Agency (JTA), the former passenger station of Pithiviers, which was responsible for six Auschwitz-Birkenau-bound transports, is poised to become an important site of remembrance for French Holocaust history.
France's national rail company, SNCF, will allocate $2.3 million toward construction of a new museum, expected to open in 2020, at the one-time camp site. According to the AFP, SNCF will work in conjunction with CRIF, an umbrella group representing French Jewish communities, to restore the dilapidated Pithiviers rail station to its wartime appearance. Educational materials, including an exhibition center detailing the internment of Europe's Jews and study rooms for visitors and school children, will be housed within the station-turned-museum.
As JTA's Liphshiz notes, Vichy collaborators and Nazi officials in charge of the transit camps relied on SNCF rail line's logistical support to transport Jews to their death. As Alain Leray, memory and history advisor to SNCF's president, tells AFP, it is "part of [the company's] duty to remember" its role in the deportments.
Local officials first proposed the creation of a Pithiviers monument in 2017, according to Luc Barre of French outlet La République Du Centre. Between the station's 1969 closing and a renewed wave of construction that started in September 2018, the station had been largely abandoned, attracting few visitors aside from local school tour groups.
The first Jewish prisoners arrived at Pithiviers and Beaune-la-Rolande on May 14, 1941. As the United States Holocaust Memorial Museum details, the Jews detained in Pithiviers were mostly Polish expatriates living in the Paris Prefecture. Inmates were guarded by Vichy officials acting under Nazi supervision and housed across 19 barracks. Pithiviers also held various administrative buildings, including an infirmary and canteen, and a large vegetable garden. Prisoners were forced to work both inside the camp, namely in its workshops and garden, and in outside farms and plants found in the surrounding villages.
One of the most devastating moments in the camp's history occurred soon after the July 16, 1942, arrest of more than 11,000 Parisian Jews. Known today as the Vel' d'Hiv roundup, the mass arrest found victims crowded into the city's Winter Stadium, or Velodrome d'Hiver, without adequate food, water and sanitary facilities. Those who survived this initial trauma were soon deported to nearby concentration camps, including Drancy, Beaune-la-Rolande and Pithiviers.
As the Yad Vashem Vel' d'Hiv portal states, the majority of these prisoners were eventually murdered at Auschwitz-Birkenau. Toward the end of July and beginning of August, adult detainees were violently separated from their children and sent to the death camp; this wave of deportations left more than 3,000 children and infants abandoned at the two Loiret camps.
Beginning in early August, the young prisoners were shipped from Pithiviers and Beaune-la-Rolande to Drancy in groups of roughly 1,000 each. From Drancy, Susan Zuccotti writes in The Holocaust, the French and the Jews, the children were sent on to Auschwitz, surrounded by complete strangers who "helped maintain the illusion that the children had not been condemned to face their fate alone."
Jackie Zonzajn, a 10-year-old who left Pithiviers with his 3-year-old sister Liliane in August 1942, described the events in a heartbreaking last letter to family friends, writing, "We are in a sad situation. Mother, Mrs. Wartski have been sent to an unknown destination. … We sleep on straw."
He concluded, "I can't think of anything else to write to you so I hug you tight, hoping to see you soon."
Ten days later, Zonzajn and Liliane arrived at Auschwitz. Like hundreds of thousands of fellow Jews, they were murdered immediately upon arrival.