Mountain Dew Once Had Ties to Moonshine
The original soda named Mountain Dew was supposed to be a whiskey accompaniment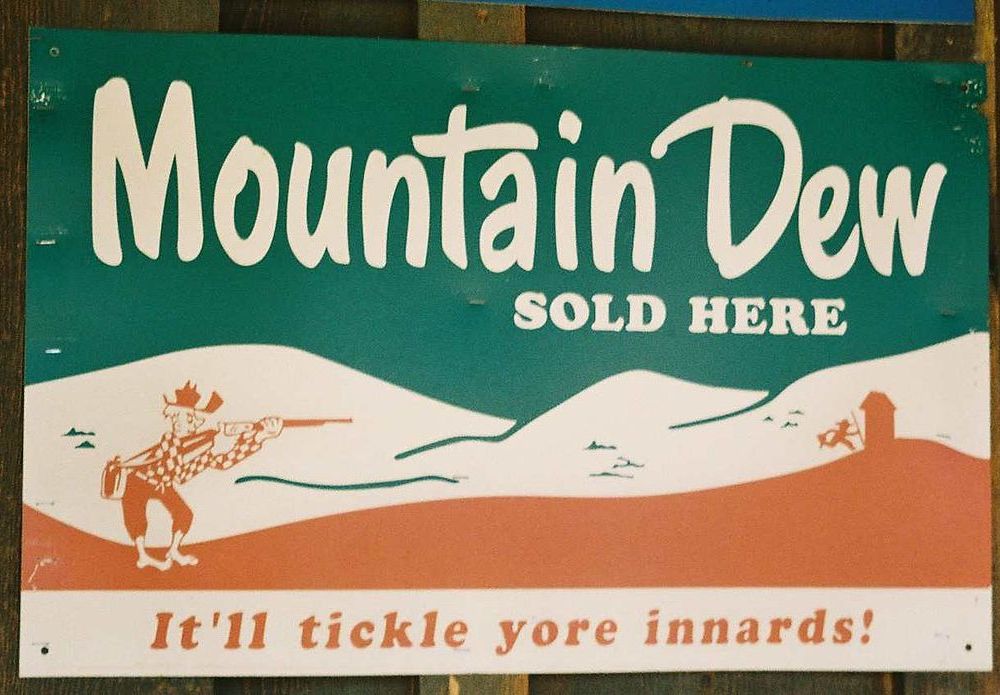 Today, Mountain Dew's name might seem like it is supposed to evoke pristine alpine conditions where the soda fuels feats of extreme athletic prowess, but its original meaning was intended to reference something very different. The phrase "mountain dew" was actually slang for mountain-brewed moonshine, write Tabitha Waggoner and Jessica Davis for the Tennessean. 
The reporters offer up proof in the form of an Appalachian folk song that most certainly isn't talking about the soda, but rather "good ol' mountain dew," the liquor.
The caffeinated, florescent-yellow soda's name does make sense, when you consider its origin story: Brothers Barney and Ally Hartman began bottling a lemon-lime soda as a whiskey chaser in Knoxville, Tennessee, in 1932, writes Doug Mason for Knoxnews. To play up the intended use of the drink, they dubbed their drink, "Mountain Dew."
Mountain Dew is now a subsidiary of PepsiCo, and last year the company decided to stir up nostalgia for the soda's origins with Mountain Dew's "DEWshine," a clear version of the citrus-flavored drink sweetened with cane sugar rather than corn syrup. The product incorporates an old-fashioned-looking label, and also brings back Mountain Dew's original mascot, Willy the Hillbilly, along with the memorable tagline, "It'll tickle yore innards."
"Dewshine" recently cropped up in the headlines for a tragic reason—the name also stands for a combination of the Hartman's original whiskey chaser mixed with a methanol-based racing fuel, which may have caused the deaths of two Tennessee teens.
Chandler Friedman and Steve Almasy report for CNN that four teenage boys mixed the drink at a party. Two were hospitalized, treated and released. The other two died.
"They thought they knew what it was, that it was a substitute for alcohol," Tennessee Poison Center medical director Donna Seger tells Nicole Young of the Robertson County Times. "They thought they would get the same effects as alcohol, but they weren't aware of how toxic it was." As the body processes methanol, it creates byproducts that acidify the blood and can cause blindness, seizures and eventually death. 
Trained distillers know to remove the so-called foreshots of methanol during regular distillation, however the danger becomes real when bootleg distillers or "unscrupulous moonshiners" use cheap wood alcohol rather than going through the lengthy process of distilling for ethanol, to boost their drink's kick, writes Clay Dillow for Popular Science. This shortcut can prove deadly: Methanol introduced into drinks by illegal brewers led to 20 deaths in 2012 in the Czech Republic and as well as more than 140 deaths in India in 2011.
For much safer consumption, try mixing Mountain Dew with properly distilled whiskey. The original formulation has changed, however so the drink may not be the same as that quaffed by the Hartman brothers. On his blog, "Broken Secrets," Chad Upton writes that Mountain Dew with whiskey, perhaps punched up with a little lime juice, tastes a little like a whiskey sour. And if Mountain Dew is your mixer of choice, the drink isn't limited to being used with whiskey, indeed consider "mixing things up" by pairing it with a plethora of alcohol types.