Mother Teresa Will Become an Official Saint
The champion of India's poorest has sprinted to sainthood since her 1997 death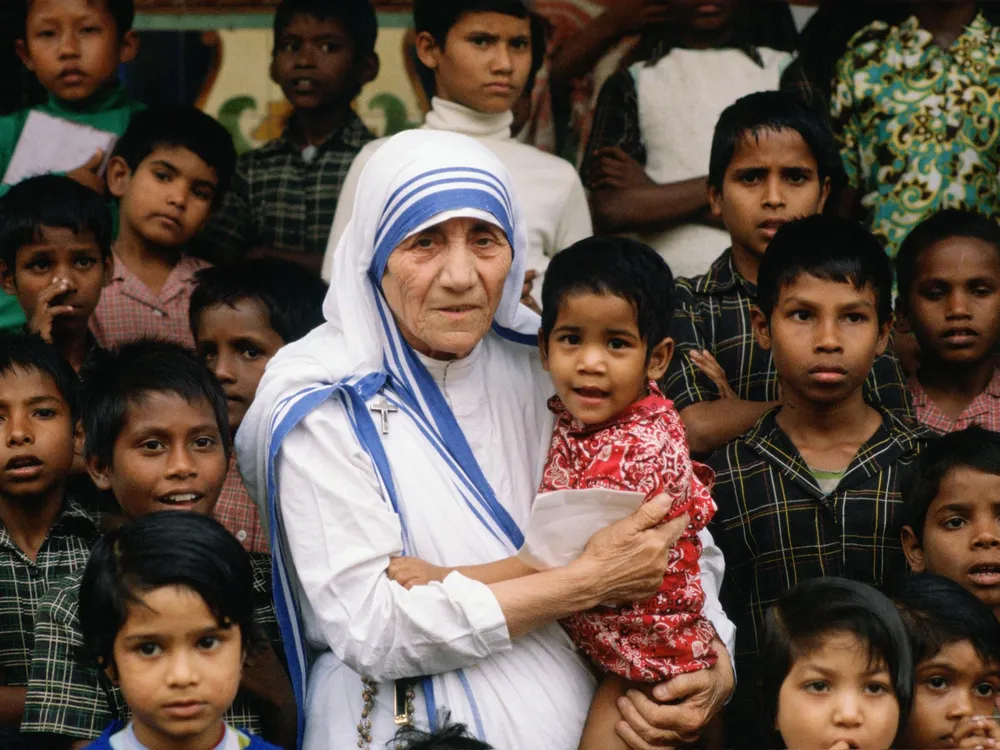 Her work with the poor made her a household name. But despite being hailed as "the hope of the despairing" during her life and after her death in 1997, the fate of her sainthood campaign has been unclear. Until today, that is: NPR's Bill Chappell reports that Mother Teresa will likely become an official Catholic saint in 2016.
Pope Francis cleared the path to sainthood with the attribution of a second miracle to the nun. Chappell writes that Mother Teresa's canonization is expected to take place in September to coincide with the date of her death.
During her lifetime, Mother Teresa was known for embedding herself with India's poor. She started her own religious order, "The Missionaries of Charity," known for their distinctive blue and white habits and their devotion to the people of Calcutta. Nearly 20 years after her death, her name can still spark deep emotions and controversy, as in February when the Indian parliament briefly adjourned over accusations that Mother Teresa's goal in India was to convert the poor to Christianity.
Her sainthood has also been debated. In most cases, before a person can become a saint evidence of at least two miracles must be brought before the Vatican and recognized by the church. The church believes that miracles are proof of a saint's ascension to heaven and ability to intercede on behalf of humans. As LiveScience reports, a special Vatican-appointed commission sorts through such claims; if one or more are verified as miracles, the candidate moves toward sainthood.
The church has now attributed two miracles to Mother Teresa. In 2003, the Vatican beatified the nun after affirming the validity of a controversial case in which an Indian woman with a brain tumor prayed to Mother Teresa and was healed. Now, the Vatican has accepted the inexplicable cure of a Brazilian man's brain abscess after asking for Mother Teresa's intercession as proof of her second miracle.
Debates over the legitimacy of "miracles" inevitably ensue following announcements of this kind. The idea of what constitutes a miracle is elusive even within the Catholic church, which shrouds much of its saint selection process in mystery. As 60 Minutes' Rebecca Leung puts it, "In every case, a miracle must be found. And the miracle also has to defy science, which the Vatican proves by using medical science." But the evidence confirming a person's sainthood in the eyes of the church are locked in the Vatican, away from public view.
Miracles or no, one thing is clear: Mother Teresa's road to sainthood has been short. When she's declared a saint next year, it will have been only 19 years since her death—a pretty spectacular sprint given that the average time between death and canonization is 181 years.