Mississippi Officially Ratifies Amendment to Ban Slavery, 148 Years Late
The movie Lincoln helped kick Mississippi into action on finally ratifying the 13th Amendment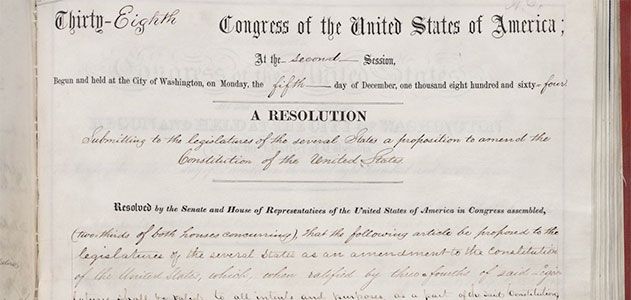 Nearly 150 years after the Thirteenth Amendment's adoption, Mississippi finally caught on and officially ratified a ban on slavery. According to Time, the movie Lincoln helped spark this sudden call to action.
The story began in November last year, when Ranjan Batra, an associate professor at the University of Mississippi Medical Center, went to see director Steven Spielberg's Oscar-nominated historical drama Lincoln, reports the Jackson, Miss. Clarion-Ledger. Spielberg's civics lesson tells the story of the final months of President Abraham Lincoln's life and his efforts to get the 13th amendment to the U.S. Constitution passed by the House of Representatives.
Interest piqued, Batra wondered what happened to the amendment once it was passed. As it turns out, it went on to be adopted in under a year when 27 of the 36 then-existing states ratified it, in 1865. Mississippi, the final hold-out, only ratified the amendment in 1995. However, Batra noticed a provoking detail on the website usconstitution.net—Mississippi never formally notified the U.S. archivist of its belated decision. In other words, the 1995 ratification was unofficial.
Batra mentioned the oversight to a friend, Ken Sullivan, who recalled the 1995 debate over the law and tracked down a copy of the resolution. It had been passedby the Mississippi Senate and House — unanimously, recalled the bill's introcuder, Sen. Hillman Frazier to the Clarion-Ledger — but inexplicably had never beensent to the Office of the Federal Register.
With Batra's prompting, the state hustled to correct the oversight by filing the necessary paperwork. On February 7, Mississippi received word from the Federal Register that confirmed it had officially ratified the Thirteenth Amendment. Senator Frazier remarked, "We finally got it right."
More from Smithsonian.com:
Mississippi – History and Heritage
A Civil Rights Watershed in Biloxi, Mississippi