Missing Disney Cartoon From 1928 Discovered in Japan
The short featuring Oswald the Lucky Rabbit is one of seven missing Disney cartoons about the character the predates Mickey Mouse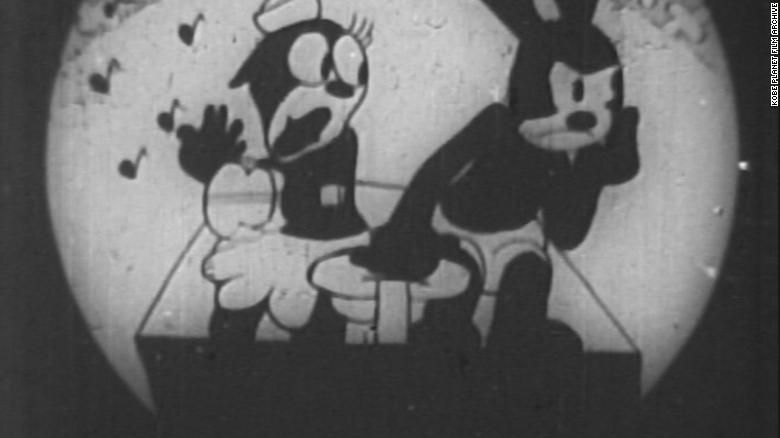 What if I told you that Mickey Mouse was not a mouse, but a rabbit? At least originally that was the case. When Walt Disney first got into cartoons, his signature creation was Oswald the Lucky Rabbit. It was only after he lost control of the character during a legal dispute in 1928 that Disney morphed Oswald into the character that came to be known as Mickey Mouse. While Mickey enjoys his position as a cultural juggernaut today, his floppy-eared predecessor has become something of an obscure memory. Of the 26 original shorts Oswald was featured in, only the whereabouts of 19 were known—until recently. Happily, as Erina Ito at Asahi Shimbum reports, one more of those missing cartoons is accounted for, found by a Japanese collector who was sitting on the reel for 70 years.
Back when he was in high school, 84-year-old anime researcher Yasushi Watanabe bought a film labeled "Mickey Manga Spide" (Mickey cartoon speedy) at a wholesale market in Osaka. The reel contained a 2-minute version of the Oswald cartoon called "Neck n' Neck," produced for 16-mm home movie projectors (the original was cut at 5 minutes).
It wasn't until Watanabe read a book released last year called Oswald the Lucky Rabbit: The Search for the Lost Disney Cartoons by Disney animator David Bossert that he realized several of the shorts were missing. He suspected the reel he'd held onto for so many decades might be one of the lost Oswalds and contacted the Walt Disney Archives. They confirmed that "Neck n' Neck" was, indeed, one of the prodigal cartoons. "As I've been a Disney fan for many years, I'm happy that I was able to play a role," Watanabe tells Ito.
The film is now housed at the Kobe Planet Film Archive, and Bossert says he would like to screen it in Los Angeles for cartoon scholars. As a result of Bossert's book, the Toy Film Museum in Kyoto also unearthed a 50-second clip of the same cartoon.
This is not the first Oswald cartoon to resurface in recent years. In 2014, a copy of the missing cartoon "Empty Socks" was found in the Norwegian National Library during an inventory, and in 2015, the British Film Archives discovered that it had a copy of a 6-minute 1927 Oswald short called "Sleigh Bells."
Gavin J. Blair at The Hollywood Reporter reports that Oswald was the first recurring cartoon character created by Disney. Created at the request of producer Charles Mintz and distributed by Universal Studios, during its short run between 1927 and 1928, the cartoons became very popular. Disney asked for a budget increase, but Mintz balked, countering for a decrease in the production budget instead. Disney refused and Mintz hired away all his animators except two and retained the rights to Oswald. Oswald continued on under the Universal banner, but eventually was twilighted.
Disney, in the meantime, took the opportunity to rework the Oswald concept into Mickey Mouse, which, at least in early versions, seems pretty similar to the Lucky Rabbit. Judge for yourself by taking a look at Oswald shorts available online and comparing them to Mickey's first appearance on screen, in the short "Steamboat Willie," which premiered 90 years ago this weekend. Or experience the uncanny valley of Mickey and Oswald together on the same screen. In 2006, Disney CEO Bob Iger got the rights back to Oswald the Lucky Rabbit from Universal when he agreed to let football commentator Al Michaels out of his contract in exchange for the rights to Oswald and the original shorts. That deal allowed Mickey and Oswald to finally get the chance to meet in the 2010 video game Epic Mickey, in which Oswald is given a starring role.