Millions of Dead Fish Are Rotting in an Australian River
Extreme heat and flooding starved the water of oxygen, leading to the mass die-off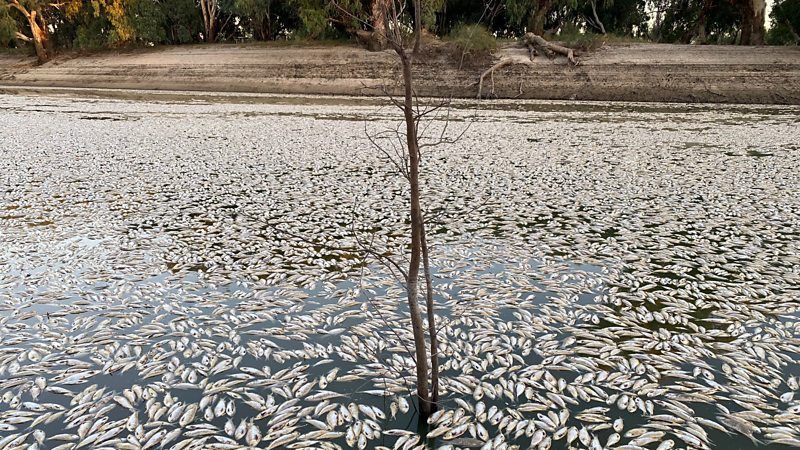 Millions of dead fish are clogging up Australia's Darling-Baaka river after a recent heatwave and flooding in the region led to oxygen level drops in the waterway. Locals say the carcasses span for miles, coating the water's surface and producing a putrid rotting smell. 
"You can just imagine leaving a fish in your kitchen to rot with all the doors shut and no air conditioner—and we've got millions of them," local resident Graeme McCrabb tells BBC News' Antoinette Radford. "We use the river water for washing and showering in, so people won't be able to use that water for those basic needs again." 
Most of the killed fish are a native species called bony bream, which tends to have population booms and large, quick die-offs. But other dead species include Murray cod, golden perch, silver perch and carp, which tend to be longer-lived, write Ben Loughran, Bill Ormonde and Sarah McConnell for the Australian Broadcasting Corporation (ABC).
Officials say that after waters from the recent floods receded, oxygen levels dropped in the river. High temperatures exacerbated this drop, because warm water can hold less oxygen than cold water can—and because fish need more oxygen in warmer temperatures. This proved to be a deadly combination—and heat waves are becoming more frequent and intense because of climate change. 
Authorities have begun an emergency cleanup of the river, though police assistant commissioner Brett Greentree calls it a "logistical nightmare" and says it might be impossible to get rid of all the carcasses, per Sky News. Those that aren't removed will likely sink, leading to a nutrient spike and possible algal bloom, "which will cause more issues for a while," Cassie Price, director of programs for OzFish, a conservation charity helping rescue surviving fish, tells BBC News' Tom Housden. Pest species may move in and make it more difficult for native fish to recover, Sky News reports.
Day 3 in Menindee and a thick wall of fish is still sitting in parts of the river.

It's hard to make out but the water has changed colour to a bright green - not good pic.twitter.com/GQOp3d9UeA

— BillOrmonde (@BillOrmonde_2) March 19, 2023
Residents in Menindee, a town of about 500 people in New South Wales, faced similar enormous fish kills in late 2018 and early 2019, though locals say this year's was even bigger. They have previously blamed such die-offs on government officials, who they say have failed to properly manage water quality, writes the Guardian's Adam Morton. The fisheries arm of New South Wales' Department of Primary Industries has denied responsibility in the past, writes the ABC. Police assured the community that the water is "high quality" and that the supply is monitored 24/7, according to BBC News.
Many of the Barkandji people, the traditional owners of land in far western New South Wales, say the river's health should be a bigger national priority, per the Guardian's Otis Filley. 
"The Baaka is our culture; to see the fish like this and to smell the fish is just unbelievable," Malyangapa Barkandji woman Denise O'Donnell tells the publication. "The whole of Australia should be fighting for this river—all the rivers. It makes me sick to see it like this; it makes me cry. It's very heartbreaking. A lot of the community feel the same, and they are grieving—this is so wrong."