Millions of Migrating Red Crabs Are Coming to Google Street View
The crustaceans are making their brief annual appearance on Australia's Christmas Island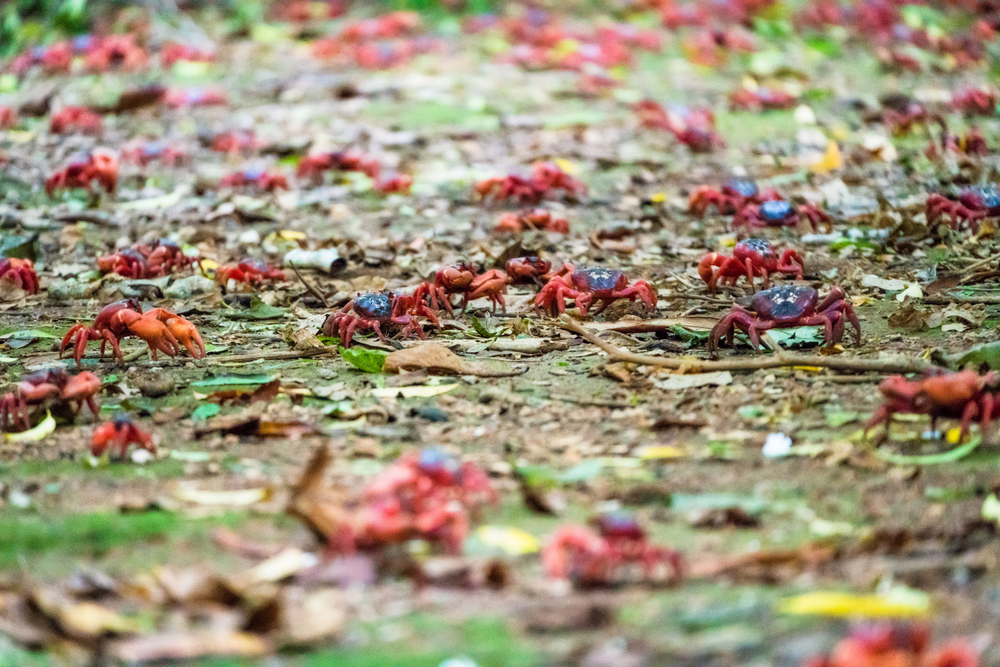 The millions of red crabs that dwell on Australia's Christmas Island, a remote territory in the Indian Ocean, stay beneath moist soils for most of the year. But at the beginning of the island's wet season, the crabs emerge from their hidden burrows and start their brief annual migration to breeding grounds on the coast.
Fortunately for those of us who can't make it to Christmas Island to witness this spectacular event, Google has announced that its Street View camera will be on hand this year to document the red critters scurrying en masse to the ocean shore.
Alasdair Grigg from Parks Australia has been carrying the Street View Trekker over the past few days to document the migration of some 45 million red crabs. The crustaceans' journey is expected to reach its peak on December 13, when the crabs will spawn and lay their eggs on the sandy coast.
Because red crabs are highly susceptible to harsh sunlight, they spend much of their time burrowed beneath Christmas Island's damp forest floors. The rainy wet season, which starts in October or November, allows the crabs to venture out from their hidden homes and start their journey towards the ocean. The migration is also linked to the phases of the moon; female red crabs lay their eggs "precisely at the turn of the high tide during the last quarter of the moon," according to the Christmas Island tourism website, perhaps because there is the least difference between high and low tide at this time, allowing the crabs to safely approach the shore.
To help the crabs safely reach their destination, Parks officials build walls and fencing that prevent them from scuttling onto roads. Some routes are closed to drivers during the migration period, and when certain roads cannot be closed, park staff is kept busy raking the crabs out of harm's way.
As Griggs tells Daniel Van Bloom of CNET, he hopes the Google Street View images will help call attention to the natural wonders of Christmas Island, which he says  "is not on the radar of most travelers."
"We hope people can get a taste of the magnificent nature and the red crab migration through the eyes of the Google Trekker," Griggs adds. "We also hope they are inspired to appreciate the world-class conservation values of the Island."
According to a Google blog, its images of Christmas Island crabs will be available for all to see "in early 2018."