In Mexico, a Gritty Neighborhood Has Become a 65,000-Square-Foot Mural
A hillside in Pachuca gets a psychedelic makeover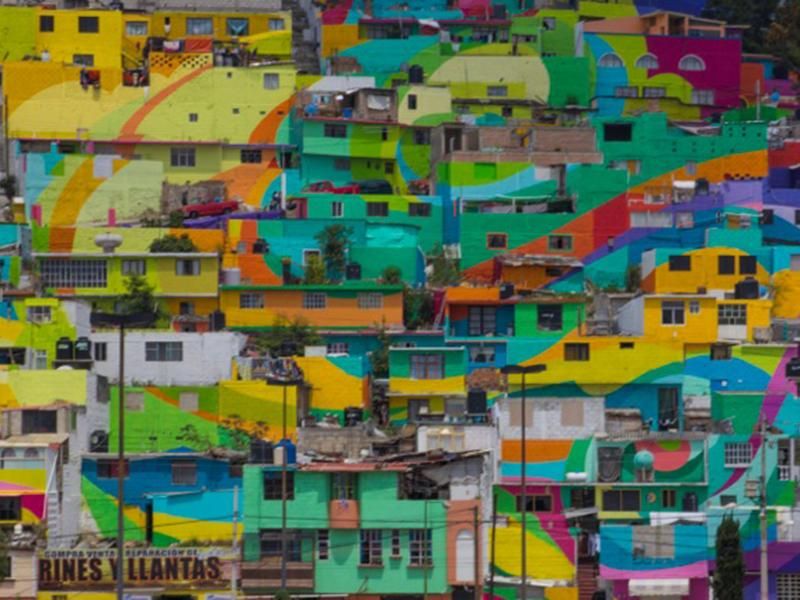 Any day is now a beautiful day in the Palmitas neighborhood of Pachuca, Mexico. The hillside is the site of a roughly 65,000-square-foot candy-colored mural, reports Christopher Jobson for This is Colossal.
The giant painting is a joint project between the Mexican government at the street art group Germen Crew, Jobson reports. It spans 209 homes, inhabited by 452 families and 1808 people, according to Street Art News. In addition to sprucing up the area, the project aims at social improvement by creating jobs and hopefully cutting crime and violence on the hillside.
The "macromural" project took months to complete, notes John Metcalfe for CityLab. The crew first prepped walls with white paint:
El Macromural mas Grande de México @Pachuca_ #GermenNuevoMuralismo #BarrioMáxico #MacroMural https://t.co/Ux1jQCqjqp pic.twitter.com/wCQyznAYpO

— Germen (@GermenMuralismo) June 24, 2015
Then they began adding swirls of bright color, and finished up the mural earlier this month:
Germen Crew has more murals planned for paths that run into the hills, writes Metcalfe. For more details on the project, check out the group's Facebook page.