Met Gala Asks What Is American Fashion—and Who Gets to Define It?
From inaugural poet Amanda Gorman to pop star Billie Eilish, here's how stars interpreted this year's theme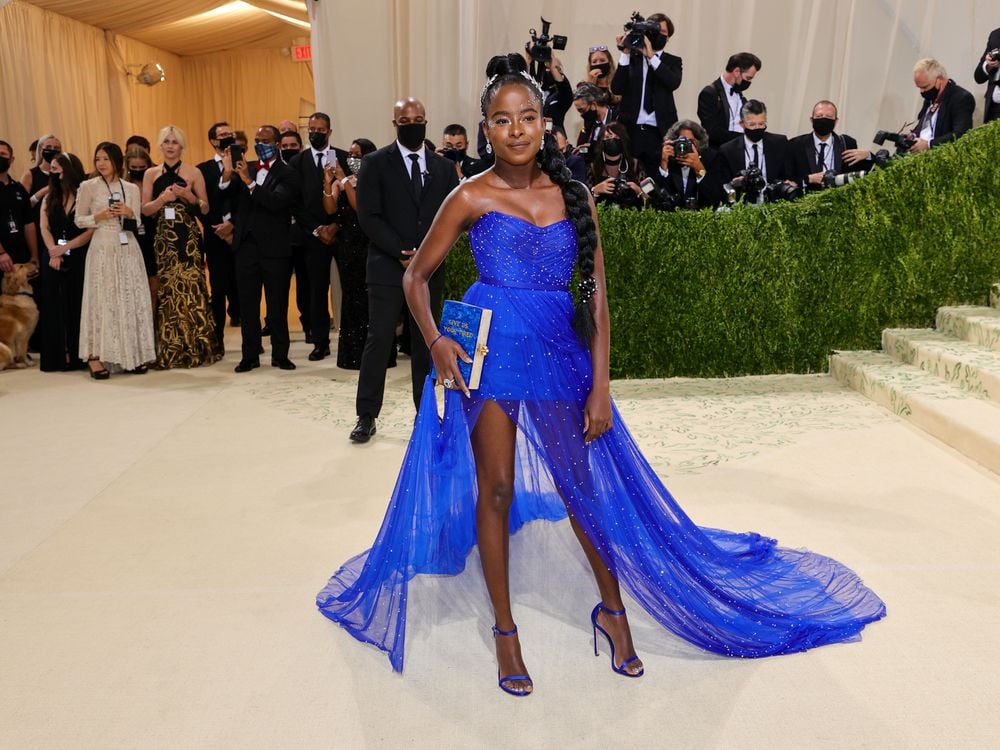 In many ways, fashion is as American as apple pie. Trendsetting designers from Calvin Klein to  Tommy Hilfiger to Tom Ford have set the tone for the national industry. Flip through the pages of Vogue or scroll through Instagram, and you'll likely come across one of Klein's sports bras or Ford's immaculately cut dresses.
Given the country's collective obsession with sartorial choices, it's perhaps unsurprising that the theme of Monday night's Met Gala—an annual benefit hosted by the Metropolitan Museum of Art's Costume Institute—was "In America: A Lexicon of Fashion." (An accompanying two-part exhibition is set to debut at the Manhattan museum on Saturday, September 18.)
"Fashion is both a harbinger of cultural shifts and a record of the forces, beliefs, and events that shape our lives," says the Met's director, Max Hollein, in a statement. "This … exhibition considers how fashion reflects evolving notions of identity in America and explores a multitude of perspectives through presentations that speak with powerful immediacy to some of the complexities of history. In looking at the past through this lens, we can consider the aesthetic and cultural impact of fashion on historical aspects of American life."
As Noor Brara and Christine Ajudua write for Artnet News, the gala's A-list attendees responded to this year's theme by questioning "what defines American fashion and … who gets to be American in the first place."
Some guests took the prompt literally, donning American flag–themed dresses or, in the case of inaugural poet Amanda Gorman, channeling the Statue of Liberty. Others interpreted "American fashion" more broadly: pop star Billie Eilish in a Marilyn Monroe–inspired tulle ballgown, actress Lupita Nyong'o in a Versace denim dress, singer Lil Nas X in a gold bodysuit reminiscent of Star Wars droid C-3PO.
Supermodel Iman sported one of the night's most memorable looks: a tiered, gold hoop skirt with a matching sunburst headdress designed by Dolce & Gabbana and British-American designer Harris Reed. As Iman told Vogue on the red carpet, "I thought it was beautiful because it really felt hopeful, a ray of light after all the darkness we felt."
At the other end of the spectrum was Kim Kardashian, who wore an all-black Balenciaga haute couture gown and a matching mask that covered her entire face. As the reality television star joked on Instagram, "What's more American than a T-shirt head to toe?!"
Across the country, women's rights are under attack.

I have long used fashion as a force 4 change. As the Met Costume Institute reopens w/ their inaugural exhibit celebrating American designers, I am calling 4 the certification of the ERA so women can be equal once and for all. pic.twitter.com/ONbAJq4rOK

— Carolyn B. Maloney (@CarolynBMaloney) September 13, 2021
A number of attendees used their attire to share political messages. Congresswoman Alexandria Ocasio Cortez sported a dress emblazoned with the phrase "Tax the Rich," while actress and model Cara Delevingne wore a top that read "Peg the patriarchy." Another congresswoman, New York's Carolyn B. Maloney, donned a floor-length gown that paid homage to the suffragist movement and the Equal Rights Amendment.
"I think that the emphasis on conscious creativity was really consolidated during the pandemic and the social justice movements," Andrew Bolton, a curator at the Costume Institute, told Vogue's Laird Borrelli-Persson earlier this year. "And I've been really impressed by American designers' responses to the social and political climate, particularly around issues of body inclusivity and gender fluidity, and I'm just finding their work very, very self-reflective."
As Darnell-Jamal Lisby writes for i-D, mainstream style in the United States has long been defined by white, male designers like Charles James, Halston, Hilfiger and Klein. With this year's Costume Institute exhibition, curators at the Met are working to disrupt the fashion world's male-centric bent.
"In America" will paint a more diverse portrait of the history of American fashion by featuring designers like Nzinga Knight, a Black Muslim woman; Jewish immigrant Jacob Davis, who created the rivet-lined jeans that Levi Strauss patented in 1873; and Dapper Dan, April Walker and Willi Smith, who played an integral role in the evolution of what is now known as "streetwear."
"I really do believe that American fashion is undergoing a Renaissance," Bolton told Vogue in April. "I think young designers in particular are at the vanguard of discussions about diversity and inclusion."
According to the Met, the first part of the exhibition will feature nearly 100 men's and women's ensembles by a range of designers spanning the 1940s to the present. The second half, titled "In America: An Anthology of Fashion," will open on May 5, 2022, in the American Wing Period Rooms.
"The interiors present a survey of more than 300 years of American domestic life and tell a variety of stories—from the personal to the political, the stylistic to the cultural, and the aesthetic to the ideological," notes the Met statement. "… These mise-en-scènes will explore the role of dress in shaping American identity and address the complex and layered histories of the rooms."