Meet the Historically Accurate Mr. Darcy
A team of experts on fashion and social culture offer their take on Jane Austen's brooding hero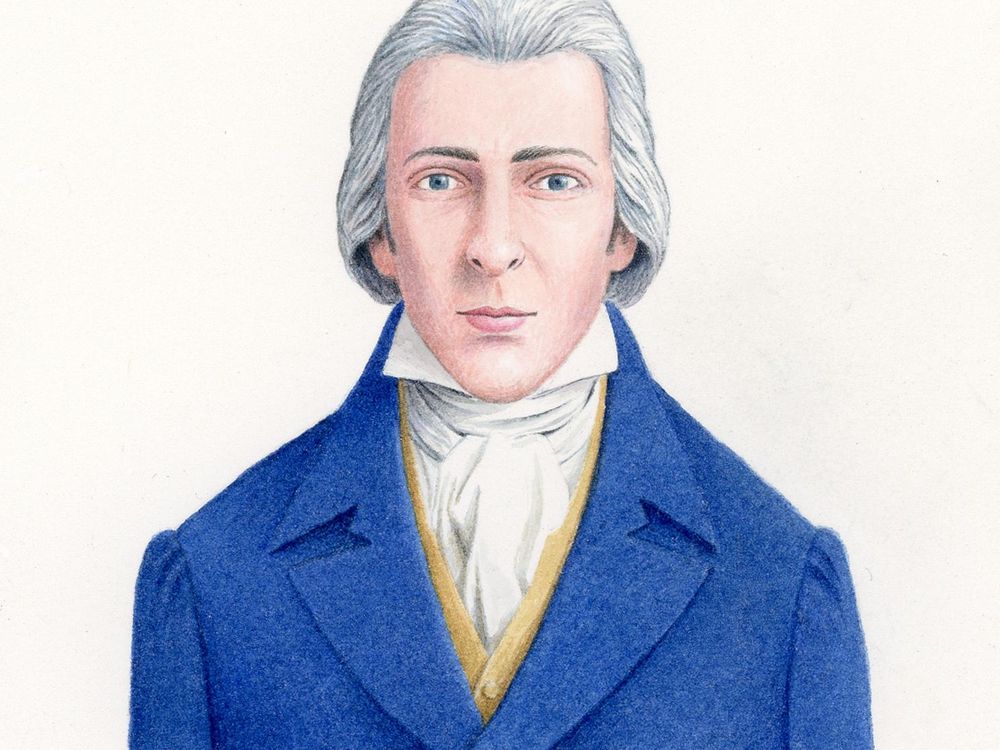 Mr. Darcy, Jane Austen's swoon-worthy, 18th-century aristocratic hero, has a sizzle that transcends time. Laurence Olivier made the aloof protagonist his own in the 1940 film adaptation of Pride and Prejudice and Matthew Macfadyen wore the stiff collar proud in the 2005 remake. And, of course, who can forget what Colin Firth did to the role (or how he wore that wet shirt) in the acclaimed 1995 BBC miniseries?
But, according to a team of experts on fashion and social culture, Fitzwilliam Darcy doesn't look like Olivier, Macfadyen or Firth. Based on research, the group recently released what they deem "the first historically accurate portrait" of Mr. Darcy, reports Hannah Furness for The Telegraph.
Depicted in a tailored blue Regency-styled suit, Mr. Darcy appears a "weedy character," reports Maev Kennedy for The Guardian. If he had been a real person in the 1790s, his pale face most likely had a long nose and pointed chin, and a pair of sloped shoulders. Instead of dark, wavy locks, he would have had powdered white hair. These were all common attributes of the male physique and fashion of the time, Amanda Vickery, a historian at Queen Mary University of London and contributor to the research, tells Kennedy.
"Darcy's character has been sexed up for the modern day audience with a turbo-charged injection of testosterone and steamy romance," Vickery tells Lea Dartenne at Reuters.
Illustrator Nick Hardcastle was commissioned by the Drama Channel to bring this more authentic version of Darcy to life ahead of its Jane Austen season. He writes to Smithsonian.com that Darcy would have also had muscular thighs and calves due to the amount of time and effort gentlemen spent fencing and horse riding. Hardcastle also notes that English gentlemen at that time often had rigid upper bodies because the cuts of their tailored jackets forced them to puff out their chests and the stiff collars they wore forced them to hold their heads up.
"I do a lot of historical illustration and generally most historical costume and uniforms for men allow for much more practical living and movement," Hardcastle tells Smithsonian.com. He writes, "the Regency costume was incredibly restrictive and impractical, emphasizing that the wearer did not have to earn a living."
Of course, there's no way to be completely certain what Austen pictured Mr. Darcy looking like. "There are only scraps of physical description of Fitzwilliam Darcy to be found in Pride and Prejudice," John Sutherland, the academic who led the study, explains to Kennedy. "He is our most mysterious and desirable leading man of all time."
But there's nothing stopping you from dreaming up your own take on the brooding hero. To get your imagination started, here's how Austen first describes him in Pride and Prejudice:
"Mr. Darcy soon drew the attention of the room by his fine, tall person, handsome features, noble mien; and the report which was in general circulation within five minutes after his entrance, of his having ten thousand [pounds] a year."