Meet the Cincinnati Zoo's Three Newborn Malayan Tigers
The adorable balls of fur could help the zoo diversify their tiger gene pool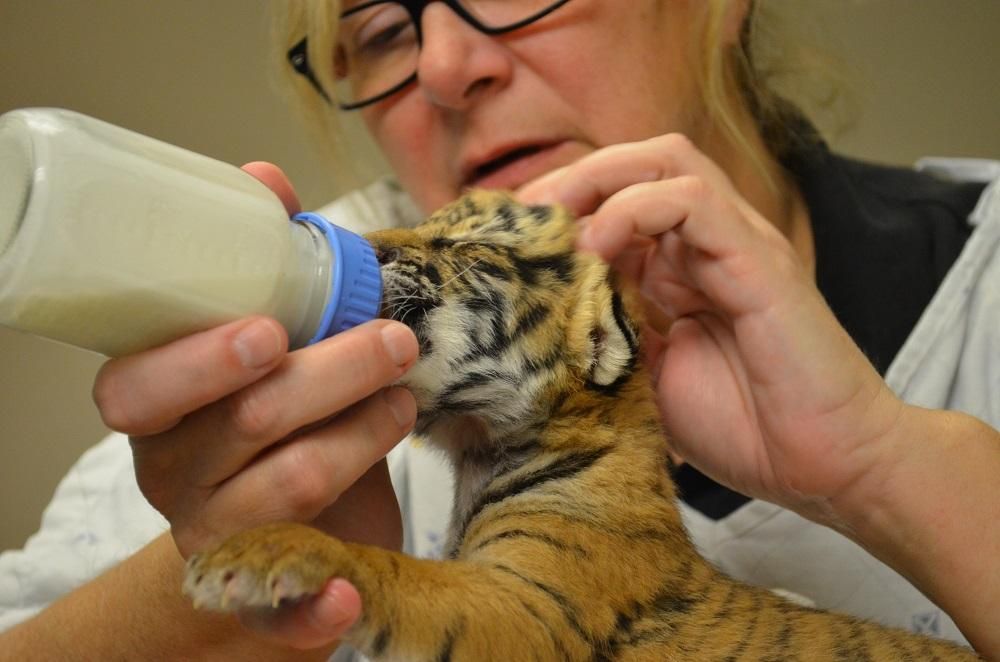 Say hello to three adorable baby Malayan tiger cubs. On Friday, February 3, the litter of cubs were born at Cincinnati Zoo and Botanical Garden. The zoo recently released footage of the cubs—their eyes still closed—tumbling over stuffed animals in the the zoo's nursery. But the birth of these three Malayan tiger cubs is not only a celebration for the zoo, but a reprieve in the genetic diversity of the species.
One common problem with breeding in zoos is a loss of genetic diversity, which causes problems associated with inbreeding, including lower reproduction rates and spread of disease. But the zoo hopes that the new cubs can help alleviate these problems. Both the cubs' mother, Cinta, and father, Jalil, are what the zoo deems "genetically valuable," reports Shauna Steigerwald for Cincinnati USA. This means that they don't have many close relatives within the population and some genetic distance from the rest of the zoo's tigers.
By introducing these cubs to others in a small population, they can add more diversity to the pool. Once they are of age, the cubs will receive breeding recommendations from the Malayan tiger Species Survival Plan (SSP), the group that manages the head of the subspecies of tiger in the zoo population, zoo officials say.
Their birth was also a triumph for the animal populations, which are rapidly disappearing in the wild. Due to habitat destruction, fragmentation, and poaching, the Malayan tiger, native to the Malay Peninsula and in the southern tip of Thailand, is critically endangered with an estimate of only 250 to 340 adults left in the world.
The zoo is keeping a careful eye on these precious balls of fur. When the three cubs were born, the zoo caretakers became concerned that their body temperatures were at risk of dropping to low. The cubs need warmth which is usually provided by the mother, however the first-time mother, a three-year-old Malayan Tiger named Cinta, wasn't exhibiting maternal instincts.
"It's not uncommon for first-time tiger moms not to know what to do. They can be aggressive and even harm or kill the cubs," Mike Dulaney, curator of mammals and vice coordinator of the Malayan tiger SSP, says on Cincinnati Zoo's blog. "Nursery staff is keeping them warm and feeding them every three hours."
Dulaney says that the cubs and Cinta won't be reunited because she will not recognize them after prolonged separation. Instead, the three will grow up together under the care of the veterinarians at the nursery until they are ready to move to Cincinnati Zoo's Cat Canyon. Caretakers expect that visitors will be able to see the Malayan cubs in the outdoor habitat come early spring.