This is What Millions of Mayflies Emerging All At Once Looks Like
A massive emergence of mayflies has blanketed parts of the country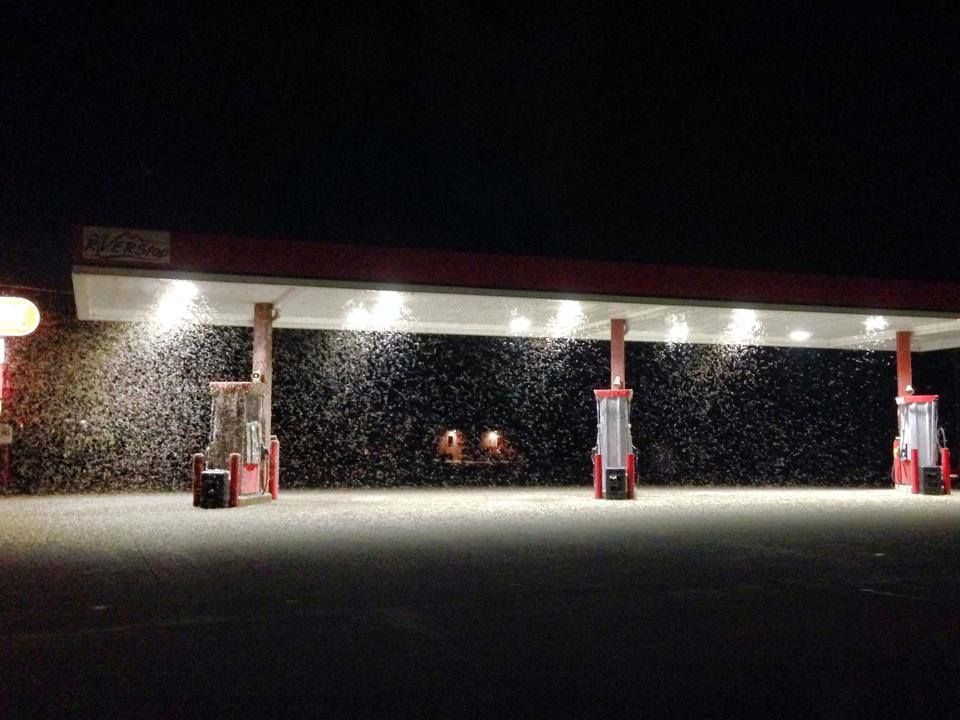 The picture above might look like a gas station in a blizzard, but those particular particles aren't snow. What you're seeing is a huge swarm of mayflies that erupted from the Mississippi River on Sunday night in Wisconsin. And those flies weren't just at the gas station, they were everywhere, as can be seen in these photos gathered by Minnesota Public Radio.
There were so many flies that the National Weather Service actually picked up the swarm on radar:
By late evening, mayflies were swarming in La Crosse, La Crescent, Stoddard and points up and down the river. While the emergence of mayflies from their river bottom mud dwelling can occur at various times through the warm season depending on the species, this particular emergence was that of the larger black/brown Bilineata species. The radar loop below shows the reflected radar energy (reflectivity) from 835 pm to just after midnight.
Mayflies in Wisconsin picked up on weather radar. Photo:
NOAA
Unlike other buggy events like the 17 year cicadas, mayflies are far more ephemeral. In fact, that's where the scientific name of their order, Ephemeroptera, comes from. Mayfly larvae can live in the water for years before emerging, but they only stick around in their mature form for about 24 hours. Gwen Pearson wrote about the phenomenon for her blog Charistmatic Minifauna over at Wired:
Adult mayflies are basically gonads with wings. They don't eat; some species don't even have working mouthparts. They are not interested in your puny roads and ATM money machines, humans. They need to get busy gettin' it on in a massive mayfly orgy. (Also, male mayflies have two penises. I thought you'd want to know.)
This particular explosion of mayflies has already been blamed for one three-car pile up in Wisconsin. About 2,000 different species of mayflies have been identified on six continents (Antarctica is the odd one out, as usual).