Seven-Foot Sword Unearthed From 1,600-Year-Old Burial Mound in Japan
Archaeologists think the artifact was used to protect against evil after death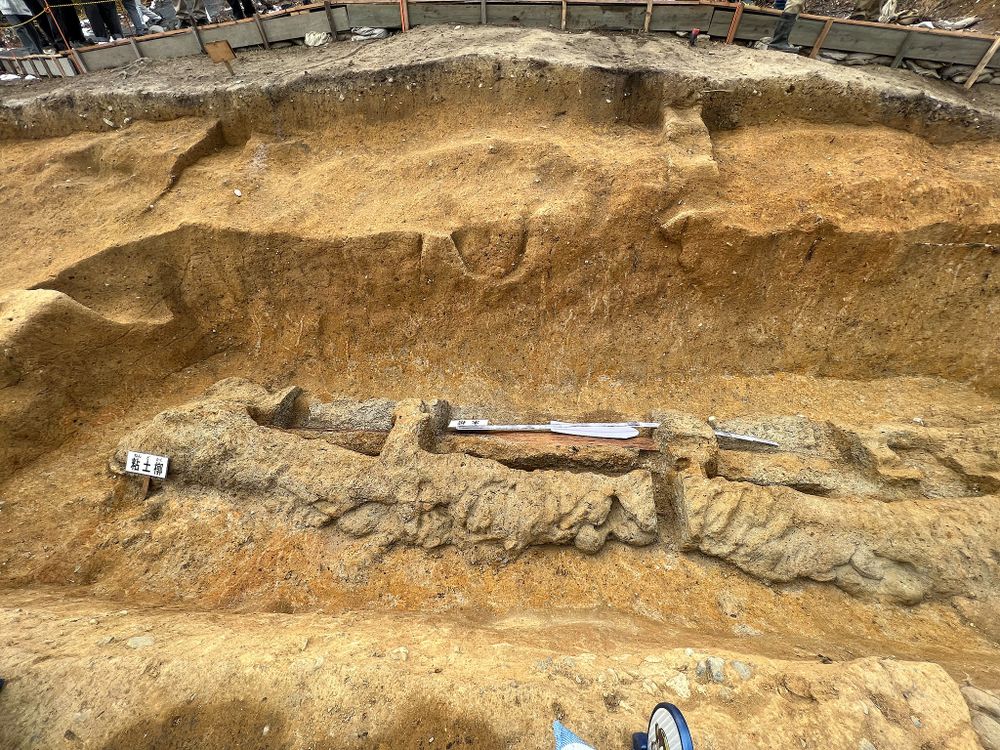 Japanese archaeologists have uncovered a 7.5-foot-long iron sword and a bronze mirror from an ancient burial mound near the city of Nara.
The weapon, known as a dako sword, is so large that it was likely never used for self-defense, serving instead as a means of protection against evil after death. 
Researchers found both artifacts while excavating a 1,600-year-old site called Tomio Maruyama in November. The city of Nara's education board and Nara prefecture's archaeological institute announced the discoveries on January 25.
"I was surprised," says Riku Murase, an archaeologist for the Nara Archaeological Research Center, to Live Science's Tom Metcalfe. The sword, he adds, "is twice as big as any other sword found so far in Japan."
Like other dako swords unearthed in the country, this one has an undulating blade that's reminiscent of a snake. Due to the artifact's size, the researchers initially thought they had found multiple swords lined up next to each other, reports Kyodo News.
Experts say the mirror, which is shaped like a shield, was also likely used to ward off evil spirits. It measures 25 inches by 12 inches and weighs more than 12 pounds, making it the largest of its kind discovered in Japan, too.
The finds offer new insights into the Kofun period, which lasted from around the year 300 to 710 and is named for the distinctive tomb mounds, or kofun, constructed to bury members of the ruling class.
"[These discoveries] indicate that the technology of the Kofun period … are beyond what had been imagined, and they are masterpieces in metalwork from that period," Kosaku Okabayashi, the deputy director for Nara prefecture's Archaeological Institute of Kashihara, tells Kyodo News.
Japan is home to an estimated 160,000 burial mounds from the Kofun period, though the Tomio Maruyama kofun is particularly large, per Live Science. Measuring 350 feet in diameter and up to 32 feet tall, it dates back to the late fourth century.
Archaeologists think it has some connection to an influential person who supported the rulers of the day, the imperial Yamato family. Based on the presence of the two artifacts, the deceased person may have been involved in "military and ritualistic matters," Naohiro Toyoshima, an archaeologist at Nara University, tells Kyodo News. So far, per Live Science, the researchers have discovered a coffin but no human remains in the burial chamber.
Researchers have also unearthed other artifacts from Tomio Maruyama, including copper containers, food utensils and iron farming tools.