Mapping the Routes of Invasive Stowaways
Singapore, Honk Kong, New York, Long Beach, CA, and the Panama and Suez canals are the areas most at risk from invasive species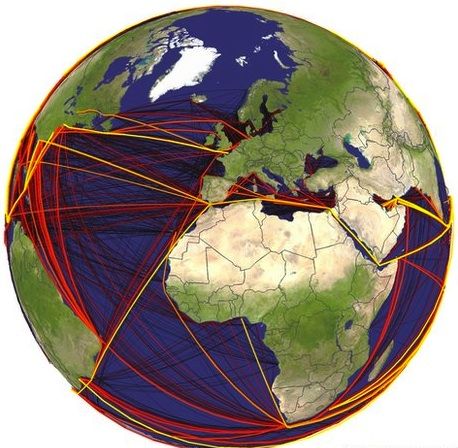 As the global shipping industry has grown over the past two decades, so has the number of invasive species being transported from through cargo ship ballast. Invasive marine species like barnacles and mollusks can also hitch a ride by clinging to ship hulls. And a new study published in the journal Ecology Letters mapped the routes of such invasives by examining the movements of cargo ships around the world, the BBC reports.
The model showed that Singapore, Honk Kong, New York, Long Beach, CA, and the Panama and Suez canals are the areas most at risk from invasive species. These warm and temperate waters are friendly to life forms, even if those organisms made the journey from half a world away. On the other hand, colder climates are less likely to be invaded by alien species—unless the ship arrived from a part of the world with similarly harsh temperatures. Very long journeys, too, are less likely to accidentally deliver invasive species since animals can only live for so long within the cut off environment of a ship's ballast water.
Overall, the researchers say, the probability of any one animal becoming an invader is very small. But with so many more ships criss crossing the world's oceans these days, that probability is only increasing, as San Francisco and the Chesapeake Bay, where dozens of invasive species have recently invaded, well know.
More from Smithsonian.com:
Are Humans an Invasive Species?
Science Teachers Guilty of Releasing Invasive Species