Manchester United Is No Longer the Most Valuable Football (Sorry, Soccer) Brand
This year, Manchester United was dethroned by a team many Americans probably haven't heard of: Bayern Munich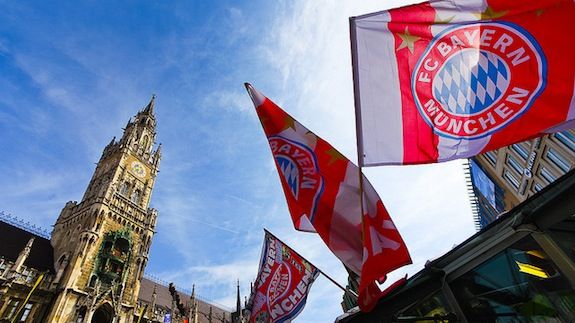 Ask an American to name a European soccer team, and—if they can come up with one at all—it'll likely be Manchester United. Which makes sense. For years Manchester United has been one of the top teams in Europe and the most valuable football brand in the world. Plus, they had David Beckham. But this year, they were dethroned by a team many Americans probably haven't heard of: Bayern Munich.
The rankings come from Brand Finance, which each year ranks European football teams by worth. For the past two years, the British Manchester United has been number one, with an estimated worth hovering around $850 million. This year, however, Bayern Munich—part of the Bundesliga–came in at a net brand worth of $860 million, and the British club dropped down to $837 million. When you look at leagues, though, the Premier League brand (Manchester United's league) is worth something like $3.1 billion, while Bundesliga's brand, the German league of Bayern Munich, is worth only $1.9 billion. And Premier League teams still dominate the Brand Finance rankings, in general, even while teams like Bayern Munich rule at home.
Now, these numbers are the worth of the brand, not the entire club. Manchester United and Real Madrid share the title for the most valuable club in the entire world. They're both worth $3.3 billion. To put that in context for Americans, the third most valuable team in the world is the Dallas Cowboys, and they're worth $2.1 billion. Bayern Munich, all told, is worth $1.3 million.
The reason for the brand value reshuffle could be all sorts of things. FC Business cites the departure of manager Alex Furguson and a short European season. The BBC says that when Bayern won the European championships, they suddenly gained a global audience.
Some are even suggesting that the very different ways the leagues are run could be boosting Bayern. David Haigh, the chief executive of Brand Finance, told the BBC:
The commercial transformation of the English game, which has created hugely successful global brands, had been seen as the model to emulate. However the escalation of player wages, poor financial management and alienation of grass roots fans has left many people jaded. In contrast the cheap tickets, high attendances, democratic ownership structure and financial prudence of the Bundesliga now looks like an attractive alternative, particularly now it is delivering world-beating, fluid football rather than the more workmanlike style German teams had been known for.
Whatever the reason, Americans might have to learn at least one more soccer team's name.
More from Smithsonian.com:
Being a Soccer Fan Can Actually Kill You
Gooooal! Two Technologies Compete to Sense Soccer Goals