Man Rescued After Getting Trapped Inside Famous Sculpture
A 26-year-old man was trying to climb the Talus Dome in Edmonton, Alberta, when he slipped through an opening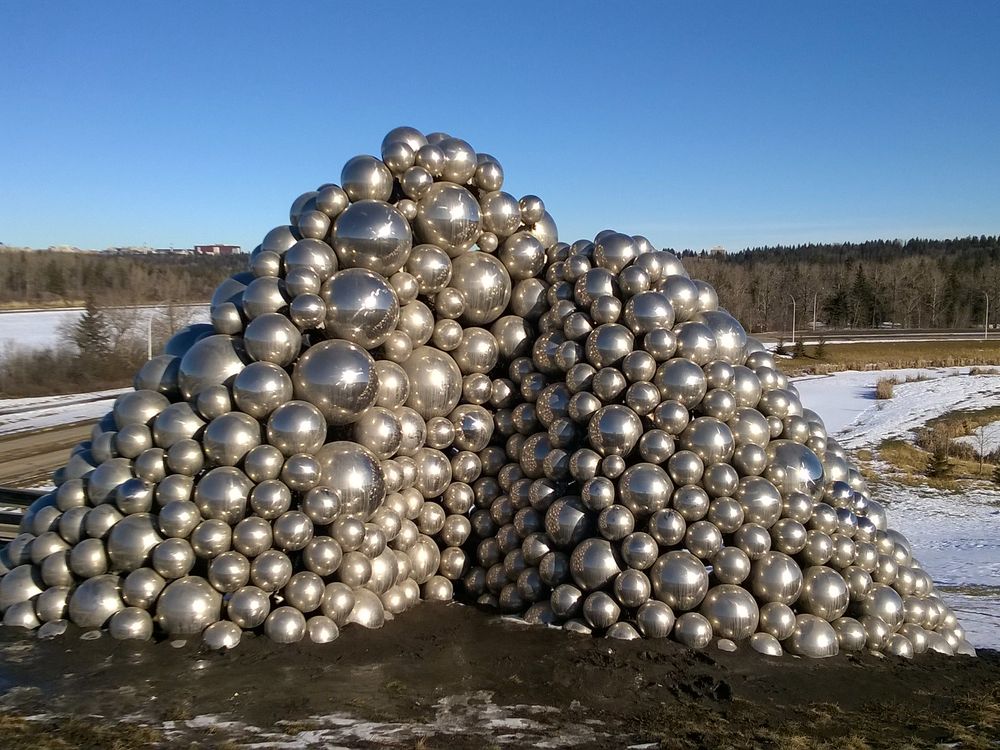 Firefighters in Canada completed an unusual rescue mission when a 26-year-old man got stuck inside a large public art sculpture.
Known as Talus Dome, the sculpture is made up of more than 1,000 handcrafted metal balls stacked into a mound. The man tried to climb the sculpture only to accidentally slip through an opening. 
Created by artists Benjamin Ball and Gaston Nogues, the Talus Dome has been polarizing among residents of Edmonton, Alberta, since its installation in 2011. The sculpture is situated next to the Quesnell Bridge, which allows vehicles to cross the North Saskatchewan River. The shiny, reflective spheres mimic piles of rock or gravel, serving as a reminder that "the landscape has been altered by the bridge, a rigid, controlled construction that meets our needs to traverse the obstacle of the river," according to the city's public art website. "It refers to the coexistence of the man-made and the natural." 
On Sunday evening, a passerby called first responders and told them that someone—or something—was stuck inside the sculpture. Once firefighters arrived on the scene, they had to break out some heavy-hitting rescue equipment to extricate the man, including the tool known as the jaws of life, which is typically reserved for car accidents.
"It's definitely a first for me," says Troy Brady, district chief of Edmonton Fire Rescue Services, to CTV News' Adam Lachacz. "It's definitely different than what we would typically use [the jaws of life] for."
In total, three crews were brought in to help free the man, including a technical rescue team. Firefighters had to cut into the sculpture and remove one of the spheres to get the man out. 
After roughly an hour and a half, he emerged. While he was physically unharmed, he was promptly charged with one count of mischief over $5,000.
Another onlooker was Hans Klaver, a resident who showed up at the sculpture after hearing about the rescue on Facebook.
"I like the balls, one of the few people who do, so I came down to have a look," he told the Canadian Broadcasting Corporation's Wallis Snowdon on Monday. "There was a guy inside there."
He added that he'd always wondered what the inside of the sculpture looked like, but he'd never attempted to find out for himself. 
Another resident, Connor Schwindt, was out taking an evening jog when he spotted the scene, so he whipped out his phone and started recording. His Instagram video has since gone viral. 
"It's so Edmonton," Schwindt tells the Edmonton Journal's Lauren Boothby. "I think it's pretty funny that something like this has happened, and I was there to witness it. I feel like I've been a part of Edmonton history and lore."