Madrid's Prado Museum Will Spotlight Pioneering Duo of Female Renaissance Artists
Lavinia Fontana is widely considered the first professional female artist, while Sofonisba Anguissola served as Philip II of Spain's court painter
Just over a year from now, Madrid's Prado Museum will celebrate its bicentenary with a blockbuster exhibition line-up. The list of featured artists reads like a whirlwind edition of "Who's Who," spanning multiple continents, movements and time periods, but among the high-profile selections, two revolutionary Renaissance portraitists stand out: Lavinia Fontana, a Mannerist widely considered to be the first professional female artist, and Sofonisba Anguissola, an Italian noblewoman who served as King Philip II of Spain's court painter.
As artnet News' Javier Pes reports, the move is a landmark one for the Spanish national art museum, coming just two years after the Prado first dedicated a show to a female painter, the pioneering still-life artist Clara Peeters.
Both Fontana and Anguissola were Italian natives, but each had wildly different upbringings: Fontana, born in Bologna in 1552, was the daughter of a minor painter who encouraged her interest in the arts; meanwhile, Anguissola was born into Cremonese nobility in 1532, and she and her sister Elena were sent to study painting under Bernardino Campi.
Fontana, who died in 1614, was one of the first women to paint female nudes. Over the course of her formidable career, she fulfilled commissions for religious altarpieces in Bologna, Madrid and Rome; captured vivid, richly detailed likenesses of powerful patrons; and even enjoyed the support of Popes Gregory XIII and Clement VIII. At age 25, Fontana married a fellow painter, Gian Paolo Zappi, who took the unusual step of placing his wife's career ahead of his own. As Zappi managed the domestic front, caring for the couple's 11 children while simultaneously acting as his wife's assistant and agent, Fontana enjoyed an unprecedented level of creative freedom.
Anguissola arrived at the Spanish court in 1559, serving as a lady-in-waiting to Queen Elisabeth de Valois, Philip II's third wife, and remained there until 1573. Pepperdine University assistant professor of art history Lauren Kilroy-Ewbank notes for Smart History that Anguissola, who lived into her early 90s, attracted attention from Renaissance and Baroque masters alike: Michelangelo reportedly praised her deft creations, while Anthony van Dyck visited her in Sicily toward the end of her life, eager to paint his own likeness of the esteemed artist. And, in the first comprehensive chronicle of art history, Giorgio Vasari wrote that Anguissola "has laboured at the difficulties of design with greater study and better grace than any other woman of our time."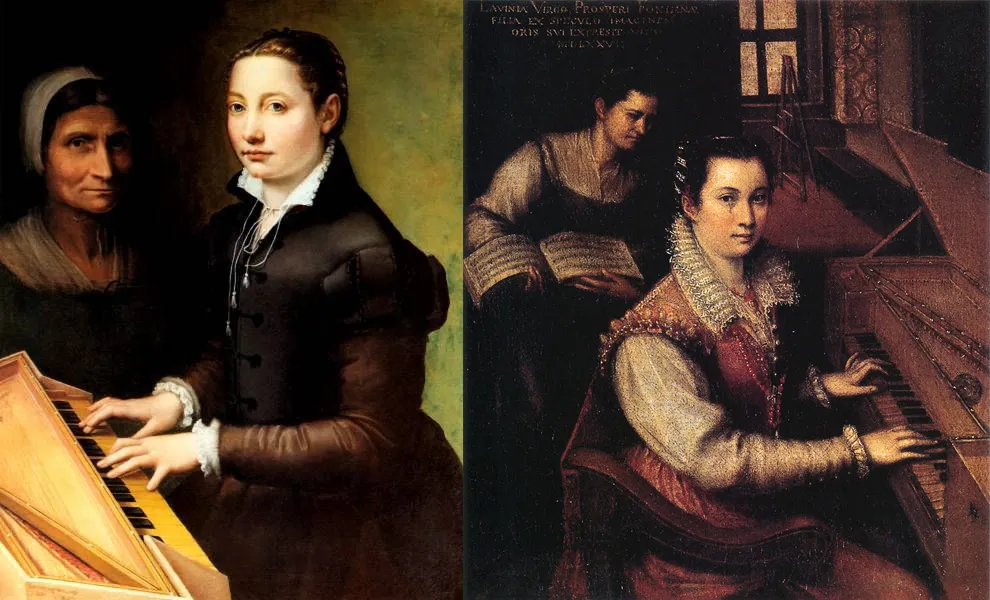 The distinctive styles embraced by Fontana and Anguissola are perhaps best exemplified by a pair of similarly themed self-portraits: In the 1561 work "Self-Portrait at the Spinet," Anguissola clads her likeness in a somber black dress, undercutting an emphasis on her worldly education—as represented by the lithe fingers flitting over the keys of a piano-like instrument—with a nod to the feminine virtues of modesty and piety valued by Renaissance society. Comparatively, Fontana's 1577 "Self-Portrait at the Spinet" finds the younger artist dressed in rich red tones, advertising not only her musical skills, but her artistry, which is hinted at by an empty easel situated in the background of the scene.
The overall effect of these portraits, according to Katherine A. McIver, an art historian writing for Woman's Art Journal, is surprisingly varied considering their matching subject matter. "Anguissola … presents herself as virtuous and talented, but less formidable," McIver notes. "While working within the parameters laid out as proper for her status and gender, Fontana concedes nothing."
Anguissola may have toned down her self-assurance in "Self-Portrait at the Spinet," but as Katy Hessel explains for Artsy, she, too, found ways to subvert patriarchal authority. One 1550 self-portrait depicts the artist's teacher, Campi, putting the finishing touches on a painting of his student. Initially, the scene appears to reflect a conventional male gaze directed at a female, but closer inspection shows that Anguissola is "poking fun at tradition by depicting her master painting the embellished details of her dress—the kind of activity normally delegated to an apprentice—as she herself, the artist, asserts her own and her master's appearance."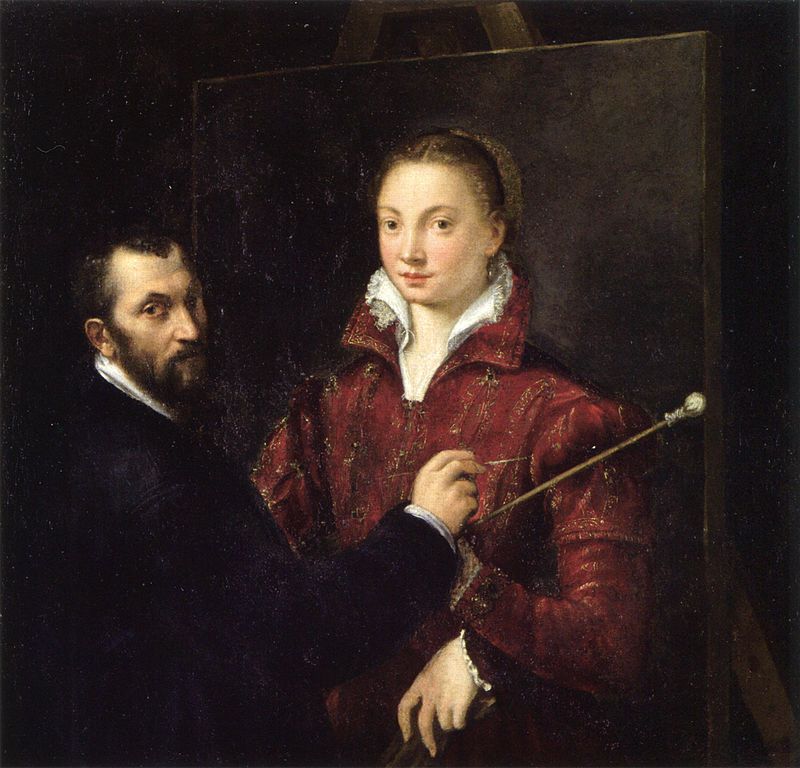 The Prado has yet to reveal which works will be included in its bicentenary exhibition, but Frieze reports that the Madrid museum will rely on loans from United States institutions, which hold the majority of the artists' extant paintings. According to artnet News' Pes, Washington, D.C.'s National Museum of Women in the Arts has already confirmed loans of two Fontana works—"Portrait of a Noblewoman" (1580) and "Portrait of Costanza Alidosi" (1594). Baltimore's Walters Museum of Art is currently considering a request for Anguissola's 1557 work, "Portrait of the Marquess Massimiliano Stampa."
The Madrid exhibition arrives at a pivotal point in the ongoing reckoning of overlooked female artists: In July, London's National Gallery purchased a self-portrait by Baroque painter Artemisia Gentileschi for roughly $4.6 million. The piece, "Self-Portrait as Saint Catherine of Alexandria," set a record for Gentileschi's work and, shockingly, was only the 20th work by a woman to enter the gallery's extensive collection of European paintings.
In other Baroque news, a Belgian artist named Michaelina Wautier is currently headlining her first retrospective, an exhibition co-sponsored by Antwerp's Museum aan de Stroom and the Rubenshuis. During a period when most female artists were consigned to painting flowers, Wautier upended conventions surrounding the nude body by turning her gaze onto the corpulent, fleshy limbs of wine god Bacchus.
"The women artists who excelled during the early modern period generally did so against great odds," NMWA director Susan Fisher Sterling says in an interview with Pes. "Changing the entrenched narrative is an arduous task but one that will gain momentum as more institutions collect and exhibit art by women."