This Hong Kong Museum Is Giving Away 10,000 Tickets to Yayoi Kusama Show
College students can get free admission to the museum as part of a broader government-led mental health initiative
As Hong Kong eases most of its strict Covid-19 restrictions, residents are grappling with how to return to some semblance of normal life. Now, the city's new M+ visual culture museum wants to help make that transition easier.
M+, which opened in 2021, is offering 10,000 free tickets to local college students for its "Yayoi Kusama: 1945 to Now" exhibition. The giveaway is part of the broader "Shall We Talk" initiative, launched by the government to help spark conversations around mental health.
Full-time students at Hong Kong universities and other higher education institutions are eligible for free admission from now until the show's end on May 14.
Tying a mental health initiative to this particular exhibition is fitting, as Kusama has long used art to express her own internal struggles. As a child, the Japanese artist experienced visual hallucinations, which often featured dots. She began making art, in part, as a way to cope with the intrusions. Now 94, she has voluntarily lived at a psychiatric treatment facility in Tokyo since 1977.
Known as the "queen of polka dots," Kusama works in a number of different mediums—from painting to sculpture to fashion design—and nearly all of her pieces featured dots.
"Yayoi Kusama: 1945 to Now" explores the artist's seven-decade career through more than 200 of her paintings, installations, sculptures, drawings and archival materials. According to the museum, the show is the largest retrospective of Kusama's work in Asia outside of Japan. It also features three new works she created last year: Death of Nerves, Dots Obsession—Aspiring to Heaven's Love and Pumpkin.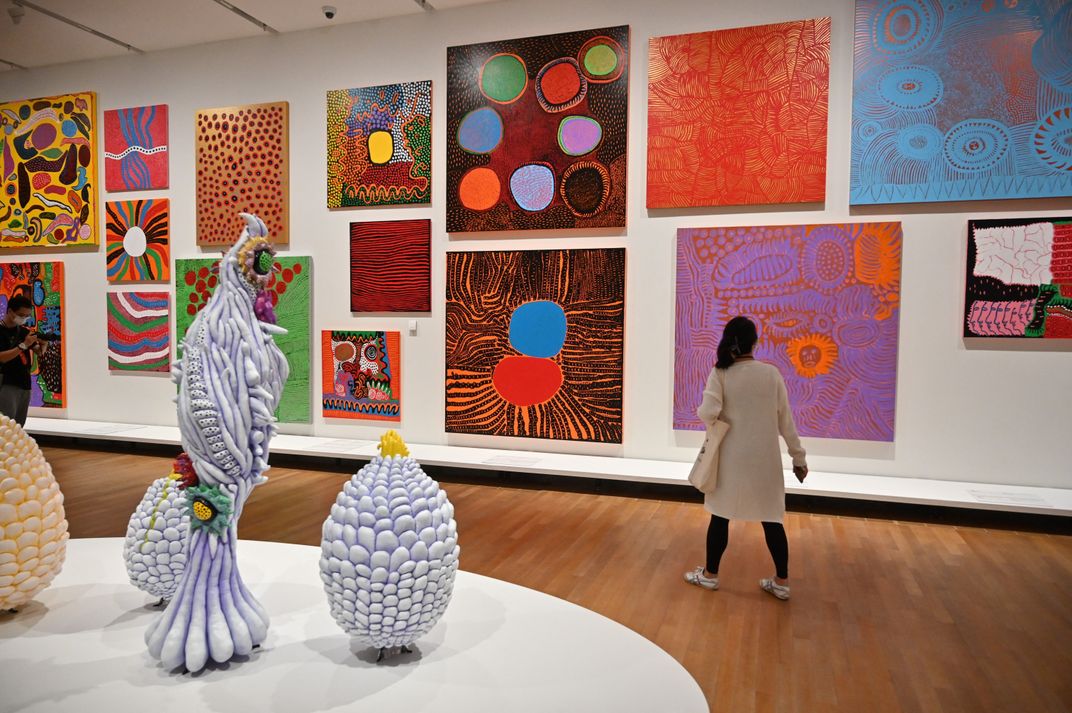 "Kusama said herself that she creates art for the healing of all mankind," says Keri Ryan, the museum's head curator for learning and interpretation, to the South China Morning Post's Kate Whitehead. "She is putting it out there because [she] wants to create connection and make us feel better."
Hong Kong students who take advantage of the free access can also join guided tours of the exhibition, attend a public talk and participate in art therapy workshops.
One such workshop, titled "We Are All Polka Dots," was designed around Kusama's belief that polka dots represent unity and togetherness. While students may be feeling "entrapped, tensed and even disconnected" because of the pandemic, the workshop's organizers hope that by working with an art therapist they'll again start to feel connected, per the M+ website.
The pandemic worsened mental health around the globe, contributing to a 25 percent increase in anxiety and depression worldwide during its first year, according to the World Health Organization. Young people, women and individuals with existing health conditions suffered the worst of the pandemic's mental health declines.
If the museum's past popularity is any indication, the Kusama exhibition—and related mental health programming—will attract big crowds. According to the Art Newspaper's Lee Chesire, M+ saw more than two million visits in 2022 and is on track to hit three million visits in 2023.
"Yayoi Kusama: 1945 to Now" is on view at M+ in Hong Kong through May 14.