'Lost' Klimt Drawing Found in Cupboard of Museum Personal Assistant
The recovered work is now on view at Austria's Lentos Museum in a show marking the centenary of the deaths of Gustav Klimt, Egon Schiele and ​Koloman Moser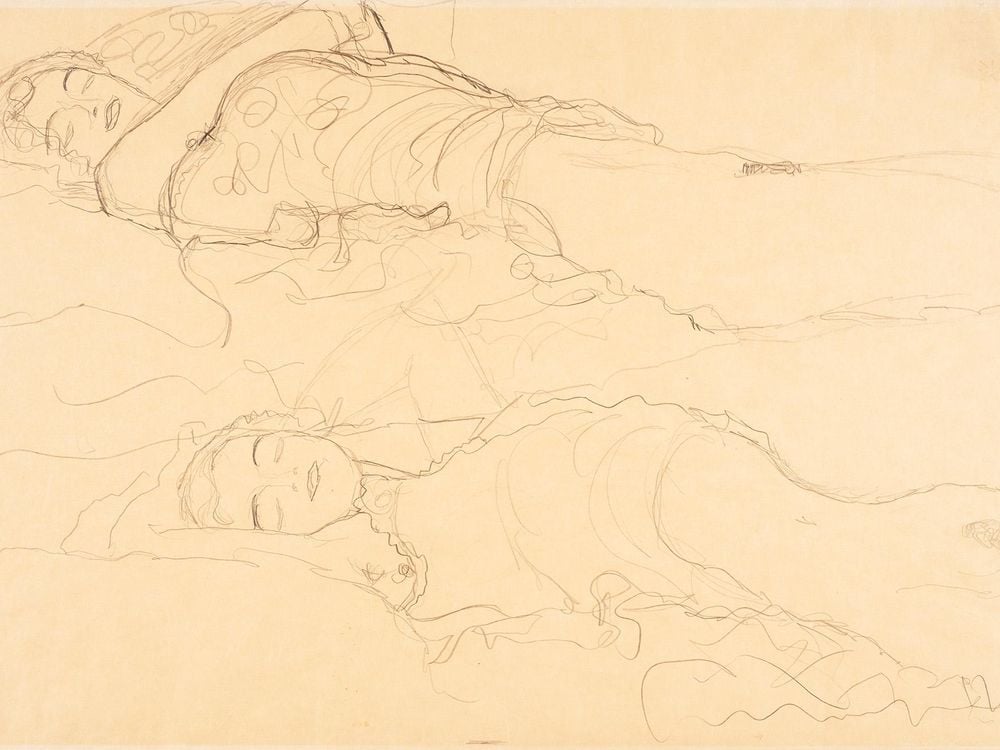 In 1951, the artist and collector Olga Jäger loaned four works—one by Gustav Klimt, three by Egon Schiele—to the Lentos Museum in Linz, Austria. More than five decades later, in 2006, her descendants tried to reclaim the pieces, but when the museum went to retrieve the works, they were nowhere to be found. Now, as the Agence France-Presse reports, the missing Klimt drawing has been discovered in an unlikely place: the cupboard of a recently deceased Lentos Museum personal assistant.
The unnamed personal assistant, who retired in 1977 and died in 2017, appears to have taken the drawing, titled "Zwei Liegende" ("Two Reclining Figures"), and hid it, reportedly leaving instructions that it should be returned to the city upon her death. The three Schiele works—a watercolor, an oil painting and a drawing—have not been found, and a spokesperson for the city of Linz said there were "no serious indications" that the secretary had also taken those items as well, according to Henri Neuendorf of artnet News.
Klimt and Schiele, radical and evocative painters who worked together in Vienna in the early 20th century, are among Austria's best-known artists. The Lentos' Museum's misplacement of their work led to a protracted legal battle with Jäger's heirs, who were ultimately awarded €8.2 million (around $10.2 million) for the loss of the works. Included in that sum was €100,000 (around $124,000) for the Klimt drawing.
Between March and May, the rediscovered work will be included in an exhibition of 76 paintings and graphics to mark the centenary of the deaths of Klimt, Schiele and ​Koloman Moser, one of the foremost artists of the Vienna Secession movement.
Museum officials believe  "Zwei Liegende" ("Two Reclining Figures") dates to 1916 or 1917, during the last creative stretch of Klimt's life, and may have been a study for "Die Freundinnen" ("Two Friends"). "What is remarkable," the museum writes about the work in a press release, "is the way the two half-naked, sleeping women subside and almost disappear into eiderdowns, cushions and plaids, which enhances the white heightening on their bare abdomen and genitalia."
After the show ends in late May, Jäger's heirs will be reunited with the lost drawing, on the condition that they refund the money that was paid to them for it. Police, meanwhile, are still looking for the missing Schiele works. A Neuendorf police spokesperson tells the Austrian press agency APA that anyone who "may be in possession of a lost artwork should ask themselves if they are handling stolen goods, and do the reasonable thing and come forward."