How the Los Angeles Zoo Prepares Its Animals to Face Natural Disasters
The institution sprung into action late last week, evacuating birds and some smaller primates before firefighters contained a nearby blaze in Griffith Park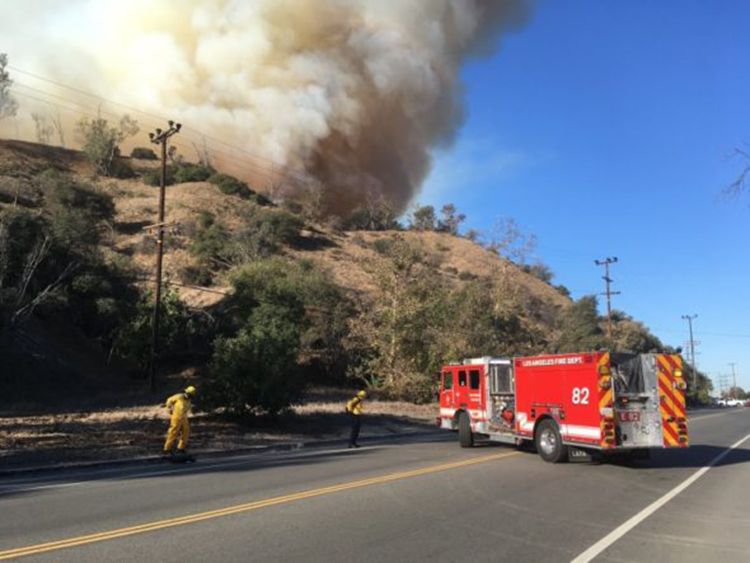 Firefighters in the state of California are currently battling their way through three major infernos that have already left an estimated 50 people dead, hundreds missing and more than 200,000 acres destroyed. Last Friday, in the midst of this devastation, the staff of the Los Angeles Zoo mobilized for the worst when a brush fire broke out in a remote section of nearby Griffith Park.
The blaze began around 7 a.m. local time in a patch of Griffith Park not reachable by fire engine, forcing the Los Angeles Fire Department to deploy water-dropping helicopters and send crews hiking through the park and zoo parking lot. But by 2 p.m., upwards of 130 firefighters had brought the 30-acre fire largely under control, with an official LAFD alert stating the flames were 60 percent contained.
Back at the zoo, news of the fire's denouement ushered in a welcome resolution to an otherwise chaotic Friday. Show birds, lemurs and other small primates who had been evacuated amidst initial reports of the blaze returned to their normal habitats, Joseph Serna reports for the Los Angeles Times. A statement released via the zoo's Twitter and Facebook accounts deemed both animals and employees safe. The zoo remained closed for the day, but a press statement assured animal lovers that preventative measures—including turning on sprinkler systems, hosing the hillside by hand and ensuring that smoke wasn't causing respiratory issues amongst the animals—were underway and would continue to be closely monitored by on-site staff.
The zoo—which is home to more than 1,400 animals representing 270 different species—is prepared for such brushes with disaster. Before the Camp Fire, Griffith Park long held the undesired marker as the site of the deadliest fire in state history. Although the park is located in an urban area (a fact that made the 1933 Griffith Park Fire "an oddity in the history of wildfire," according to one wildfire historian who noted it was also fought by Depression-era workers not trained in firefighting), California's drought conditions nevertheless make the hillsides vulnerable to infernos.
A spokesperson tells Smithsonian.com that the zoo has long established precautionary protocols in anticipation of such natural disasters: Staffers regularly practice brush clearance and run drills preparing them to act at a moment's notice. Fire extinguishers are strategically placed across the property, and several fire breaks (deliberate obstacles designed to slow or stop infernos) are scattered around the zoo's boundaries in order to aid during worst-case scenarios.
"Animal care and health staff are trained in the relocation of Zoo animals while also protecting those animals that will be sheltered in place," the spokesperson says. "Smaller, non-venomous reptiles and mammals that can be easily handled may be packed up for relocation. Larger animals will be sheltered in place in their night quarters for a variety of reasons that ultimately depend on the specific animal and the situation."
If a large-scale evacuation is necessary, the zoo works with nearby aquariums, zoos and wildlife facilities to arrange housing and transport.
Griffith Park fire outside LA Zoo. More than 150 firefighters here. 30 acres. Lots of scorched brush as you can see! pic.twitter.com/3ni7WTnH5F

— Joe Serna, LAT (@JosephSerna) November 9, 2018
This isn't the first time natural disasters have threatened the L.A. Zoo—or California institutions of similar stature. In July 2008, the Associated Press reported that flames came within roughly 1,000 feet of a California condor enclosure, forcing staff to move the condors and two vultures from their normal home at the edge of the property to a more central location. Just one year earlier, in May 2007, a brush fire led the zoo to move 1,200 animals into indoor holding quarters, according to the AP's Christina Almeida.
Last year, the Thomas Fire, which devastated Santa Barbara and Ventura Counties, and was named the largest blaze in recorded California history, forced the Santa Barbara Zoo to turn to its neighbors for help. As Travis Schlepp writes for local news outlet KEYT NewsChannel 3, the zoo evacuated its California condors and Ruppell's griffon vultures to the L.A. Zoo, its visiting reindeer to the nearby Earl Warren Showground, and its baby anteater to Fresno's Chaffee Zoo. Staff also placed smaller animals and birds in kennels and crates, moving them to the zoo pavilion in order to ensure they'd be ready to leave at a moment's notice, and herded sheep to a smoke-free area.
NPR's Stephanie O'Neill describes the zoo's evacuation plan in more detail, writing that some animals, including a pair of elderly elephants who were not crate trained and giraffes who were too tall to fit under freeway underpasses, would remain onsite if others were evacuated. The zoo's big cats, which were being trained to take treats directly from keepers in order to increase familiarity, would be tranquilized (either with a direct injection facilitated by the closeness fostered by the treat regiment or with the less desirable option of a dart gun) and loaded into steel evacuation crates.
The key to a successful evacuation is efficiency, Julie Barnes, director of Animal Care and Health at the Santa Barbara Zoo, tells O'Neill. During the height of the Thomas Fire, the zoo remained on evacuation standby, ready to capture, crate and move animals representing about 150 different species. Some creatures are easy to catch: A tiny Chinese alligator, for example, just requires a towel thrown over her head so she can't see her handlers. Then, "they just jump on her," Barnes says.
But for elephants and giraffes (as well as a flock of 50 flamingos who are easily injured and difficult to herd), the best chance of survival is staying in place, where concrete enclosures and firefighters staged around the property up the chances of escaping a fire unscathed.
The Griffith Park blaze was all but extinguished by late Friday, with firefighters shifting focus to "snuffing out smoldering patches of brush and chopping down weakened trees and branches" as two helicopters circled the scene.
As LAFD Captain Alfred Leon tells the L.A. Times' Serna, containment required extra effort given the fire's out-of-the-way location. "You're surrounded by a major metropolitan city, lots of brush, wildlife and tough terrain," he says. "It's absolutely challenging."