Looters Are Selling Artifacts to Fund War in Syria
War zones are dangerous places, for both people and cultural heritage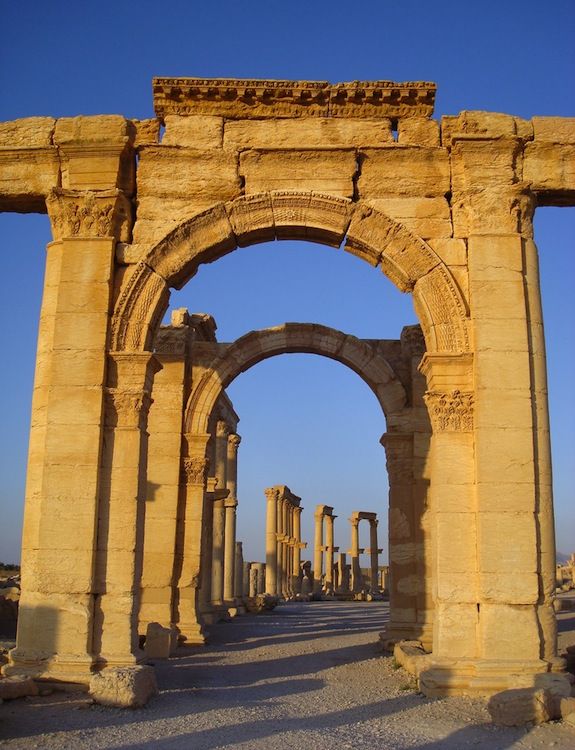 War zones are dangerous places, for both people and cultural heritage. Lately, Iraq, Afghanistan and Egypt have endured high-profile looting or looting attempts on archaeological sites and museums. Now, Syria has joined the inglorious list as priceless artifacts are being stolen, smuggled and even traded for weapons.
Interpol has gotten involved. The situation got to a point where they posted this warning in May:
The on-going armed conflict in Syria is increasingly threatening a significant part of the cultural heritage of mankind. Roman ruins, archaeological sites, historic premises and places of worship are particularly vulnerable to destruction, damages, theft and looting during this period of turmoil.

The INTERPOL General Secretariat therefore joins UNESCO's warning of the imminent threats to which Syrian cultural heritage is currently exposed and is strengthening its co-operation with other international partner organizations for a coordinated response to this menace.
Meanace, indeed. The notice was posted as part of an appeal for the return of a group of mosaics looted from the Roman ruins of Apamea, near Hama.
An article in Time paints a vivid picture of how Syrian artifacts are being used as fodder for the war machine:
Abu Khaled knows the worth of things. As a small-time smuggler living along the porous border between Syria and Lebanon, he has dabbled in antiquities as much as the cigarettes, stolen goods and weapons that make up the bulk of his trade. So when a smuggler from Syria brought him a small, alabaster statue of a seated man a few weeks ago, he figured that the carving, most likely looted from one of Syria's two dozen heritage museums or one of its hundreds of archaeological sites, could be worth a couple thousand dollars in Lebanon's antiquities black market. So he called his contacts in Beirut. But instead of asking for cash, he asked for something even more valuable: weapons.

​"War is good for us," he says of the community of smugglers that regularly transit the nearby border. "We buy antiquities cheap, and then sell weapons expensively." That business, he says, is about to get better. Fighters allied with the Free Syrian Army units battling the regime of Syrian President Bashar Assad have told him that they are developing an association of diggers dedicated to finding antiquities in order to fund the revolution. "The rebels need weapons, and antiquities are an easy way to buy them," says Abu Khaled.
But it isn't just the rebels accused of stealing, as an article from the Agence France-Presse (AFP) reports:
In Reyhanli, a small Turkish village near the border with Syria, a newly arrived Syrian refugee from the famed ancient desert town of Palmyra told AFP that the museum there had been looted and reported large-scale theft at the site.
"These are the shabiha, the Assad gangs (militiamen) who do this," charged Abu Jabal, giving a fictitious name. "The army is there, and oversees everything." An amateur video posted online on August 17 shows seven or eight sculptures and busts crammed into the back of a pick-up truck. Soldiers can be seen chatting alongside the vehicle.
"We have studied what our Syrian colleagues are saying, and it is indeed soldiers. Everything leads us to believe that the army is stealing antiquities in Palmyra and elsewhere," Spanish archaeologist Rodrigo Martin told AFP.
It seems that in Syria, unlike Egypt, neither government nor rebel is willing to protect Syria's treasures.
More from Smithsonian.com:
If Syria Uses Chemical Weapons, Here's How They'll Work
In 2010 $600 Million in Guns and Ammo Were Exported from the US
Looting Iraq
Looting Mali's History