A Look Back at the 1925 Woman's World Fair
After the success of the Chicago World's Fair, women made their own event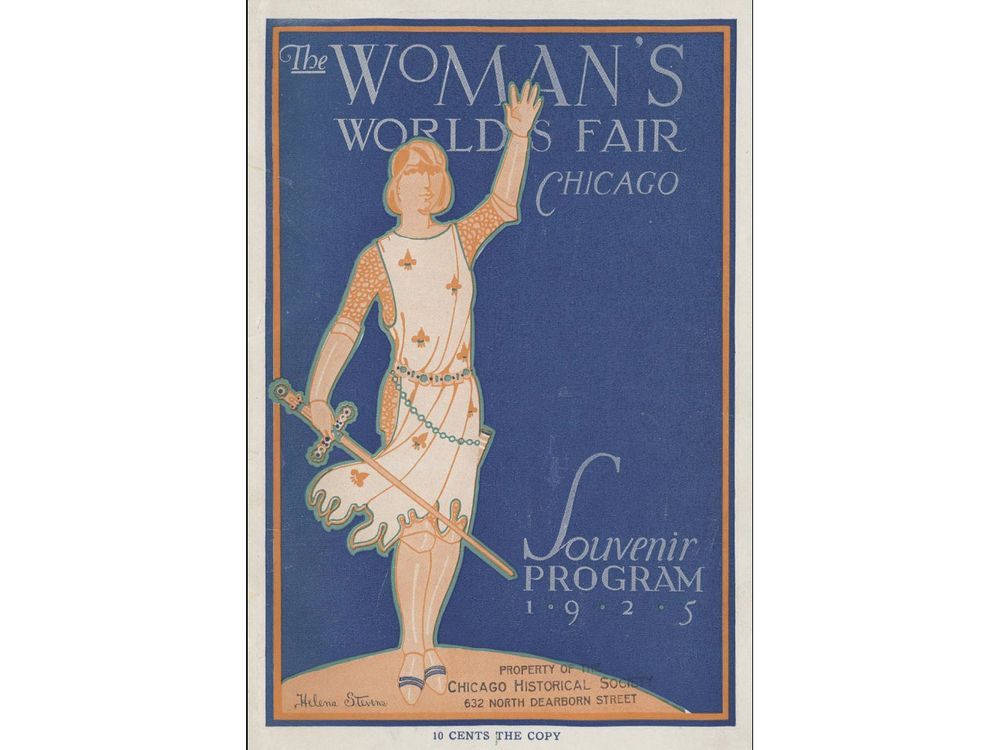 "Women's World Fair to Bring Feminine Notables to Chicago," reads the headline of an April 18, 1925 Chicago Daily Tribune story.
Appearing on what is clearly the women's page, its author, credited as "Nancy R––––," describes the scene to come: appearances by luminaries like Nellie Tayloe Ross, the first female governor of Wyoming, and "so much that is important in feminine doings throughout our land."
It was the first such fair aimed exclusively at women, and it highlighted women's achievements in art, commerce and business over a week-long festival, starting this day in 1925.
Chicago was the perfect place to host such an event. In 1893, the city hosted a World's Fair that Gizmodo's Matt Novak calls "where the future came from." Like World's Fairs before it (there had been fourteen previous ones, starting with the famous one held in London in 1851), the six-month-long Chicago fair showcased a breathtaking array of new technologies. "The 20th century was just on the horizon," Novak writes, "and people swarmed to Chicago to see what was in store."
Although women couldn't vote or fully participate in public life, the fair offered a Women's Pavilion, run by a "Board of Lady Managers" and displaying a number of domestic innovations that reformers thought would free women from housework, as well as "arts and handicrafts." And prominent women "spoke at the Fair on a number of issues, including women's rights icon Susan B. Anthony, labor rights reformer Florence Kelley and abolitionist Julia Ward Howe."
But though women were visible at the fair, "there were still some important slights," Novak writes. The Fair's largest event, on July 4, didn't include a woman speaker. Partially in response, female organizers in Chicago pulled together the Woman's World's Fair.
"The fair... attracted more than 200,000 visitors, presented more than 100 exhibitions of women in business and earned a net income of $50,000," writes June Sawyers for the Chicago Tribune. That's almost $700,000 in today's money. The event didn't just show off women's accomplishments, according to the Chicago Historical Society: it also offered young women information on career paths they could consider and an opportunity to see working women in action.
The 1925 Fair, was much shorter and smaller than the months-long, town-sized 1893 one. And it took place in a very different climate, five years after women gained the vote and more than half a decade after the U.S. joined World War I.
It also took place in a changed racial climate. A big hit at the 1925 fair was Lillian Tolbert, writes Sawyers. A black inventor, Tolbert had devised a new kind of pitcher that had an ice core to cool drinks (variations  are still made today). "The only man who has ever had anything to do with it was the attorney in the patent office at Washington," Tolbert said, according to Sawyer.
The Fair was so successful, it became an annual event until 1928. By then, it was much bigger. Sawyer writes:
The 1928 fair, held at the Coliseum, had some 250 booths displaying women`s endeavors that ranged from architecture, dentistry and engineering to banking, publishing and printing. On the lighter side, there were evening and afternoon musical programs; talks on a different subject every day—on health, savings, fashion; sessions with fortune-tellers; and various demonstrations, such as how to make gifts from flour sacks. The fair acquired an international flavor, too, when nine foreign countries—Denmark, Greece, Germany, Great Britain, Hungary, Lithuania, Poland, Sweden and Ukraine—sent exhibits of their crafts and products.
The Woman's World's Fairs never got as big as the "regular" ones, and didn't have the same recognition or international cachet, but they represent a moment in American women's history. World's Fairs were always about progress and the idea of the future. So a look at women's participation in World's Fairs offers a snapshot into how women's rights and abilities were being ideally viewed at the time, write historians TJ Boisseau and Abigail Markwyn. The Women's World Fairs, they write, "present a view on the way that women, when unencumbered and unlimited by men's assumptions about women or by corporate influences, used the structure and formatting of a world's fair to present themselves to the public and to promote their own ideas about women."