L.M. Montgomery's Ontario Home Will Open As a Museum
While living in the village of Norval, the beloved author enjoyed stunning literary success. But this chapter of her life was tinged with darkness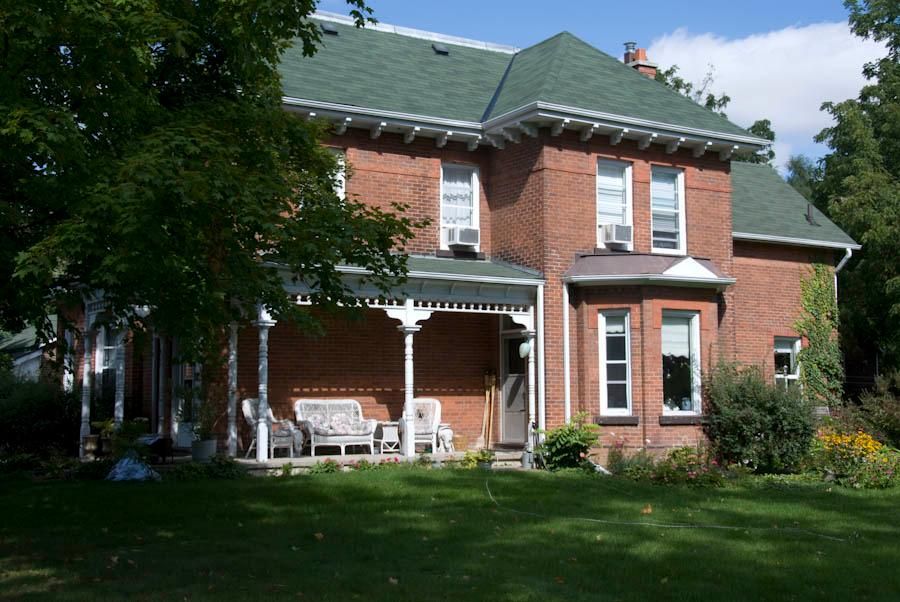 A stark white farmhouse, crested with a rooftop of green, is the site most frequently associated with Lucy Maud Montgomery, beloved author of Anne of Green Gables. Located on Canada's Prince Edward Island, the house belonged to Montgomery's cousins, and it served as the backdrop to her novel about a plucky little orphan with fiery red hair. Now, a Canadian heritage society is looking to introduce the author's fans to another important landmark of her life.
A stately brick home in Norval, Ontario, where Montgomery lived between 1926 and 1935 will become the future site of a museum and literary center dedicated to the author's legacy. As Nancy Russell reports for CBC News, the L.M. Montgomery Heritage Society recently bought the historic residence from a pair of Presbyterian churches in the area. Two private citizens—one of whom is reportedly related to Montgomery—each donated $100,000 to assist with the purchase, and a fundraising campaign has been launched to pay off the remainder of the mortgage.
Norval, located approximately 34 miles west of Toronto, is a small and picturesque village, which is thoroughly devoted to the memory of its most famous inhabitant. Visitors can peruse the Lucy Maud Montgomery Heritage Garden—planted with some of the author's favorite flowers—and enjoy productions by the Spirit of Maude Theater Company. A now-defunct museum dedicated to Montgomery was once housed in a local bakery. Its collections will now be moved to the parish house (or "manse"), an 1888 stately home which was given to Montgomery's husband when he was hired as the Presbyterian minister for the adjacent church.
Lois Fraser, president of a second heritage foundation operating in the area, told Russell that the acquisition of the property was "something major."
"I think fans will be delighted to stand where [Montgomery] stood, to be right in the room where she wrote," she added.
Montgomery was at the pinnacle of her career when she moved with her husband and two sons to Norval from the nearby town of Leaskdale. The widespread success of Anne of Green Gables had brought her international renown, and she was in the midst of writing the popular Emily series, which also follows an orphan girl growing up on the resplendent farms of Prince Edward Island.
The move to Norval marked a fresh start for the author and her family, as their latter years in Leaskdale had been plagued by personal troubles. Montgomery was enmeshed in a bitter copyright lawsuit, which she won in 1929. Her husband, Ewan MacDonald, had struggled for some time to find work as a protestant minister. His new job in Norval, which placed him at the head of two parishes, vaulted the family to prominent positions within the community.
"[Montgomery] was riding quite high," Elizabeth Waterston, L.M. Montgomery scholar and professor emeritus at the University of Guelph explains. "She had good royalties, and she was investing in the stock market. Everything financially was good, and her boys were still quite young and not into the problems that boys get into."
In many ways, Montgomery found great happiness amidst Norval's lush greenery and pretty country homes.  She immersed herself in community life, organizing dances and hosting strawberry tea parties during the summer. According to Waterston, Montgomery's 1931 book A Tangled Web was inspired by her time in the village. "It's about a small community and all the little intrigues, and cabals, and quarrels," Waterston explains. "That to me always feels like Norval."
Montgomery took pride in the grand parish manse that was given to the family upon their arrival in the village. She was "quite status conscious and loved the fact that the house at Norval was large," Irene Gammel, author of Looking for Anne of Green Gables: The Story of L. M. Montgomery and her Literary Classic, tells Smithsonian.com. "[S]he felt she needn't be ashamed when strangers came to visit." The house was a source of inspiration for Montgomery, too. Its many windows looked out onto a gurgling river and a great hill of pine trees, which moved her deeply.
"There were no pines in my early home," Montgomery wrote in a 1928 journal entry, according to Mary Henley Rubio's Lucy Maud Montgomery: The Gift of Wings. "Yet I always loved pines better than any tree. And I wrote scores of poems about them; and now that I have come to live in a place that is rich in pines, I find that those old poems were true."
But like many chapters of Montgomery's life, the so-called "Norval period" was also tinged with darkness. In 1929, Waterston says, the author lost a significant sum of money in the stock market crash. Suddenly, she felt pressured to write, and write quickly. During her nine years at Norval, Montgomery produced several short fiction stories, a number of non-fiction pieces, a slew of poems and six novels: The Blue Castle, Emily's Quest, Magic for Marigold, A Tangled Web, Pat of Silver Bush and Mistress Pat. This need to write as a means of survival "discouraged her, and it made her nervous," Waterston says.
Then there was the matter of her husband's mental health. In her diaries, Montgomery refers to MacDonald's illness as "religious mania," but according to Waterston, he was likely manic-depressive. At Norval, MacDonald experienced a frightening psychotic break. "He wandered around singing hymns at the top of his voice saying, 'I'm damned, I'm going to hell,'" Waterston says.
Caring for MacDonald and helping him mask his illness from parishioners was an agonizing task—especially because Montgomery, too, was prone to bouts of depression. "Montgomery often felt she didn't have the strength to cope with his illness," Gammel explains. "In one of her journal entries in Norval, she said: 'What a hell any form of mental disorder makes of life.'"
MacDonald retired in 1935, and the family moved from Norval to a large house in Toronto, which Montgomery dubbed "Journey's End." The move brought her closer to the city's vibrant literary scene, and Montgomery was indeed active in the Canadian Authors' Association. But her time in little Norval seemed to have created an indelible mark on the author.
"I love Norval as I have never loved any place save Cavendish," Montgomery wrote in a 1927 journal entry, comparing the village to her childhood home on Prince Edward Island. "It is if I had known it all my life."