Live Closer to a Gas Well, And There's Likely More Gas in Your Water
The team found low levels of methane in 115 of 141 Marcellus Formation shale gas wells they sampled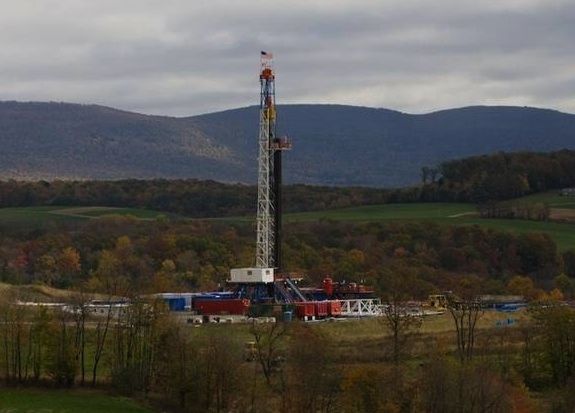 On the Marcellus shale, water wells within less than a mile of gas drilling sites are more likely to have higher concentrations of methane in them, a new study found, indicating that the drilling could be contaminating groundwater.
The study's authors did not find traces in the water samples of the fracking chemicals used to extract shale gas, but the presence of methane does indicate that some of the gas is likely leaking out of cracks in the well casing. Nature News reports:
The study, led by researchers at Duke University in Durham, North Carolina, expands on an earlier analysis of drinking water in northeastern Pennsylvania, where energy companies have used hydraulic fracturing (fracking) to crack the Marcellus Formation and release gas. In that work, the researchers found that contamination rates increased with proximity to wells.

Their latest analysis, published on 24 June, goes a step further, by tying the chemical fingerprint of the ground­water contaminants to the gas being siphoned out of the ground some 2,000–3,000 metres below.
The team found methane in 115 of 141 sampled wells, which they traced back to shale gas using carbon-isotope ratios. While low levels of methane, as found in this study, do not necessarily represent a health threat, Nature News writes, at higher levels methane in water can lead to problems, including water from the tap becoming flammable.
The authors think the leakage is indicative of faulty well construction rather than fracking itself, and they told Nature News that they hope that their study serves as a wakeup call for the industry to increase its safety and regulation standards.
The Marcellus Formation spans beneath parts of New York, Pennsylvania, West Virginia and Ohio. While the Marcellus Formation is the largest shale gas basin in the States, more than two dozen other significant deposits are spotted around the States. The U.S. is increasingly counting on shale gas to meet energy needs and is also exploring the possibility of selling the gas abroad.
More from Smithsonian.com:
Researchers Find Fracking Might Cause Earthquakes After All
Where in the World Will the Fracking Boom Visit Next?